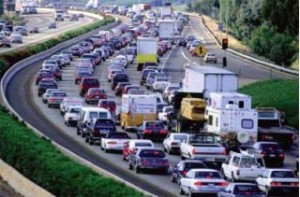 It shouldn't come as any surprise – at least, not to those of us forced to endure endless hours of mind-numbing traffic just getting to and from work – but the daily commute is a huge contributor to worker unhappiness.
So says a new study that looked at the causes of worker stress. Researchers from Everest College, for the fourth consecutive year, found that long commutes and dinky pay are tied for the top spot of worker dissatisfaction (read: stress). Of those surveyed, 13 percent ranked both as top stressors. Long commutes jumped to 13 percent from 9 percent in 2011.
Wendy Cullen, vice president of employer development for Everest College had this to say: "When it comes to stress at the workplace, low pay and a long commute is a double whammy for American workers, especially for those who are experiencing both at the same time."
Tips to Make the Ride Less Stressful
While this is a car website, and not one devoted to workplace stressors, we do have some tips on how you can make your long commute a less stressful, if not necessarily blissful, experience.
Get commercial-free music – Sometimes you just want to chill out and listen to your favorite tunes. The easiest way to do this, barring mixing your own CD, is to subscribe to one of the commercial-free services offering music, news, sports and all sorts of consumer-desired programming. These include Sirius XM Satellite Radio, Pandora, Spotify, and others. Some, like Sirius XM, claim superiority because you'll never lose your signal, you can save on data charges, personalize your music channels and have access to exclusive, subscriber-only events, music specials and interviews, among other key differentiators. The point is that with one of these services, you can put your mind at rest while you stop and go at a snail's pace en route to work or home.
Relax the back with a good seat – If your aching back is contributing to your high stress level, it could have something to do with the seat you're in behind the wheel. Granted, it's not that easy to switch out seats, but getting a new or used car with a better, more supportive seat might be just what the doctor ordered. Lumbar support is crucial for easing sore backs during long commutes, but you also want seats with plenty of power adjustment, forward-back movement, height adjustment and so on. The minimum should be six-way power adjustment, but a better choice is eight-way and up. Most upper level trims offer power-adjustable driver's seat as either standard or optional, and all luxury models have this feature.
Go early, come home late – Drivers have long known that getting out on the highway ahead of or after the freeway (or surface street) crush makes the most sense. So you have to get up a little earlier or have dinner a bit later. Isn't that worth your peace of mind to arrive at your destination less cranky and out of sorts? Whether you're gearing up for the work day or winding down to be with loved ones and family members, carving out a half hour or so morning and night may make your life a lot more tolerable on the road.
Travel with a friend – Carpooling isn't as popular as it once was, maybe because so many consumers bought high fuel-economy beaters, hybrids or telecommute. But if you're still among the many road warriors daily chugging through miles of congestion, how about arranging to travel with a friend or co-worker? Having someone else to chat with can help while away the miles (and minutes) in a more pleasant fashion.
Move – Okay, so this suggestion is a little drastic and not in the realm of possibility for most Americans. Some, however, may find that being closer to work – close, in the sense that you can walk or take a bus or train or subway there – may be the best way to reduce or cut stress from long commutes.
Bottom line: long commutes, while a necessary evil for many workers, don't have to ruin your day. You do have options, you know. Remember that you are in charge of how you feel and you can make changes to benefit your state of mind.
Search used cars for sale and find the best deals near you at iSeeCars.com.
To get a FREE iSeeCars VIN Report for a car, click here.