Every month, iSeeCars processes data on used car offers nationally and calculates which cars are the best deals available. For December 2015, we're seeing a great holiday shaping up. The used vehicles (from model year 2012) being offered are from several desirable categories, so there's something for just about everyone.
The top three best deals nationally are all plug-in vehicles and are the ones that normally make our monthly list. The Nissan LEAF and Mitsubishi i-MiEV are both selling at an excellent average price, with the Toyota Prius Plug-in Hybrid not far behind. December buyers can get the LEAF for 19.1 percent below expected value, with average savings of $2,865. Prius Plug-in buyers can save almost as much as $2,616, or 13.4 percent below expected value. The i-MiEV has a huge sales average of 17.8 percent, or $2,018. These are the deals for plug-ins–what about their polar opposite, the heavy-duty pickup?
There are still some great year-end deals for HD pickups as well. These trucks are just finishing a couple of months of heavy market concentration. Traditionally, the last quarter of the year, especially October and November, are the time when many small businesses and fleet owners begin putting their pickup trucks onto the used car market in anticipation of replacing them with newer trucks before the end of the year. This is for a variety of reasons, but reducing tax liability is usually the motivating factor. In December, we're seeing fewer HD trucks, but there are still some great deals in our top ten list.
The Ram 2500 is selling at a solid discount of 12.4 percent below market value, saving buyers up to $4,364. The GMC Sierra 2500HD and its Chevrolet Silverado 2500HD twin are also being offered at excellent discount, averaging 11.7 and 11.6 percent below respectively. This saves buyers an average of $4,326.
Turning the tables again, we see some commuter cars on our top ten list as well. The Smart fortwo is often seen on our national best deals list, now selling with a 12.3 percent discount. Those who want a more fun loving tiny car will note that the Fiat 500 Cabriolet (500c) is selling at around $1,391 below market value. If luxury is more your thing, the excellent Audi A3 is available with savings of 11.9 percent, or $2,602. A more practical small car, the Kia Rio5, finishes off our top ten list at an 11.5 percent below market sales point.
Top 25 Used Car Deals in the U.S. for December 2015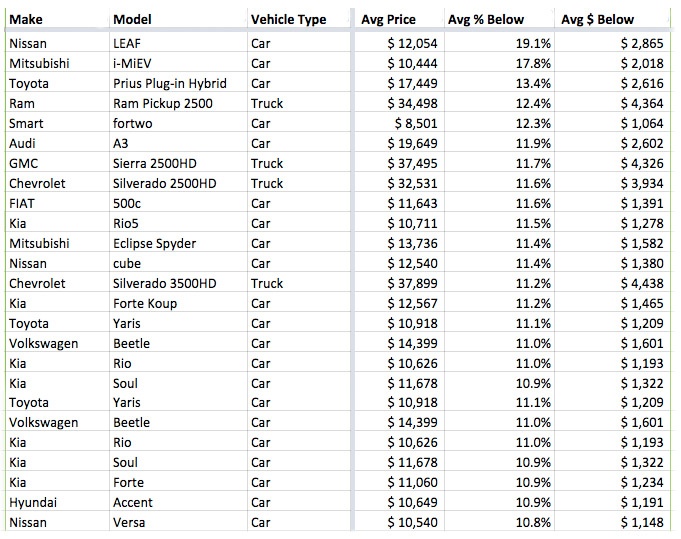 Looking Regionally
Regional best-of lists give a more focused look at what kind of great used car deals are going on around the country. In some areas, heavy-duty trucks still top the list, while some surprises top the list in other areas.
In the Midwest, for example, HD trucks are three of the five on our list. The Ram Pickup 2500, GMC Sierra 2500HD, and the Chevy Silverado 2500HD make up the first three best deals. All are selling at 12 percent below market value, saving midwesterners up to $4,729.
The Volkswagen Beetle and Mitsubishi Galant are the last two on our Midwest list. These two cars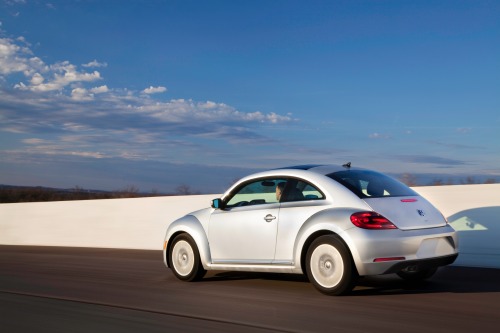 have nothing to do with pickups and little to do with one another. They have a lot to do with the weather. Great deals can be found on these cars because neither of them is particularly well-suited to harsh winter driving, particularly the Beetle, which is selling at a $1,656 average discount.
Turning to the Northeast, we see a very different list of vehicles in our top five best deals. The Ram 2500 is still there, at a slightly lower discount than in the Midwest. Topping the list is the Nissan Maxima, a best-seller in the region. Nissan introduced an all-new Maxima model this year, so seeing the older one as a top used car deal in the car's highest sales region is no surprise. Buyers can save almost $2,500 on this car right now. Third on the NE list is the Beetle again, probably for the same reasons given above. The Ford Fiesta and Hyundai Accent, both selling at a $1,255+ discount, are common cars for younger, new car buyers who're probably receiving new vehicles for the holidays or anticipating buying a blow-out new car deal before year's end.
In the South, we see a very different list of vehicles. The Nissan LEAF tops the charts, but this is no surprise given it's made in Tennessee and one of its hottest sales regions is Georgia. Surprisingly, though, the Ford Fusion Hybrid is also on this list – a car not well known for southern sales. We aren't sure what to make of that. We are not surprised to see the Mazda Mazda2 on our list since that vehicle was discontinued a couple of years ago and has now been re-introduced as a new model under the Scion brand as the iA. The Fiat 500 is selling at $1,170 below expected value and a heavy-duty truck, the Sierra 2500HD, rounds out our list from the southern region with a savings of 12 percent below market value.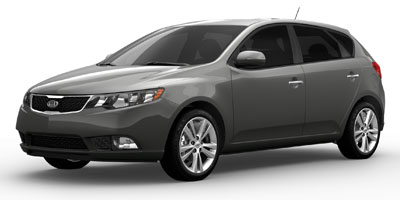 Finally, we look at the list for the West. As expected, the Nissan LEAF is at the top of this list as well. California, Oregon, Arizona, and Colorado are all top markets for electric cars and the LEAF in particular. Buyers can expect to save 18 percent off market value here. Last on this list is a Kia Forte, another popular entry-level car, at an average savings of $1,329. The three middle vehicles are all heavy-duty trucks, still filling the markets out west. The Ram 2500, Chevy Silverado 2500HD, and the Ford F-250 Super Duty are selling at 11.2-14.5 percent below expected value, saving buyers nearly $5,000 in some cases.
Top 5 Used Car Deals For December 2015 By Region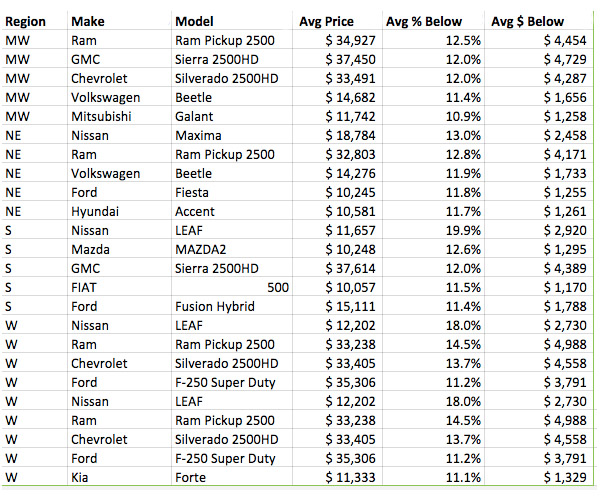 Metro Area Sales
Diving even deeper for more deals, we look at metro areas around the country. Minivan buyers in Atlanta will note that the Honda Odyssey tops our best deals list there at a $2,793 discount. Boston area buyers can pick between the entry-level Chevrolet Cruze, the compact Nissan Altima, or the upgraded Kia Optima as best buys with steep savings of $1,365 or more to be found.
The Optima is also on our Chicago list alongside two small cars, the Ford Focus and Kia Sentra. The Focus is a particularly good find at 11.9 percent below market value. In Texas, crossover buyers in Dallas-Ft. Worth will want to look at the excellent Nissan Rogue as a great deal in their area. Likewise, the Nissan Altima is a good find in both Dallas and Houston, selling with discounts up to $1,587.
In California, all of the best deals right now for buyers in LA are on compact cars, with around $1,400 in savings. On the other coast, New York City buyers are seeing the same with slightly better discounts.
In Philadelphia, buyers can eat a hoagie and look for a midsize car, with deals on the Chrysler 200, Hyundai Sonata, and Nissan Altima all in the 10-11 percent below market value range. San Francisco buyers have three best deals in three different categories: the electric LEAF, compact Focus, and compact-to-midsize Jetta. D.C.-area buyers will note that midsize cars reign on their deals list, with nearly $1,600 in average savings for the Altima.
Top 3 Used Car Deals in the Top 10 Metros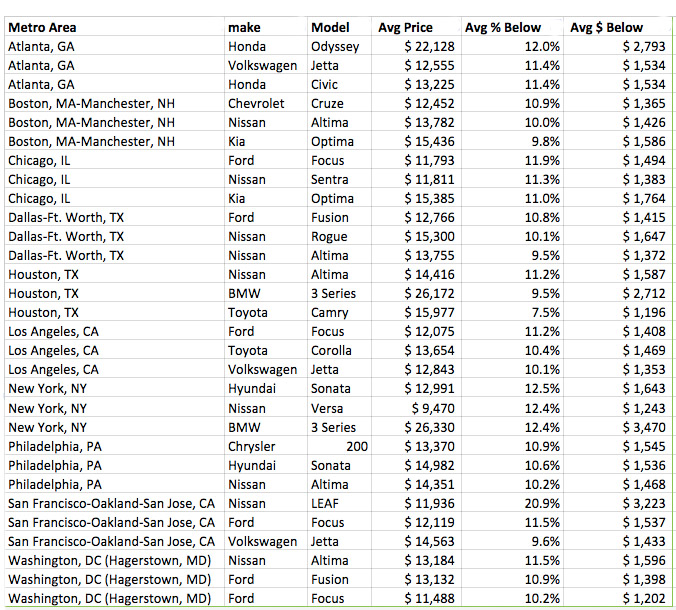 We look forward to what the new year will bring in used car deals here at iSeeCars. Happy Holidays!
Search used cars for sale and find the best deals near you at iSeeCars.com.
To get a FREE iSeeCars VIN Report for a car, click here.