Airbag recalls have been in the news a lot lately, but the fact remains that airbags do save lives – countless lives, to be frank. Still, many consumers take airbags for granted, thinking nothing about them unless and until they deploy in an accident.
Here are some must-know airbag safety tips, courtesy of Safercar.gov and the National Highway Traffic Safety Administration (NHTSA). Yes, these are the same folks that post notices of all automotive safety recalls, including those for defective airbags.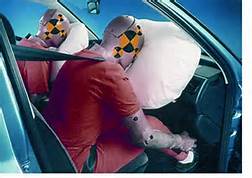 Check the on/off switch for you airbag each time you get in the vehicle to ensure it's in the proper position. Note: the airbag should be turned on when an adult is in the front seat and turned off when a child is a front-seat passenger.
The position of your hands on the steering wheel matters. This, however, varies by vehicle, so check your owner's manual for more accurate instructions.
When driving, leave 10 inches between you and the steering wheel or dashboard. This helps prevent serious injuries.
It's best to tilt the steering wheel down. That's so the airbag can deploy, if necessary, toward your chest. In the event the steering wheel isn't tilted down, the airbag will deploy toward the driver's head.
Never place an infant in a front seat with a passenger side airbag.
Kids under the age of 12 should always sit in the back seat with a safety seat that's most appropriate for their height, weight, and age. Safercar.gov recommends that even if your car has advanced airbags, it's still safer to have children sit in the back seat.
Also keep in mind that airbags are supplemental restraints and are meant to be used in combination with safety belts.
Search used cars for sale and find the best deals near you at iSeeCars.com.
To get a FREE iSeeCars VIN Report for a car, click here.