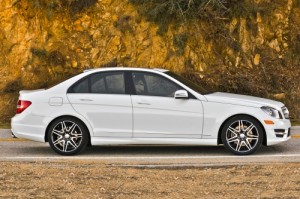 Who doesn't enjoy new car technology that works? But when it's complicated and difficult to use, most consumers tend to tell everyone around about their dissatisfaction. According to the J.D. Power 2014 U.S. Sales Satisfaction Index (SSI) Study℠, dealers are increasingly introducing product specialists into the car-buying process to help consumers better understand today's tech-heavy vehicles.
Witness the customer complaints in the last couple of years involving complicated navigation systems, inoperable Bluetooth phone pairing and synching, and other infotainment systems that either don't work as described or are so difficult to figure out that consumers give up.
The solution to have a tech-savvy product specialist walk the new buyer through each and every system to explain how it works – before delivery – makes a lot of sense. It's only a wonder it took so long for dealers to figure this out, but better late than never.
Surveys like those from J.D. Power carry a lot of weight, especially when it comes to customer satisfaction with cars, dealership experience, and overall ownership. So we're pleased to see that some positive changes are being made so that consumers will benefit.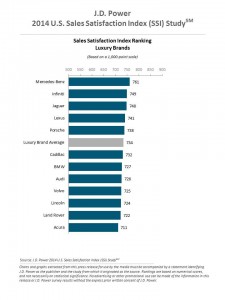 Study Highlights
This marks the 28th annual survey from J.D. Power and it points out that customers rate companies the highest that take the time to demystify the myriad tech features on new vehicles and show potential buyers how they can both activate and customize settings for themselves – like how to connect their smartphone to the vehicle's on-board display.
The overall satisfaction scores – with Mercedes-Benz coming in at the top of the list – takes into account a number of factors. These include the buyer's perception of the salesperson, the delivery process and the quality of the dealership where the vehicle was purchased. In J.D. Power's terms, these are "working out the deal," "salesperson," "delivery process," and "facility."
The survey found that satisfaction is higher among customers who worked with a salesperson and a product specialist than those only working with a salesperson. Furthermore, the percentage of satisfied customers is slightly higher for premium vehicles (17 percent) than non-premium vehicles (15 percent).
Chris Sutton, vice president of the automotive retail practice at J.D. Power, said in a press release, "With such tech-heavy vehicles today, introducing product specialists into the sales process helps improve the delivery process and customer understanding of how to operate key features."
He went on to say that dealerships need to be "mindful when dividing a customer's time between a salesperson, product specialist, and the finance and insurance representative." Translate that to mean adding too much time makes customers upset. A more "integrated approach that respects a customer's time" is much more valued by buyers.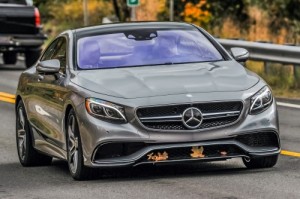 Among luxury brands, the top five are:
Mercedes-Benz
Infiniti
Jaguar
Lexus
Porsche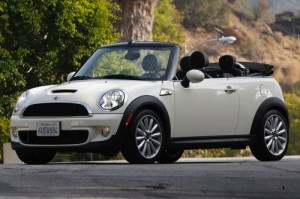 Among mass market brands, the top five are:
MINI
Buick
Chevrolet
GMC
Fiat
For further information on the J.D. Power 2014 U.S. Sales Satisfaction Index (SSI) Study℠, click here.
Search used cars for sale and find the best deals near you at iSeeCars.com.
To get a FREE iSeeCars VIN Report for a car, click here.