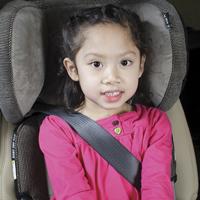 With the kids back at school and fall in full swing, it's easy to get caught up in parental shuffling of offspring and the bustle of everyday activities that never seem to cease.
As the country recognizes National Child Passenger Safety Week, Sept. 14-20), now is the time for extra caution, particularly with the number of unnecessary injuries caused by young passengers who aren't properly secured in the family vehicle. Typically, this includes very young children, but older children are also at risk.
The AAA strongly encourages parents and other caregivers to pay attention to the needs of these older children. Don't fall into the trap of skipping an all-important step before allowing your kids to get into a seat belt: make use of booster seats for safety and peace of mind.
"Many parents are unaware that booster seats are a critical stage that shouldn't be skipped," said Jennifer Huebner-Davidson, manager, Traffic Safety Advocacy. "Remember that seat belts were designed to fit adults, not small children."
What about states that don't require the use of booster seats? Here, Huebner-Davidson has sound advice as well. "If you state doesn't require booster seats, remember that state laws don't always mean the safest practice. Safety experts agree that older children should ride in booster seats until seat belts fit them properly, which usually happens between 8 and 12 years of age and around 4-feet 9-inches tall."
Top 5 Booster Seat Mistakes Parents Make
As to the most common mistakes about booster seats that parents make, the AAA lists these:
Allowing their child to use a regular seat belt too soon. This is unsafe because seat belts were designed for an adult and can cause serious injuries if they don't fit properly. Recommendation: Use a booster seat until the adult seat belt fits properly with the lap portion of the belt fitting low across the child's hips and shoulder belt across their sternum and collar bone. Note that this may not occur until the age of 12 or 12 in some cases.
Permitting children to place the seat belt under their arm or behind their back when using a booster seat. This is another unsafe practice because a seat belt placed under the arm can cause the child's fragile ribs to break, potentially resulting in additional injury. Serious spinal injury or even ejection from the vehicle can result from placing the seat belt behind the back, eliminating upper body protection. Recommendation: Make sure children wear the seat belt properly while in the booster seat and remain in the proper position the entire trip.
Skipping use of the booster seat during carpooling or riding with friends. With most crashes occurring close to home, even a one-time exception could prove tragic. Recommendation: Use a booster seat on every trip and make arrangements in advance when carpooling to ensure your child has the appropriate booster seat and that it is used correctly.
Using a low back booster seat without head rests. In the event of a crash or a sudden stop, a child in a booster seat without head restraint can result in injuries to the head, neck and/or spine. Recommendation: Use a high-back booster seat that offers head protection, or make sure your car has head restraints to protect your child before considering the use of a backless booster seat.
Not making sure unused booster seats are buckled in. Just because the booster seat in the car isn't occupied doesn't mean it's safe to leave it unbuckled. Unsecured booster seats can become projectile missiles in a crash or sudden stop, causing injuries to vehicle occupants. Recommendation: Buckle up booster seats even when not in use by children in the vehicle.
Search used cars for sale and find the best deals near you at iSeeCars.com.
To get a FREE iSeeCars VIN Report for a car, click here.