It's the holiday season and nobody wants to think about their car getting stolen while they're out shopping and celebrating. But thieves never take a holiday and consumers are wise to take precautions. Still, there've been some dramatic decreases in vehicle thefts in certain states, according to statistics releases by the National Insurance Crime Bureau (NICB).

Here's a snapshot of some of the most dramatic changes: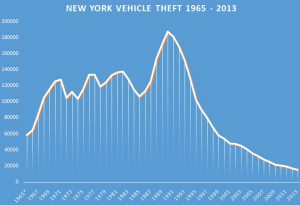 New York – Overall vehicle thefts in New York are down 92 percent from the peak experienced in 1990. That year 187,591 vehicle thefts were reported. In 2013, however, that number has plummeted to 15,482. Why the steep decline? Well, New York isn't alone in this, and along with other states has implemented innovative law enforcement programs, such as the use of bait cars, and license plate readers. Of note is that from 1965 through 1994 (with the exception of 1986 when Texas was number two in vehicle thefts behind California), New York was second for total vehicle thefts. Since 1994, however, no other state has seen such an impressive decline in overall vehicle thefts as New York.
Massachusetts – Another state recording an impressive decrease in vehicle thefts, Massachusetts saw thefts down 90 percent from the 1975 peak of 91,563. In 2013, 9,111 vehicle thefts were reported.
Pennsylvania – The peak vehicle theft year in Pennsylvania was 1990 when 60,062 thefts were reported. In 2013, that number had dropped to 13,770. That's a decline of 77 percent from the peak vehicle theft year.
Florida – The Sunshine State of Florida enjoyed a 73 percent drop from the peak vehicle theft year of 1974, when 127,182 thefts were reported. In 2013, that number had decreased to 34,912.
Illinois – In 1979, Illinois vehicle thefts stood at 75,912. Fast-forward to 2013 and the numbers are 20,933. That's a decrease of 72 percent from the peak.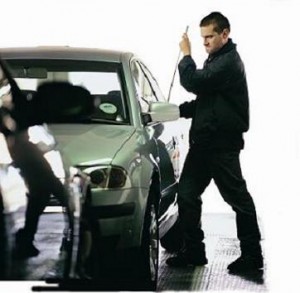 Arizona – Meanwhile, in Arizona, overall vehicle thefts in 2013 were 17,438. That's a considerable improvement over the 57,668 recorded in the peak year of 2002. Overall, vehicle thefts are down 70 percent from the peak.
Michigan – Another Midwest state is enjoying decreases in vehicle thefts. Michigan's peak year for car thefts was 1984, when 78,578 were reported. In 2013, however, that number had dropped to 24,567, and improvement of 69 percent.
Ohio – The Buckeye State of Ohio also had some good news from the NICB. Its overall vehicle theft is down 64 percent from the peak year of 1991, when 54,744 thefts were reported. In 2013, the total thefts stood at 19,532.
Texas – There's room to celebrate (a little) in Texas as well, with vehicle thefts down 60 percent from the 1991 peak of 163,830 thefts. In 2013, vehicle thefts in the Lone Star State were 65,745.
California – What about the Golden State of California? It's still up there in terms of being number one for overall vehicle thefts among the 50 states, but the state did show improvement in 2013 with 165,292 thefts reported. That's down 48 percent from the peak year of 1992 when 320,112 vehicle thefts were reported.
Take Precautions
The smartest advice to prevent vehicle theft is to follow the NICB's "layers of protection" recommendations:
Use common sense. This includes locking all doors, placing valuables in locked locations, parking in well-lit places, closing windows and removing keys from the ignition.
Use visible and audible devices.
Install a vehicle immobilizer.
Install a vehicle tracking system.
Search used cars for sale and find the best deals near you at iSeeCars.com.
To get a FREE iSeeCars VIN Report for a car, click here.