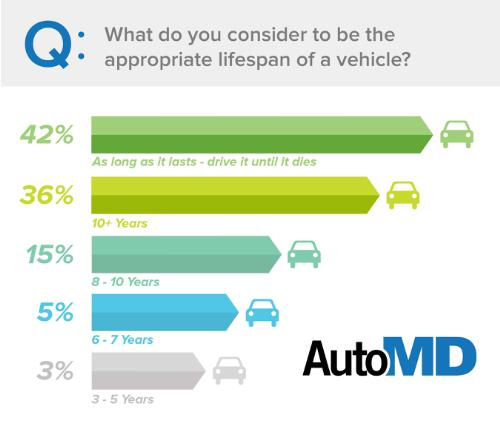 American car owners are either taking better care of their cars, cars are lasting longer, money is still an issue, or it's a combination of all these factors. A new study finds that a majority of Americans, 76 percent, say that 10 or more years is how long a vehicle should last. They add that they'll "drive it until it dies."
Say so long to the old 2 to 3 year timeframe for vehicle ownership. In fact, that model is long dead and gone, according to AutoMD. Some two-thirds of survey respondents said they had more than 100,000 miles on their vehicle's odometer.
Another interesting survey finding is that just because the economy seems to be improving, car owners aren't in planning to ditch their current wheels anytime soon.
Tracking lengthening vehicle ownership since 2010, Brian Hafer, AutoMD.com's vice president of marketing said that "what was first a reaction to a bad economy has now become a new reality – with the majority holding onto cars up to and past the 100k mark."
Reasons Cited for Keeping Vehicle
The main reason consumers cited for holding onto their vehicle for 100,000 miles is their diligence in taking it in for repairs and service. This was followed by the economy and cost savings.
According to the survey, one in four who held onto their vehicles longer said they're more likely to stick with the manufacturer's recommended vehicle maintenance schedule and that they'll go to an independent repair shop in order to save money.
Among all survey respondents, in fact, 71 percent said they'd use an independent service center for repairs/service. Nineteen percent said they'd go to a dealership and 10 percent said they'd use a chain store.
Finding the Best Deals Online
AutoMD said that they're finding that more and more consumers are searching out independent repair shops and service deals online.
Economic challenges over the past few years and belief that they've been overcharged for service may be contributing to the fact that 76 percent of consumers surveyed said they go online now to research pricing and repair information.
Tips for Keeping Your Car to the 100,000+ Odometer Reading
Along with scheduled maintenance, there are other things you can do to ensure your vehicle has a chance to approach and exceed the 100,000-mile mark.
Check tire pressure regularly and fill according to manufacturer's recommended psi.
Conduct visual inspection of vehicle inside and out to spot obvious signs of problems, such as leaking fluids, worn tires, rust, perforations, loose trim, cracked or worn windshield wiper blades.
Pay attention to unusual sounds coming from the engine, brake grinding, squealing.
If brake travel is significant, tend to this right away.
Don't delay going to the shop when warning lights appear. They're visible for a reason: trouble may be around the corner.
When you find a repair shop you trust, stick with it. Prevention is worth your peace of mind and can potentially greatly lengthen the lifespan of your car.
Search used cars for sale and find the best deals near you at iSeeCars.com.
To get a FREE iSeeCars VIN Report for a car, click here.