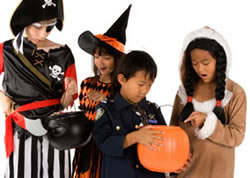 Whether you have children or not, Halloween can be a scary annual experience… for kids and drivers. Darting in between cars on dark streets, crossing the street without looking, hidden by costumes, lone trick-or-treaters or kids parading in groups, children are not always paying attention to drivers on Halloween.
That's why safety experts, including the AAA Foundation for Traffic Safety, urge drivers to be extra cautious this year when navigating streets where children are likely to be present.
"As Halloween approaches, we know that neighborhoods will be filled with small trick-or-treaters that could easily be missed when the driver turns his head to look behind the vehicle," says John Nielsen, AAA's managing director of Automotive Engineering."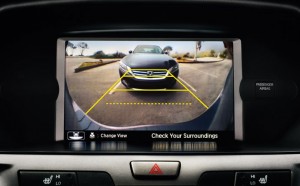 One way to beef up safety is to make use of automotive rearview cameras, either factory-installed or purchased as an aftermarket item.
"When used appropriately, a rearview camera offers a bright clear view directly behind the vehicle where small children are most difficult to see," Nielsen says.
In a recent study, the AAA evaluated 17 vehicles across 11 manufacturers with factory-installed and aftermarket rearview camera systems. The study found increased visibility in the rear blind zone area ranging from 36 percent in smaller sedans to 75 percent in hatchbacks.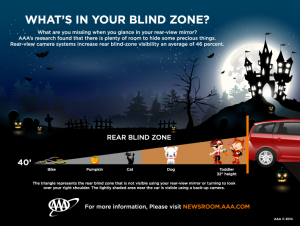 But rearview cameras alone don't guarantee 100 percent visibility, nor do they take the place of the driver doing a visual check around the vehicle before getting in and starting up. A trick-or-treater could be passing behind your car in the seconds before you put the vehicle in reverse gear.
The rearview camera is a good supplement, proving especially helpful for viewing the first 10 feet behind the car. This is the area most hazardous for back-over risk for young kids.
For ratings of in-vehicle safety technology, including rearview cameras, check out the information here.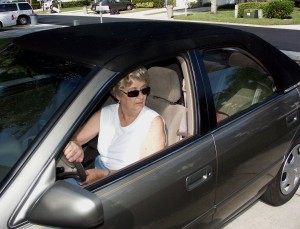 Be Watchful and Wary
Other driver safety tips for Halloween include the recommendation to assume children are going to be present on streets and roadways, even if you can't see them. In other words, be watchful and wary.
Slow down, driving under the speed limit, especially on neighborhood and side streets.
If you see a group of Halloween-costumed kids on one side of the street, assume there are other children elsewhere – and drive extra cautiously.
Clear and clean all windows of your car to help improve visibility in all directions. Also clean headlights and taillights, so kids can see your vehicle better.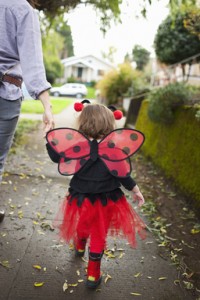 Tips for Kids
The Centers for Disease Control and Prevention (CDC), along with other safety organizations, urge children to practice safe habits this Halloween.
Hold a flashlight while trick or treating so you can see and others can see you.
Look both ways before crossing the street.
Use established crosswalks wherever possible.
Walk, don't run, from house to house.
Wear reflective tape on costumes so drivers can better see you.
Avoid trick-or-treating alone. Walk in groups or with an adult you trust.
According to Halloween fatality data from State Farm, Halloween is the deadliest time of the year for child deaths, averaging 5.5 deaths on that day, compared with 2.6 fatalities on other days. The auto insurer also says that the deadliest hour is from 6 to 7 p.m., and that over 60 percent of accidents involving drivers and kids occur in a four-hour period, from 5 to 9 p.m.
Bottom line: Drivers can help make Halloween safer for kids this year by paying extra close attention to their surroundings, from dusk to dark, and driving with a lot more care than usual.
Search used cars for sale and find the best deals near you at iSeeCars.com.
To get a FREE iSeeCars VIN Report for a car, click here.