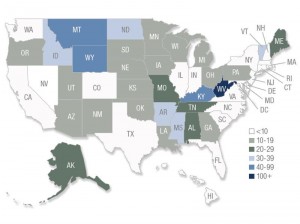 With the New Year upon us and road conditions treacherous in many parts of the country, a new study out of the Insurance Institute for Highway Safety (IIHS) has cause for alarm. Deaths and injuries among drivers of all-terrain vehicles (ATVs) on public roads have substantially increased over the years.
No longer are ATVs seen only off the pavement, even though they are, by nature and design, meant specifically for offroad use. According to the IIHS study, two-thirds of fatal ATV crashes occur on public roads – that's where we all drive on a daily basis.
Furthermore, said the IIHS data, the majority of ATV riders killed in crashes on public roads are male, 16 years of age or older. Very few of them wear helmets and many are alcohol impaired.
Frightening statistics
In 2007, 65 percent of the deaths for which a location was identified took place on public or private roads. That's according to the Consumer Product Safety Commission (CPSC), which conducts a yearly census of ATV rider deaths, including those on public, private and off-road. By the agency's estimates, 10.6 million ATVs were in use in the U.S. in 2010, as compared with only 5.6 million in 2001.
A total of 1,701 ATV riders died on public roads from 2007-2011, according to data from the National Highway Traffic Safety Administration (NHTSA) Fatality Analysis Reporting System (FARS). Note that some ATVs carry passengers, but 9 out of 10 ATV fatalities during the five-year period were drivers of the vehicle.
Other statistics:
Only 13 percent of drivers, 6 percent of passengers killed wore helmets.
Among ATV drivers who died, 43 percent had a blood alcohol concentration (BAC) of 0.08 percent or higher. This compares with about one-third of passenger vehicle and motorcycle drivers.
Fatal ATV crashes are more likely to involve a single vehicle than other fatal crashes. Three-quarters of the fatal ATV crashes involved just one ATV and 56 percent of those involved a rollover.
90 percent of the fatal ATV driver deaths in the NHTSA study were men 16 and older.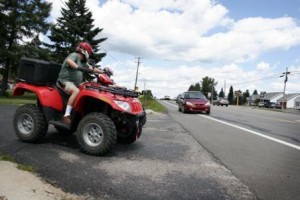 Where crashes occurred
As for where the crashes occurred, it was primarily in rural areas in 49 states. There were no crashes reported in New Hampshire or the District of Columbia.
States recording the highest number of ATV deaths were:
Kentucky (122 deaths)
Pennsylvania (97 deaths)
West Virginia (96 deaths)
Texas (95 deaths)
ATV rider deaths were highest in West Virginia (105 per 10 million people), with Wyoming second at 70 deaths.
What can be done to reduce ATV deaths on public roads?
Besides being on the lookout for ATVs traveling on the roads and paved byways, other suggestions to reduce ATV deaths include strengthening state laws to prohibit ATV use on public roads; making enforcement less onerous in the states that already have existing bans; requiring all ATV drivers and riders to wear helmets (only 8 states currently have this law on the books); and investigate improving ATV stability to prevent rollovers without seriously undermining their off-road capabilities.
For now, drivers should steer well clear of any ATV encountered on paved roads. One recommendation might be the three-foot rule that California has legislated, requiring vehicles to maintain that distance from bicyclists when passing on the road. Also be on the lookout for ATVs crossing the road or riding alongside the road for a number of miles.
Search used cars for sale and find the best deals near you at iSeeCars.com.
To get a FREE iSeeCars VIN Report for a car, click here.