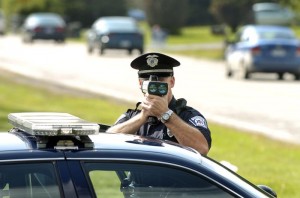 You haven't got enough to worry about already, right? The economy, taxes, health care costs, and so on. Here's something else that directly impacts your wallet: what you'll pay in increased car insurance premiums for traffic violations.
What's surprising, according to a new report from InsuranceQuotes.com, is that even minor traffic violations can hit you hard.
For example, minor transgressions that carry significant insurance penalties include:
Following too closely – This bad driving habit results in an average premium increase of 19 percent
Failure to stop –This will cost an average national premium increase of 19 percent
Failure to yield to pedestrians – another 19 percent premium increase
Improper use of a carpool lane – an 18 percent average spike in premium
The least expensive traffic violation is for not using seat belts: carrying an average increase of 5 percent.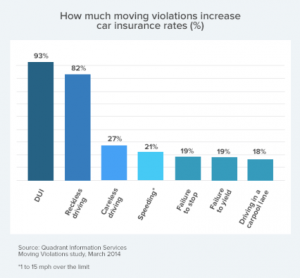 As for the big-ticket items (in more ways than one), those that keep on dinging your wallet for three or so years include:
Driving under the influence (DUI) – which hits you with a national average premium increase of 93 percent
Reckless driving – an average premium increase of 82 percent
What about careless driving and speeding? The numbers aren't good here, either:
Careless driving – figure on an average of 27 percent premium increase
Speeding 1 to 15 mph above the limit – 21 percent increase
Speeding 16-30 mph over the limit – 28 percent increase
Speeding 31+ mph over the posted speed limit – a 30 percent increase
Getting Out From Under
Say you've just gotten a ticket for a minor traffic violation. You don't need to suffer anxiety or depression over a boost in your insurance premium if you take proactive steps now.
"Drivers who commit moving violations can take safety classes to improve their skills and remove blemishes from their records," says Laura Adams, senior analyst at InsuranceQuotes.com.
The good news is that many of these courses are offered online and they can be completed in just a few hours. Weigh that against the hours you'll spend stewing over that added premium increase and it can be time and money well-spent.
Interestingly, the averages reported in the above scenarios are based on the hypothetical case of a 45-year-old married, employed female with a clean driving record, driving a 2012 sedan. This hypothetical driver has a college degree, an excellent credit score, no lapses in her auto insurance coverage and coverage as follows: $100,000 (bodily injury), $300,000 (property damage), $100,000 (uninsured/underinsured motorist), $10,000 (personal injury protection), and a deductible of $500.
Drivers with a less than stellar driving record, single, male, unemployed, no college degree, poor credit score, and spotty car insurance coverage (missed payments, lapsed coverage, etc.) can expect much stiffer penalties in the form of auto insurance premium increases for even minor traffic violations.
Bottom line: Pay attention to your driving when you're behind the wheel. Being proactive may keep your finances in a little better shape – and help you avoid that steep car insurance premium penalty for a speeding violation from Officer Friendly.
Search used cars for sale and find the best deals near you at iSeeCars.com.
To get a FREE iSeeCars VIN Report for a car, click here.