By Suzanne Kane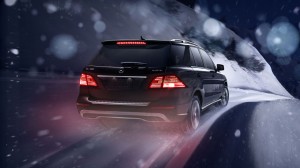 In many parts of the country, winter is already a brutal reality. Even in areas not yet hard-hit with bitter cold and drifting snow, the temperatures are colder than normal. For drivers, the onset of winter can result in being stranded – unless you take precautions and follow these safety tips from the experts.
Icy roads can be a nightmare for even the most experienced driver. The best advice is to stay off the roads until the snow plow has made its rounds. If you absolutely have to drive, make sure your car is prepared, give yourself extra time to get to your destination, and know how to handle quickly-changing and potentially dangerous weather and road conditions.
Decrease speed and leave plenty of room so that you can safely stop. Experts recommend keeping at least three times the space you'd normally maintain between you and the car or cars ahead.
When you break, do so gently. This helps avoid skidding. If you feel the wheels start to lock up, ease off the brake.
Keep the lights on to increase visibility – for you to see others and for them to see you.
Make sure the windshield and the lights are clean. Fill the windshield wiper fluid reservoir and keep it full.
When trying to get traction on snowy, slippery roads or on hills, use low gears.
Never use cruise control or overdrive in an icy road.
Use extra caution when traveling over bridges, on overpasses and roads that are infrequently traveled. These are areas that freeze first. In addition, even if the temperatures appear to be warming, if the weather has been wet, ice can still occur in shady areas or on exposed stretches like bridges and overpasses.
Don't be overconfident about your ability as a driver or car's abilities. Even four-wheel drive and front-wheel drive vehicles can encounter trouble on wintry roads.
Keep a winter survival kit in the car. Stock it with blankets, flashlight and batteries, cellphone charger, water, snacks, first-aid kit, gloves, boots and kitty litter or sandbags for helping to get out of snow or mud, ice scraper or snow brush, tire chains, flares, and music or games for the kids.
Keep the tank full at all times.
Before venturing out, check the tires to make sure they're at the recommended pressure.
In a blizzard
If blizzard conditions make it difficult to see, pull over to the side of the road, when you can do so safely. If you do get stranded, stay in the car. That's your best bet to stay warm and together. Statistics are grim: 70 percent of the deaths that take place during a blizzard happen to people who are traveling during the winter.
Turn your heater on every so often, but make sure the window is cracked to avoid carbon monoxide poisoning. Also, don't leave the heater on for more than a few minutes every half hour. You don't want to use up all the car's gas.
Be sure to check the tailpipe regularly to make sure it's not blocked by snow, ice, mud or flooded water. Once the tailpipe is blocked, carbon monoxide goes into the vehicle and this can kill you without you ever knowing it. Carbon monoxide is odorless and colorless.
Stay hydrated to maintain your body temperature.
Keep the overhead light on so that rescuers can see you in the car.
While it may seem like the last thing on your mind, try to do some stretching or other isometric exercises while in the car. Just don't overdo it. Mild exercise will help you to stay warm and will give you something to do while you wait for help to arrive.
Search used cars for sale and find the best deals near you at iSeeCars.com.
To get a FREE iSeeCars VIN Report for a car, click here.