In the days of so much hubbub over wildly fluctuating gas prices and what emissions may or may not be doing to the environment, the tendency for consumers to downsize vehicles has gotten a bit out of hand. While it may seem like many people have gotten away from huge SUVs, they still make sense for many consumers – and they're still buying them. Here we take a look at driving large: 11 of the biggest used SUVs and why we like them. See if you agree.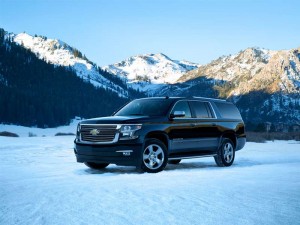 2015 Chevrolet Suburban – It's got the brawn to tow up to 8,500 pounds, perfect for hauling a horse trailer or boat around, or some snowmobiles, for that matter. Plus, there's the people-carrying capacity: the redesigned 2015 Chevrolet Suburban large SUV can transport  up to nine passengers. So, gather up the family and head on out for weekend jaunts, summer or winter vacations. With its 355-horsepower 5.3-liter V8 engine matched with a six-speed automatic transmission and available four-wheel drive, the Chevy Suburban is one large SUV that's always been popular with consumers. In fact, the Suburban has been a mainstay of the full-size SUV category for decades – and doesn't appear to be going away anytime soon. Hallelujah for that. Nothing like a Suburban to get the tough jobs done.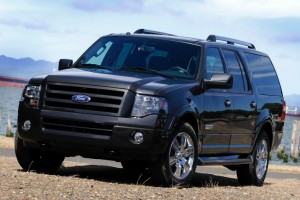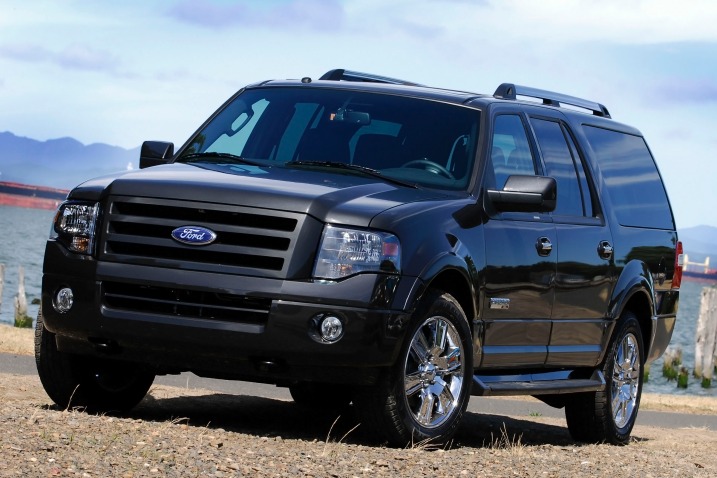 2014 Ford Expedition EL – As the name implies, the 2014 Ford Expedition EL is extra length (or maybe it's extra long). Whatever EL really stands for, in our mind it's perfectly appropriate for a large SUV that can do almost anything we want it to. For example, haul a boat – the Expedition can tow up to 9,200 pounds. Another example is people-carrying capacity – the Expedition can transport up to eight passengers. And everyone has plenty of room to stretch out – in all three rows. Still another example is cargo capacity – the Expedition EL can haul a maximum of 130 cubic feet of cargo. Base XLT, Limited and King Ranch are the three trim levels available in the 2014 Ford Expedition EL. Rear-wheel drive is standard, but four-wheel drive with low-range gearing is available as an option.
2015 Nissan Armada – Based on the full-size Titan pickup, the 2015 Nissan Armada is designed for big things. With eight-passenger capability, the Armada can also haul quite a bit of gear, thanks to the 97 cubic feet of cargo space. There's also the 9,000-pound towing capacity that sets the Armada apart from other large SUVs. Power comes from the 317-horsepower 5.6-liter V8 engine that puts out 385 pound-feet of torque. The engine is mated with a five-speed automatic and low-range four-wheel drive means the Armada can even go off-road when the occasion demands.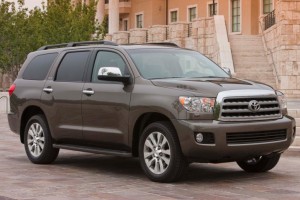 2014 Toyota Sequoia – Here's another eight-passenger full-size SUV that is totally flexible in terms of its capabilities for families or adventurous friends. One of the ways the 2014 Toyota Sequoia sets itself apart from the competition is its independent rear suspension. This benefits handling, always good to have in a large SUV. The 381-horsepower 5.7-liter V8 engine, six-speed automatic transmission and four-wheel drive mean the Sequoia can tow up to 7,400 pounds. Cargo capacity is 120.1 cubic feet, which is pretty good.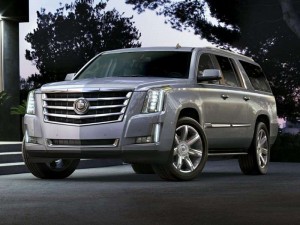 2015 Cadillac Escalade ESV – If you like your big SUVs to be luxurious, technologically advanced, good looking and plenty powerful, check out the 2015 Cadillac Escalade ESV. The large Caddy SUV has, like its corporate stable-mate the Chevrolet Suburban, 120 cubic feet of cargo space, eight-passenger capability, and can tow up to 8,100 pounds. The Escalade ESV, however, has more space inside for stretching out than the Suburban (which has nine-passenger capability). Power comes from the 420-horsepower 6.2-liter V8 engine perfectly paired with an eight-speed automatic transmission. All-wheel drive is optional.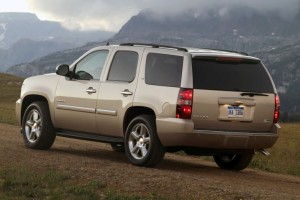 2013 Chevrolet Tahoe – If you need to haul a horse trailer or pull a large boat or camper (maximum towing capacity is 8,500 pounds), you need the kind of guts and brawn that the 2013 Chevrolet Tahoe full-size SUV provides, period. If you travel through mud, snow, up and down slippery boat ramps or down rutted two-tracks, the Tahoe can tackle whatever you throw at it with ease. It also carries nine passengers in comfort and quiet, so those long trips with the kids and all their stuff is much more enjoyable than cramming them into a smaller crossover.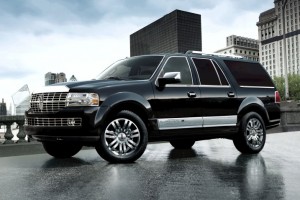 2013 Lincoln Navigator L – One of the oldest designs in the segment (in 2013, dating back to 2007 for the last major redo), the 2013 Lincoln Navigator L, while a bit long in the tooth, still offers an opulent, plush ride, seating for seven in three rows (or eight if you swap out the second-row buckets for a three-person 40/20/40 split-bench seat), standard rear-wheel drive (and optional all-wheel drive), plus plenty of standard and available features. Critics say the 310-horsepower 5.7-liter V8 engine is aging and underwhelming in the power department compared to rivals. There is 128 cubic feet of maximum cargo space and the third row is also easy to access when the seats are up. Ride quality is good and the cabin is well insulated against outside sound. The Navigator L, however, is a little tough to park in tight quarters.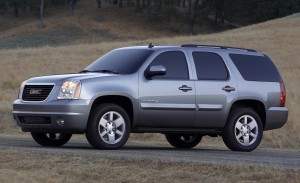 2014 GMC Yukon XL – With class-leading interior space and seating for up to nine, the 2014 GMC Yukon XL offers families in need of space, power, towing ability and more just the right choice. The interior is made with high-quality materials, the ride is smooth, and the Denali offers the powerful 6.2-liter V8 engine. Properly equipped, the Yukon XL can to up to 8,100 pounds. As for room for gear and cargo, with all seats up there's w9 cubic feet of storage space behind the third row; with second-row seats folded and third-row seats removed, there's 137.4 cubic feet of cargo capacity. Note that the 2014 model was the last year before a full redesign in 2015.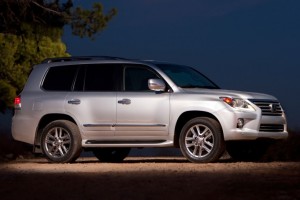 2013 Lexus LX 570 – For power, presence, opulence, equipment level and capability in the Lexus stable, the 2013 Lexus LX 570 large SUV has it all. A 383-horsepower 5.7-liter V8 engine (shared with the Toyota Land Cruiser) and full-time four-wheel drive, plus electronically controlled suspension with adaptive ride height and damper control, easily moves the eight-passenger LX 570 around. There's a single trim level, but the Luxury package adds all sorts of goodies to the LX 570, including ventilated front seats, heated second-row seats, a cooling bin and more. Options include parallel parking system, front and side cameras, adaptive cruise control, a Mark Levinson surround-sound system with 19 speakers, and more. Strong breaks and great off-road capabilities are other reasons to like the 2013 Lexus LX 570 – but its thirst for gasoline isn't one of them.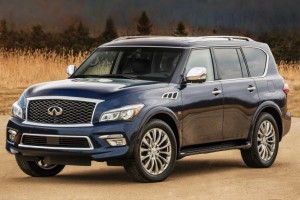 2015 Infiniti QX80 – New front-end styling amps up the interest in the 2015 Infiniti QX80 large luxury SUV. Higher ground clearance is a plus, and the interior is handsomely done, comfortable, quiet, and boasting a great many standard and optional features. Some say this is the best SUV from Infiniti yet, and we'd have to agree. There's a new Limited model for 2015 for those who want even more from their luxury SUV. As for passenger carrying ability, the QX80 only seats seven, so it's the least efficient of the large SUVs in this group – but still a worthy contender, depending on what you're looking for.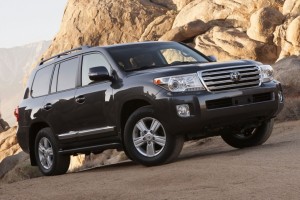 2013 Toyota Land Cruiser – With a name like Land Cruiser, what's not to like? Actually, the 2013 Toyota Land Cruiser (the slightly less expensive version of the Lexus LX 570) is rather expensive for an off-road family hauler. But you do get what you pay for, and with the Land Cruiser, that's legendary eight-passenger off-road appeal. Everything on the Land Cruiser is standard, so you're going to be well taken care of right off the bat. No matter the terrain you care to tackle, the Land Cruiser has the capability to automatically set the SUV up for it. But the Land Cruiser is also civilized on everyday roads a
Search used cars for sale and find the best deals near you at iSeeCars.com.
To get a FREE iSeeCars VIN Report for a car, click here.