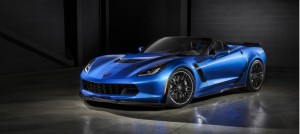 It's definitely spring when the New York Auto Show comes around and automakers trot out their latest and greatest creations. This year's high-performance reveal of the 2015 Chevrolet Corvette Z06 convertible has to rank right up there in the constellation of must-see car debuts.
For one thing, the Corvette Z06 convertible is drop-dead gorgeous. It's also the first Z06 convertible Chevy has offered since 1963. That's the year Chevrolet introduced the Z06 option package for endurance racing. The fact that only 199 Corvette orders had Z06 package that year shows just how few of these amazing vehicles were ever built.
Until now, or, rather, until it comes out in early 2015. Some good things you just have to wait for.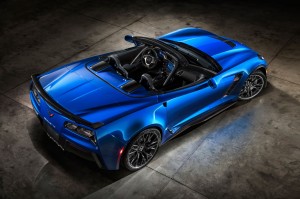 Super-performing supercar
Yes, it's a convertible and, yes, it goes like a bat out of you-know-where. With 625 horsepower from a supercharged 6.2-liter LT4 V8 engine, the Z06 convertible will meter out 635 pound-feet of torque. A seven-speed manual transmission with rev-matching technology will be offered up, but there's also the new eight-speed paddle-shift automatic tranny that will be available. According to Chevrolet, this transmission shifts faster than the PDK gearbox in the Porsche.
The LT4 engine uses the same advanced technologies introduced on the Corvette Stingray to balance performance and efficiency: Direct injection, active fuel management (or cylinder deactivation), and continuously variable valve timing.
There are no structural reinforcements needed for the Z06 convertible and its all-aluminum high-tech structure makes for a strong, lightweight body. Its curb weight is almost identidal to the Z06 coupe and the two cars share the same chassis tuning, powertrain output, driver technologies and equipment options. These include the Z07 Performance Package which adds Brembo carbon-ceramic matrix brakes, adjustable front- and rear-aerodynamic componente and Michelin Pilot Sport Cup tires.
Want to enhance your driving abilities? The Driver Mode Selector has up to a dozen customizable features, including launch control, traction control, Performance Traction Management and an electronic limited slip differential.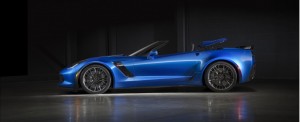 Lightweight convertible top
The Z06 convertible features an electronic top that can be remotely lowered with the car's key fob. Another plus is that the top can be opened or closed on the go, at speeds of up to 30 mph.
The top is comprised of thick fabric and is offered in four colors.
From all reports – and we'll have to take their word for it until we can test it ourselves – the 2015 Corvette Z06 convertible is supremely quiet, offering an amazing driving experience with the top up or down.
Nothing quite like it
Only a handful of supercars in the world can generate this kind of horsepower. Only the 2015 Chevrolet Corvette Z06 does it with such drop-top allure and incomparable cachet. There's simply nothing quite like it.
Now, where's that order form?
Search used cars for sale and find the best deals near you at iSeeCars.com.
To get a FREE iSeeCars VIN Report for a car, click here.