If it seems like a no-brainer, it really is. Yet, the really amazing thing is that too many drivers, intentionally or unwittingly (pun intended), leave their keys in the car. When a watchful thief makes off with the vehicle, the surprised/mortified/angry driver is left stranded. Who's to blame here? It doesn't take a rocket scientist to point as much to the careless driver as the criminal who's taking advantage of the situation. A simple solution to this predicament: Dude, take your car keys.
What brings this to light is a report from the National Insurance Crime Bureau (NICB) showing that thefts of vehicles with the keys left inside is on the upswing. In the first-of-its-kind analysis of vehicle theft, the NICB depicts, in all too discomforting detail, how this carelessness on the part of drivers is leading to a shocking rise in car thefts.
On the other hand, overall vehicle thefts are decreasing. That's the good news.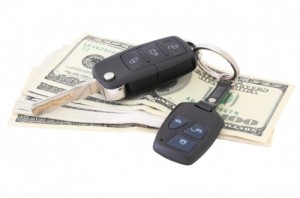 Back to the bad news, there's plenty to go around with respect to thefts of cars where the keys were left inside.
In 2012, 5.4 percent of vehicles stolen (39,345) had the keys left inside. In 2013, it was 6 percent (42,430), rising to 6.7 percent (44,828) in 2014. Clearly, this is not a good trend.
Top five states with cars stolen where keys were left inside: California (19,597), Texas (8,796), Florida (7,868), Michigan (7,726), and Ohio (7,452).
Saturday was the day with the most car thefts where keys were left inside (19,147). Next highest was Friday with 18,719 thefts, and then Monday with 18,647 thefts. Maybe this says something about drivers paying more attention to other things than where their car keys are in and around the weekend.
Reasons Why Drivers Leave Keys in Cars
While car theft is becoming much more difficult today as a result of high-tech security devices and technology installed in vehicles, leaving the keys in the ignition defeats the purpose.
There shouldn't be any excuse, but it should come as no surprise that drivers – if they do admit they've done so – have a litany of reasons for leaving their keys inside the vehicle. We can think of a few, and have actually heard some of these before:
I only went inside for a minute.
I left the keys in the ignition to warm up the car.
The car was in my driveway. It should have been safe there, right?
I've done this a million times before and never had a problem.
I swear I took the keys with me.
My teenager was driving. I thought she had the keys with her, but I never dreamed she'd leave them in the car.
I needed help loading/unloading the vehicle and went inside to get it, leaving the car running.
Somebody must have stolen my keys from the table while I was in the restroom.
Wait. I can't find my keys. What happened to them?
To view a copy of the full report, go to the NICB website.
Search used cars for sale and find the best deals near you at iSeeCars.com.
To get a FREE iSeeCars VIN Report for a car, click here.