If you are searching for electric vehicle insurance, finding inexpensive auto insurance for your all-electric car will take a bit of research. The basics will still apply, just as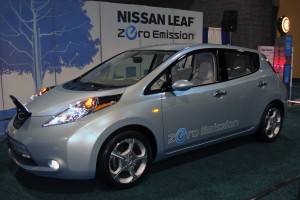 they do for obtaining affordable insurance for any type of vehicle, gasoline-powered, hybrid or diesel, or electric.
In short, you still need to be a good driver, have good credit, no accidents or tickets within the last three to five years where you were determined to be at fault, and certain other factors unique to the particular insurance company.
Since all-electric vehicles, such as the 2011 Nissan Leaf and the 2012 Ford Focus Electric, as well as the high-performance 2011 Tesla Roadster, are new to the market and have not yet become mainstream among American motorists, it will take some time for auto insurance companies to offer policies specific to electric vehicles. You'll likely be getting coverage based on the factors already mentioned above, as well as the size of the vehicle, how much it costs, and any claims statistics the company may have already had with such vehicles.
As time goes on, however, and more consumers gravitate toward the purchase of electric-powered vehicles, the entire auto insurance landscape will change. Think how uncompetitive a car insurance company would be if millions of Americans started buying and driving electric cars – but couldn't find reasonable auto insurance coverage? Now, imagine that a big-name auto insurer such as GEICO began insuring customers who buy electric cars. Actually, GEICO does offer coverage for electric-vehicle owners right now, but only in California, North Carolina, and Rhode Island where they're required to by law, according to TheCarElectric.com. Furthermore, you have to be an existing GEICO customer or they won't write coverage. Is this a competitive advantage for GEICO, or just a car insurer doing what they need to?
Again, when more consumers start buying all-electric cars, there will be a marketing niche carved out for insurance companies and they will capitalize on it and start making such policies available. For now, what about electric vehicle insurance – finding inexpensive auto insurance – is it possible?
Guess what? Check with Allstate and State Farm, which, according to TheCarElectric.com, do offer electric vehicle insurance. Such policies may not be cheap, but you can maximize your savings by taking advantage of all the available discounts the companies offer: good driver, good student, multi-car or multi-policy discounts, senior discounts, and so on. As of now, there are no discounts for buying an electric car, in and of itself.
Remember, too, that if you are one of the lucky ones to be able to afford a Tesla Roadster, you'll be paying for a high-performance sports car type of policy.
There's also the issue of repair and replacement parts for your electric car. As CarInsuranceList.com points out, these aren't exactly off-the-shelf items and are likely to cost more, both for the parts and for specialized technicians to do the repairs.
None of this should deter you if you are strongly considering the purchase of an electric vehicle. Consider all the reasons why you want the particular vehicle, including its safety technology, power, performance, roominess and comfort, as well as its environmental benefits being a green vehicle. If, for example, the 2012 Ford Focus Electric meets your wants and needs, you will be able to find auto insurance that will cover you and your loved ones.
Search used cars for sale and find the best deals near you at iSeeCars.com.
To get a FREE iSeeCars VIN Report for a car, click here.