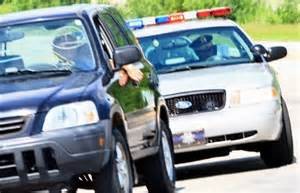 Among the constants in life is the need to pay for certain recurring expenses, such as car insurance if you own a vehicle and drive. No one wants to pay more than they have to, so most drivers comparison shop and actively seek all available discounts from their insurance company. But what happens when you get a few tickets on your record? According to new data from insuranceQuotes, even minor violations can have a negative effect on consumers' finances.
The third annual Moving Violations report, commissioned by insuranceQuotes from Quadrant Information Services, found that rates for car insurance can rise as much as 94% on average after just one moving violation.
Report highlights include:
Not surprisingly, the most expensive violations are DUIs (driving under the influence) at a 94% increase and reckless driving (85% increase), while the least costly is failure to wear a seat belt (6% increase).
A minor speeding ticket (driving 1-15 mph over the posted legal limit) results in drivers paying an average of 21% more to insure their vehicle.
But other rather minor traffic violations also carry high monetary penalties, including failure to signal (19% increase), following too closely (19% increase), and improperly driving in a car pool lane (18% increase).
To gain some perspective on the effect traffic violations have on what drivers pay for car insurance, and what drivers can do about it, iSeeCars spoke with Laura Adams, senior analyst at insuranceQuotes.
What is the annual cost of car insurance in the U.S.?
"The most recent data from the National Association of Insurance Commissioners (NAIC) shows that the average annual cost of auto insurance for 2013 was $841 in the U.S.," says Adams.
Which state has the most severe penalties/laws governing moving violations?
"The states that top the list for increasing auto insurance rates the most after a moving violation vary depending on the type of violation," says Adams. "For instance, with a DUI, North Carolina increases rates an average of 334% (the lowest is Maryland at 15%). With reckless driving, Hawaii is the most expensive with a 291% average increase (Louisiana is the lowest at 29%); and with speeding 31 or more mph over the limit, Illinois tops the list at a 99% increase (while Missouri is the lowest at 9%)."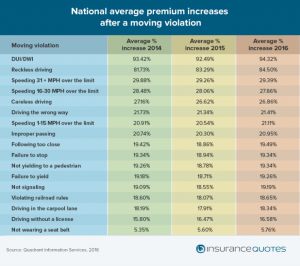 For states such as California and Hawaii, what can drivers do to overcome higher insurance premiums for the high-cost moving violations – DUI, reckless driving etc.?
"When a driver's auto insurance premium goes up afte4r receiving a moving violation, the best defense is to shop his or her policy," says Adams. "Not all insurance companies evaluate violations the same way, which means you may find a lower rate with a competitor, even with a moving violation on your driving record."
What is the effect of a driver having two of the costliest moving violations within 6 months, such as DUI and reckless driving? Does his/her car insurance get canceled, do they lose their license?
"The consequences for receiving multiple moving violations vary by state," Adams says. "But insurance rate increases are much steeper for a second violation you receive within a short period of time than they are for a first violation.
"If you receive multiple violations that indicate you're a high risk to an insurer, such as DUI or reckless driving, the provider could cancel your auto insurance policy altogether."
Should drivers consider moving if their car insurance premiums are cost prohibitive?
"Depending on where you live and your income, there may be government funds to subsidize the cost of your auto insurance coverage if it's unaffordable," says Adams. "Check with your state's department of insurance to find out what resources are available."
How much would a pay-as-you-drive insurance policy help? Is this even available to someone with many moving violations?
"It's possible that enrolling in a pay-as-you-drive insurance program could help a driver with moving violations on his or her driving record save money," Adams answers. "The savings would vary by state and by company – but is definitely worth evaluating with an insurer that offers these types of programs."
Any data on how long these violations stay on a driver's record by state? Is there a way for consumers to check this without having to request a quote from several insurers? For example, if someone has had three tickets in the past 2 years, one for speeding (16-30 mph), one for reckless driving, and one for failure to yield to a pedestrian, and they apply to two insurance companies, how long will their record be weighed for calculating annual premiums?
"Typically, the length of time that moving violations remain on your driving record is in the range of 3 to 5 years, but that varies by state," Adams says. "That means your auto insurance rate will go up for each violation until they drop off your driving history.
"Drivers can request or purchase a copy of their driving record from their state's department of motor vehicles."
Can drivers even get discounts when they have a lot of tickets?
"There are a variety of auto insurance discounts that providers offer, such as being a good student, bundling with a home or renter's policy, and having multiple vehicles insured. Discounts will still apply when you have tickets on your driving record; however, they'll apply to a higher base premium."
Want to see how three of the costliest moving violations (DUI, reckless driving and speeding 31+ mph over the limit) affect rates in your state? Check out the state by state comparison below.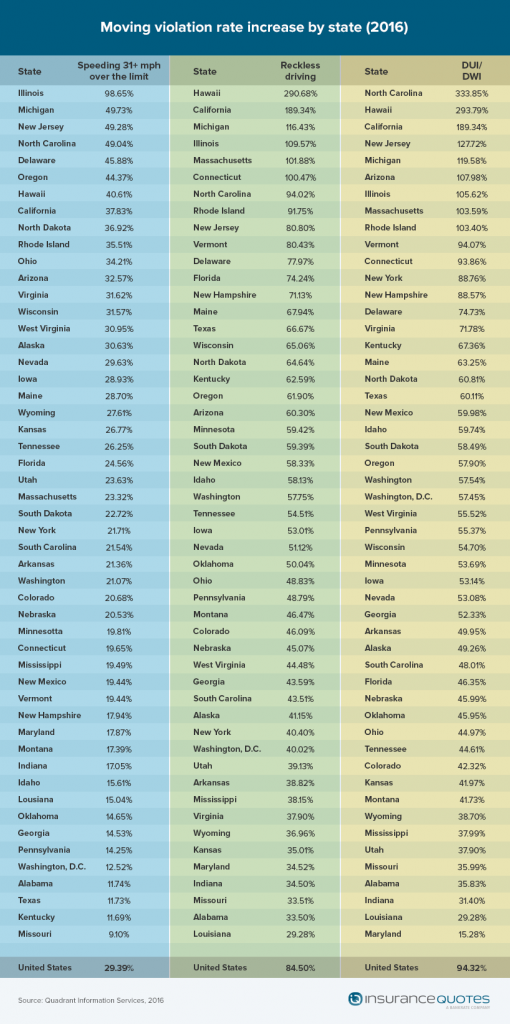 Search used cars for sale and find the best deals near you at iSeeCars.com.
To get a FREE iSeeCars VIN Report for a car, click here.