Who says SUVs have to be big hunkering beasts built more for comfort than performance? Who says the fastest SUVs have to be comparable to tortoises crawling out of a muck hole? Sometimes we want a little extra giddyup to feed the speed demon in us. Sometimes getting off that line faster than the other guy is just plain fun. Especially when the other guy is in his sleek, fire-red sports car and looking at you like, "You poor old sap. Finally broke down and bought the family-mobile." Sometimes there's just a little extra satisfaction in blowing him off the line. So, for those of you who want to hold onto a touch of rapidity, we've researched Car and Driver, Consumer Reports, Edmunds, and Motor Trend, and found the fastest SUVs.
1. 2011 Porsche Cayenne Turbo          New Model MSRP: $104,800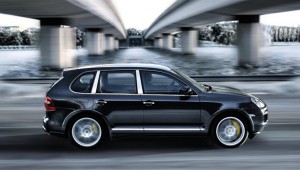 The 4.8L turbocharged V8 producing 500 horsepower and 516 lb-ft. of torque make the Cayenne Turbo the fastest SUV on the road. It will reach 60 mph from a standstill in just 4.4 seconds, thanks in part to a sleek AWD system providing superior traction at takeoff. That time is comparable to the Ford Shelby GT500. Obviously you're going to need some very deep pockets to have this kind of SUV power and speed, but the Porsche should give a little more back at the gas pump than others in this class as it boasts a decent fuel efficiency of 15/22 mpg (city/highway). As is customary with Porsche, handling is at a premium.
2. 2011 Mercedes-Benz ML63          New Model MSRP: $92,590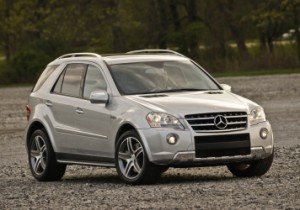 The ML Series features a plethora of engine choices, but the ML63 features just one – that's all you'll need. The 6.2L V8 is good for 503 horses and 465 lb-ft. of torque. All that power will get you to 60 mph in just 4.7 seconds, but expect it to suck the gas right out of the tank at an astronomical rate in doing so. A fuel economy at 11/15 mpg is one of the lowest you'll find anywhere. That's also thanks to the AWD system, driven by an AMG-tuned seven-speed automatic transmission with manual override shift paddles. Despite its tremendous speed, handling is rather numb and unresponsive. There is also significant body roll when cornering thanks to an overly soft suspension. Very disappointing handling features for such an expensive vehicle.
3. 2010 Jeep Grand Cherokee SRT8          New Model MSRP: $43,325
The Grand Cherokee SRT8 sports the same 6.1L Hemi V8 that's found in the Charger and the Challenger. That'll rocket the Jeep to 60 mph in just 4.8 seconds. Although a five-speed automatic transmission is the only tranny available, all-wheel drive is an option; but, that will drag fuel efficiency down considerably. Grand Cherokees equipped with Quadra-Drive II will include hill-descent control, hill-start assist, and skid plates. All that power was meant for off-road capabilities but the Jeep is just as comfortable on the pavement as it is off. Steering is precise and handling is considerable. Compared to most SUVs in this category, the price is right as well.
4. 2011 Infiniti FX50          New Model MSRP: $59,000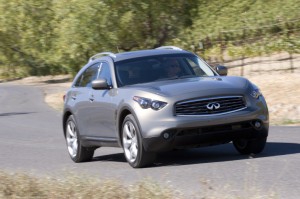 Choices are not bountiful in the FX50. Maybe that's because they don't need to be. Why mess with a good thing? The 5.0L V8 engine, AWD, and seven-speed automatic transmission with manual shift control, the only options available, will take the Infiniti to 60 mph in a very impressive 5.5 seconds. While it doesn't boast as good a fuel economy as the Porsche Cayenne, it isn't at the lowest end either, estimating to be 14/20 mpg. "On serpentine back roads, the FX50 handles more like a sport wagon than a crossover SUV. The steering has a tight, direct feel, while the suspension handles the curves with ease." (www.edmunds.com) All in all, not a bad price for an SUV with such performance standards and high-class luxury.
Search used cars for sale and find the best deals near you at iSeeCars.com.
To get a FREE iSeeCars VIN Report for a car, click here.