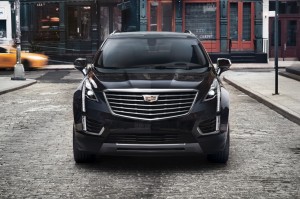 In terms of product news, it doesn't get much better than this – for Cadillac, that is. The luxury brand of General Motors announced it will unveil the first in an all-new series of Cadillac luxury crossover vehicles with the debut of the 2017 Crossover Touring 5 (aka the XT5) at the Los Angeles and Dubai auto shows this year. Being first to market, the XT5 serves as the cornerstone of Cadillac's four new luxury crossover lineup and will begin production in spring 2016.
"XT" is Cadillac's new nomenclature for all crossovers and SUVs except the Escalade, just as "CT" denotes all new car models – including the CT6 that launches in March 2016. With sales of the outgoing SRX very robust, Cadillac aims to capitalize on consumer appetite for luxury crossovers with the SRX's successor, the XT5.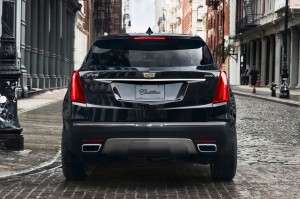 All-New, Top to Bottom, Inside and Out
The five-passenger midsize XT5 is like nothing before. It will reside on a unique chassis and structure. It is more lightweight than the current Cadillac SRX crossover – by 278 pounds. It is 7 inches longer than the Audi Q5 and 100 pounds lighter. The XT5 is also lighter than the Mercedes-Benz GLE-Class by more than 650 pounds.
The benefit of such weight reduction is more agility in driving dynamics – always a good thing in a luxury performance crossover. The increased length affords rear-seat passengers 3.2 inches more legroom than the current Cadillac SRX. The rear seat also reclines fore and aft for greater passenger comfort and utility.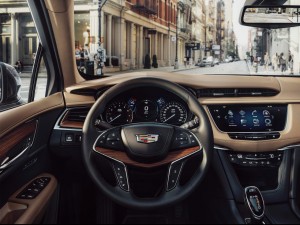 Luxurious Interior
As you'd expect in a Cadillac, great attention was paid to the interior of the XT5. Cadillac's Andrew Smith, executive director of global design, says that "luxury crossover customers particularly focus on interior design and materials."
To satisfy the most discerning of XT5 customers, the interior is wider and more horizontal, making more efficient use of space that affords greater roominess.
The interior features cut-and-sewn wrapped panels – not molded surfaces so common in mainstream vehicles.
The cabin is extremely quiet.
A palette of colors and greater variety of materials contributes to an overall feeling of expressiveness in all XT5 trim levels.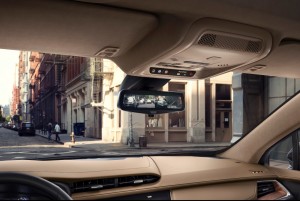 Performance
Powering the XT5 is the new 310-horsepower 3.6-liter V6 engine with variable valve timing (VVT) – that debuted on the 2016 ATS and CTS and is featured on the CT6. This engine produces 270 pound-feet of torque. The redesigned engine has Active Fuel Management cylinder deactivation technology for seamless and automatic shifting to four-cylinder engine mode (under low or moderate load conditions).
Delivering power to the wheels is a new eight-speed automatic transmission with yet another Cadillac first – Electronic Precision Shift, Cadillac's first electronically controlled transmission shifter.
The benefits of Electronic Precision Shift are reduced noise and vibration. This also allows further use of cabin space thanks to storage beneath the center console.
The XT5 also offers an optional "twin-clutch" all-wheel drive system. The benefits of this system include excellent traction in all types of conditions. While it was specifically designed and engineered for "strong performance" in icy, snowy or wet conditions, it also delivers enhanced stability in dry weather conditions.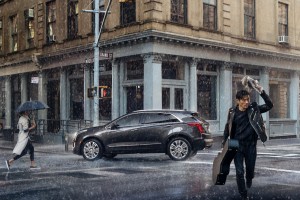 Technology You Can Use
Not just a rearview camera will be offered in the XT5. That simply wouldn't do for a luxury crossover in Cadillac's new lineup. The brand patented the rear-camera mirror system (an industry-leading technology) and it debuts on the CT6 and the XT5.
The benefits of this system include a 300 percent increase in the driver's rear vision field, made possible by the use of a video display applied over the conventional rear-view mirror. Wider images behind the XT5 are due to a high dynamic range camera that streams the images to video processing software. "Obstacles" such as rear seat passengers, roof and rear pillars are "removed," projecting an unobstructed view to the XT5's liquid crystal display.
Since many consumers spend a great deal of time inside a vehicle, whether for commuting, running errands, going on family trips or just taking a leisurely drive, paying attention to consumer "wants" for infotainment is key to attracting and keeping loyal customers. The 2017 Cadillac XT5 features 4G wireless connectivity, with a standard integrated Wi-Fi hotspot, standard Apple CarPlay and Android Auto for a simpler and more integrated in-vehicle phone experience, and an upgraded Cadillac CUE system for connectivity and control.
In addition, the XT5 offers available Driver Assist and Driver Awareness packages to aid vision and collision avoidance. Packages include front and rear automatic braking under low-speed conditions, lane keeping assist, rear cross traffic alert, side blind zone alert, automatic parking assist and full-speed adaptive cruise control.
Innovation, Excellence – Returning to Cadillac?
It wasn't all that long ago that the name "Cadillac" meant excellence to generations of Americans. Cadillac was a brand to aspire to, a coveted and prestigious marque. Cadillac was also the industry leader in decades of numerous engineering innovations. It seems that the brand may be poised to return to a position of innovation and excellence – not that some of its recent product offerings haven't already signaled the beginning of such a trend.
While some consumers may prefer to wait for the XT to bow in the spring, there is some merit to the wisdom of snagging one of the remaining 2015 Cadillac SRX models now. According to Cadillac, buyers (and lessees) are flocking to the showroom to do just that. In fact, that trend reinforces Cadillac's mission to go forward. With a strong customer base and continuing demand for luxury crossover SUVs, Cadillac is a serious competitor in the SUV segment.
Search used cars for sale and find the best deals near you at iSeeCars.com.
To get a FREE iSeeCars VIN Report for a car, click here.