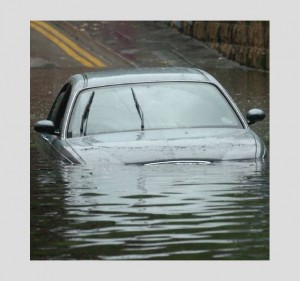 The weather has been anything but kind to countless residents across the Lone Star State as record rainfall and widespread flooding have created havoc. The spring rainstorms also caused damage to thousands of vehicles, which authorities estimate may be popping up on used-car lots or sold via private sale to unsuspecting, unwary buyers.
The National Insurance Crime Bureau (NICB) is warning potential buyers of used vehicles to be on the lookout for flood-damaged cars and offers a few tips to keep you safe, rather than sorry, with your used-car purchase. Keep in mind that vehicles damaged by the floods in Texas may make their way to other states, so be cautious whenever buying a used vehicle.
Crooks May Be Everywhere
The NICB is working to help in the identification of flood-damaged vehicles so they don't wind up in consumers' hands. In a statement, Joe Wehrle, NICB president and CEO, warns that "Unfortunately, natural disasters bring out dishonest salvage dealers who don't tell you that the vehicles they are selling are heavily water-damaged."
Wehrle added that flood-damaged vehicles may appear for sale without any indication in the for-sale advertisements that they were affected by the recent flooding. "As always, consumers should be careful when considering a used vehicle purchase in the weeks and months following a disaster like this."
What to Look For
The NICB has useful checklists for buyers to help avoid becoming the victim of fraud for vehicles not identified as salvage or flood vehicles. Here's how the NICB says you can prevent getting stuck with a "flood" car:
Only buy from a reputable dealer. If you know the dealer and they've been in business for a long time or you've dealt with them before, it's a safer bet than checking out vehicles on some just-appeared used car lot.
Inspect the vehicle, especially in hidden or semi-hidden spots in the interior. Look for mildew, water stains, sand or silt under the floor mats and carpets, behind the dashboard,  and the headliner.
Look inside the seatback retractors for grime, mildew, and moisture.
Since water causes rusts, look for this on screws in the console or in other areas where water normally doesn't reach.
Fading on door panels and interior upholstery could be another sign of flood damage.
Also check for grit or mud in these places: the spare tire compartment, behind wiring harnesses, alternator crevices, and around small recesses power steering pumps and relays, and starting motors.
Check under the car's hood for any signs of oxidation.
Flood-damaged cars with aluminum or alloy wheels will have a white powder or pitting on them.
Speakers housed in the doors will have damage from flood, so be sure to carefully inspect them.
Before you purchase a used vehicle, have a certified mechanic perform a thorough inspection.
Also inspect the vehicle's ownership papers and title for any salvage fraud.
Use the VINCheck℠ at www.nicb.org to see if the vehicle may have been flooded.
Perhaps the best tip of all is that if a vehicle advertised for sale sounds too good to be true, it's time to walk away.
Search used cars for sale and find the best deals near you at iSeeCars.com.
To get a FREE iSeeCars VIN Report for a car, click here.