By James Hamel
Now we must have gone seriously mad here with this comparison test of these disparate compact SUVs from not only a German and North Korean Automaker but a homegrown one here as well. But in this case the homegrown SUV builder is one of America's best known SUV brands now using one of its high-brow trim levels for the first time with its tiniest suburban offering.
Yes folks, the almighty Denali nameplate which signifies the shiniest chrome accents, the supplest of leather, the richest wood trims and heretofore unseen levels of power from a motor that has finally trickled down into the Terrain line-up of SUVs all the way from the nether reaches of almighty Cadillac. Yes, the 2014 GMC Terrain Denali comes standard with a 3.6 liter 301 horsepower/272 lb. feet of torque V6 as well as safety upgrades like lane departure warning and a forward collision alert system.
After that we have a couple of other odd ducks in the SUV animal kingdom with the 2014 VOLKSWAGEN Tiguan R-Spec which in addition to being totally blinged out with larger wheels as well as a chrome ringed flat bottom steering wheel but is still quite fun to drive thanks to the GTI's donated 2.0 liter turbocharged 4-cylinder engine. The 2014 VOLKSWAGEN Tiguan R-Spec also comes with a sportier suspension tune and comes nicely loaded at $36,820 which includes a six-speed auto, dual zone climate control, in-dash navigation, premium audio system, power everything, full-glass power moonroof, Bluetooth, Bi-Xenon headlamps, 19-inch alloy wheels and optional 4-Motion all-wheel drive.  Plus it just looks hella cool.
Exterior and Interior Analysis:
When it comes to exterior designs, the VOLKSWAGEN is clearly the most restrained of the trio with its very Germanic looking face appearing quite stoic compared to
the blinged out GMC grille and the Kia's over-the-top manic turbo nature. The 2014 Kia Sportage SX what with its blacked out 18-inch wheels always looks ready to do something overtly naughty in front of a Sheriff while the Tiguan and Terrain Denali appear better suited for occasional country club visits.
The 2014 GMC Terrain Denali looked better equipped to handle most anything in upscale suburbia, in fact, thanks in part to things like dual-flow dampers which improve ride/handling performance and the Multi-flex sliding rear seat which allows the owner to adjust how much cargo volume relative to rear legroom. Also, despite being the priciest model here, the 2014 GMC Terrain Denali managed to seem worth the sticker price thanks to interior materials that were a class and a half above the Kia in quality feel.
The 2014 Kia Sportage SX felt airy and roomy inside the cabin mainly due to the expansive full length panoramic sunroof. Without it, we fear that the Sportage's interior might feel just a bit more cramped with less elbow room becoming most obviously apparent right away. Then, of course, you will notice that the Sportage has 26.1 cubic feet of cargo space growing to only 54.6 cubic feet once the second row is folded down flat.
In the VOLKSWAGEN Tiguan, cargo space, however, is not great at 23.8 cubic feet behind the rear seats with that number growing to 56.1 cubic feet with the seats folded flat. VOLKSWAGEN's own Jetta Sportwagen trumps that with 32.8 and 66.9 cubic feet respectively. Honestly, the Kia may be the sportiest looking of this trio but it pays for that trendy rear end when it comes to trips to the dump or IKEA. We felt happiest with the Tiguan R-Spec's happily extreme medium here.
(1st Place: 2014 VOLKSWAGEN Tiguan R-Spec, 3rd Place: 2014 GMC Terrain Denali, 3rd Place: 2014 Kia Sportage SX)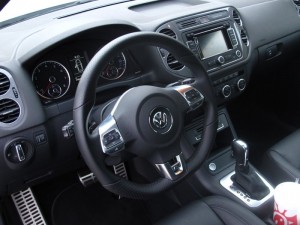 Pricing, Value and Fuel Economy
Our test Tiguan R-Spec is a new trim level for 2014 and it came fully loaded with a full length panoramic glass sunroof, navigation, Bluetooth, heated front seats, 18-inch alloy wheels, dual zone climate, power windows, locks and mirrors, a leather wrapped multifunction flat bottom steering wheel, a Fender Premium audio system, full leather seating, a back-up camera, powered and heated front seats, iPod connectivity, Bi-Xenon headlamps and Volkswagen's new Car-Net system which is also new this year  and works much like GM's On-Star. As we said earlier, all that goodness doesn't come cheap exactly with the MSRP hanging on at $36,535.
Over the course of a week with us where we were less than judicious with the Volkswagen's throttle thanks to the addictive torque and raspy growl of the Tiguan's 2.0 liter 200 horsepower/207 lb. feet of torque turbocharged 4-cylinder we averaged 25.8 miles per gallon. That is an excellent reading considering, again, how aggressively we drove this SUV and how powerful the engine feels under any circumstances. The Tiguan comes with a 16.8 gallon fuel tank and premium unleaded is recommended for maximum performance but not required.
Our 2014 Kia Sportage SX came equipped with both the navigation package and the Premium Package which ups the total sticker price to $32,400 with delivery fees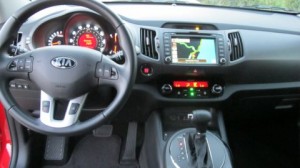 and includes heated front seats, a cooled front driver's seat, a cargo cover, a glass panoramic sunroof and much more. Despite recent rumors about Kia's fuel economy in the press, our 2014 Kia Sportage SX Turbo returned 22.8 miles per gallon which we thought was excellent considering how often we spooled up the turbo on this SUV rated at 22 city/29 highway.
The 2014 GMC Terrain Denali AWD we tested came equipped with 19-inch chrome satin alloy-wheels, color touch in-dash navigation with Intellilink, a trailer/tow package, Bluetooth, rear seat DVD Entertainment screens, a premium 8-speaker audio system, leather and wood accents on the steering wheel, leather seating, automatic climate control, power programmable rear liftgate with height adjustability all while averaging 17.8 miles per gallon during its time with us. The GMC Terrain Denali runs on regular unleaded gasoline. The Denali had the highest as tested price of just over $42,000.
(1st Place: 2014 Kia Sportage SX, 2nd Place:2014 Volkswagen Tiguan R-Spec, 2014 GMC Terrain Denali)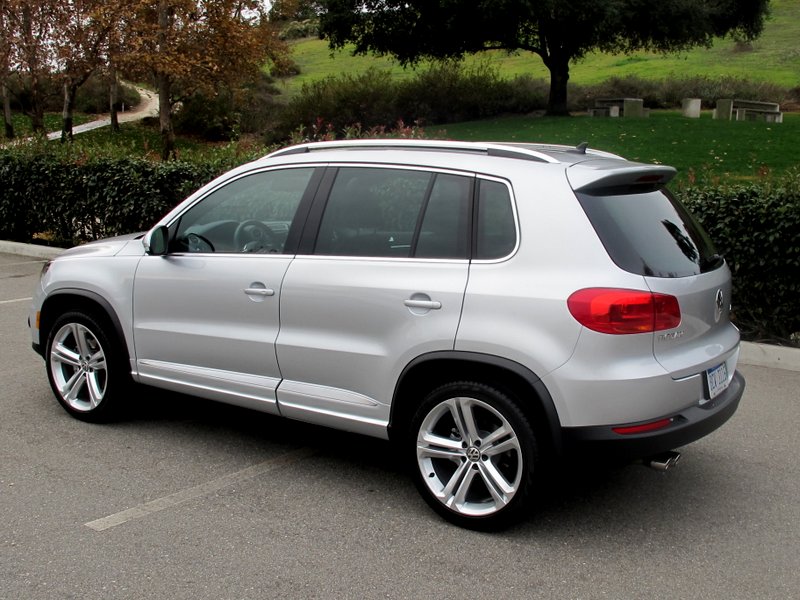 Safety and Driving Impressions
The 2014 GMC Terrain, Kia Sportage and VOLKSWAGEN Tiguan have all been named "Top Safety Picks" by the Insurance Institute for Highway Safety (IIHS) which performs crash, roof and impact safety tests on all new cars, trucks and SUVs sold today. And since we also tend to like having plenty of power in reserve to help us accelerate away from an accident, all three of these SUVs would be terrific choices with the Terrain Denali and Sportage SX proving the most worthy at accelerating away from danger.
As for emergency handling, braking as well as steering response in an emergency, we felt that the 2014 GMC Terrain Denali AWD was the most solid performer especially during an especially rainy downpour we experienced during testing in usually dry Southern California. The 2014 Kia Sportage SX tenaciously also gripped the road even though it was front wheel drive probably thanks in part to a hill-start system which brakes the SUV even on moist or snowy inclines. The high-performance shock absorbers probably also helped matters in this regard, we also assume.
Lastly, the 2014 VOLKSWAGEN Tiguan R-Line does deserve a special notice for car-like agility, hot hatchback cornering apex control as well as the same said general amount of cargo hauling ability and overall utility. Yes, the 2014 VOLKSWAGEN Tiguan may pretty much just be a GTI on stilts but we wouldn't want it any other way. We are sure that the next Tiguan redesign will be softer but just enjoy this one while you can.
(1st: 2014 VOLKSWAGEN Tiguan R-Design, 2nd: 2014 GMC Terrain Denali, 3rd: 2014 Kia Sportage SX)
And the Winner Is?
We don't really understand why these compact SUVs don't sell in greater numbers other than the fact that there are less expensive options out there and most people don't think a family crossover will get their heart racing. Well, we had our doubts too but all three of these SUVs deserve medals for managing to pull of the mean feat of being relatively practical and fun to drive. But just like in the latest hit song by Ke$ha and rapper Pitbull you just had to know one by one that these SUVs would be "going down, going timber" in the rankings. Here, after much debate is how the SUVs ranked. Address complaint letters to our Vice President of Public Relations—Ke$ha. (1st Place: 2014 Volkswagen Tiguan R-Spec, 2nd Place: 2014 Kia Sportage SX, 3rd Place: 2014 GMC Terrain Denali)
Search used cars for sale and find the best deals near you at iSeeCars.com.
To get a FREE iSeeCars VIN Report for a car, click here.