Sales of the Ford Explorer and Jeep Grand Cherokee have both dwindled in recent years. In 2005, both vehicles broke the 200,000-units plateau in sales. In 2009, that number shrank to just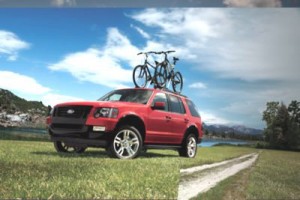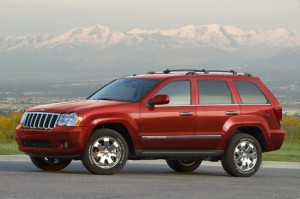 over 50,000 units sold for each model. That may have more to do with the economy and the price of gas than anything else, but we decided to take a look at each one (with some research help from Car and Driver, Consumer Reports, Edmunds, and Motor Trend) and see which of these SUV animals is currently providing the best value. Perhaps that will give us a little forecast as to which one is on its way back to the top in sales.
Powertrain: In V6 power, these two haulers are nearly dead even. The 3.7L Jeep engine matches the 4.0L Ford in horsepower and actually bests it in torque. The Explorer also offers only one V8 option, the 4.6L, which is shorter on power than either of the V8 choices from the Jeep. The 5.7L Hemi is good for 357 horses and that number jumps to 420 ponies from the 6.1L. 4WD is an option on either vehicle, but it doesn't help an already poor fuel efficiency from either one. Four-wheel drive Jeep Laredos also come equipped with a Quadra-Trac I system that functions like an AWD system.
Winner: Jeep Grand Cherokee
Braking/Safety/Handling: You're safe in either model on the road, as both aced the crash tests with a perfect five-star rating. Both include antilock disc brakes, stability control, rollover sensors, and an array of front and side-curtain airbags. Being larger SUVs, the steering on both is actually quite responsive. The Ford utilizes an independent rear suspension that gives a smooth road over roughly any surface, and handling is crisp and responsive. The Jeep matches those standards, and its off-road capabilities give it a near mountain-climber's status.
Winner: Tie
Cargo/Hauling: Despite its boxy design, the Jeep actually has less interior cargo space than the Explorer. Capacity is 35 cubic feet with the rear seat up, expanding to 69 cubes with it folded flat. Choosing the third-row seating option on the Ford limits cargo space slightly, but it still maintains an overall capacity of a whopping 85.8 cubic feet. The Quad seating option places reclining captain's chair in the second row, with a storage console behind them, but does limit passenger space to six people. Towing capacity is nearly dead even as the Ford is rated to a max of 7,300 pounds while the Jeep can handle 7,400.
Winner: Ford Explorer
Comfort/Interior: Neither vehicle is going to win any awards for having an extravagant interior. The Ford's design has shown improvement over the years, but materials quality is still only mediocre. The controls are outdated and the radio still utilizes the old '80s-look green font. Choosing the third-row seat limits cargo space and is really only an option if you'll be using it for children. The Jeep's cabin is on the small size for a large SUV, and the rear seats are both cramped and uncomfortable on long trips. The two-tone color scheme and more comfortable seating give Ford the slight edge here.
Winner: Ford Explorer
Amenities/Options: Jeep has never been known for lavish amenities, but the Grand Cherokee does provide some nice upgrades to previous models. The inclusion of power-adjustable pedals, satellite radio, Bluetooth, an iPod interface, a rearview camera with parking sensors, and a navigation system are all stylish enhancements. It's tough to beat Ford in this area though. In addition to all the above features, it adds power running boards, the Sync electronic interface, and second-row captain's chairs.
Winner: Ford Explorer
Value for the $: The Explorer starts with a base MSRP of $29,280 and can go as high as $38,600 fully loaded. The Jeep starts off slightly higher at $30,710 and goes much higher to $43,325 at its peak.
Winner: Yes, power is an issue in an SUV of this size; but, that issue seems overshadowed by Ford's dominance in nearly every other category, including price. Go with the Explorer here.
Search used cars for sale and find the best deals near you at iSeeCars.com.
To get a FREE iSeeCars VIN Report for a car, click here.