Trucks have come a long way from being the bare-bones workhorses they were thirty years ago. Granted, they're still workhorses, but now they're equipped with more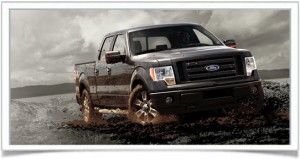 comfort, more style, and more accessibility. Leading the way in these categories are the Ford F-150 and the Toyota Tundra. They've been put through every rigorous test possible by top-quality researchers like Edmunds, Consumer Reports, Car and Driver, Motor Trend, and KBB. We've taken that research a step further and given you the nuts-and-bolts comparisons between the two. Judge for yourself who stands alone as the best workhorse in the industry today.
Powertrain: Both trucks offer three engine choices, but the Tundra is the only one with an available V6. That could be looked at as a bad thing in such a big truck, but it does improve fuel economy and Toyota's 5.7L V8 still provides buyers with a very powerful upper-end power option. Ford's three choices are all V8s, topping the scales with the monster 6.2L that's good for 400 hp and more than 400 lb-ft. of torque. The three V8 engines are all very similar and it seems that Ford could have spread the choices a little more. Both have available 4WD but Ford squeaks by in towing capacity, 11,300 pounds to Toyota's 10,800.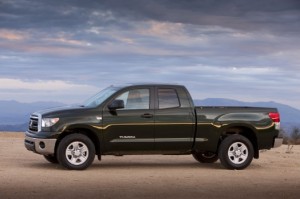 Winner: Toyota Tundra
Braking/Safety/Handling: The F-150 scored five stars across the board in every crash test it was subjected to. The Tundra dropped off slightly with four stars in frontal collision tests, but managed five in all others. Both have antilock brakes, stability and traction control, as well as a full complement of airbags. Stopping distance for the F-150 was 127 feet, remarkable for a vehicle this size.
Winner: Ford F-150
Cargo/Hauling: Both models are signature workhorses and, properly equipped, both can tow and haul more than their fair share of cargo. It's hard to beat the F-150 in this category as it can tow up to 11,300 pounds while hauling up to 3,030 pounds at the same time, while still maintaining a slightly higher fuel economy that the Toyota.
Winner: Ford F-150
Comfort/Interior: In a category not known for interior elegance, the F-150 is striving to change the standards. Leather upholstery, comfortable seating, and an available SuperCrew cab are available on the Ford. The Tundra's interior has not changed much since its 2007 restyling. The Tundra CrewMax is the roomiest of any pickup with 44.5 inches of rear legroom, however, radio controls are uncomfortably out of reach for the driver and the gauge cluster needs some fine-tuning.
Winner: Ford F-150
Amenities/Options: By all standards, Ford's Sync technology, which includes multi-function climate control and a voice-command system, should put it over the top here. But if Toyota excels at anything, it's amenities. The Platinum Package for the Tundra, which is only available on CrewMax models, packs every option available into the cab and turns it into more of a luxury SUV. It also possesses Bluetooth, iPod connectivity, and an upgraded sound system to rival Ford's Sync.
Winner: Toyota Tundra
Value for the $: The Tundra starts off with an MSRP of $23,455 and has 38 different trim styles that can take the MSRP up to $42,455. The F-150 starts slightly lower at $22,060 but offers several more styles, 51 total, that can run the MSRP up to $46,740.
Winner: There's not a lot of difference in the three V8 engines that come with the F-150 but it definitely wins the "Workhorse of the Year" award. Don't count the Tundra out as a slouch though. It's nearly as powerful, offers a more economical engine option and comes stacked with gadgets. This may be the closest contest and the toughest call truck consumers may ever make.
Search used cars for sale and find the best deals near you at iSeeCars.com.
To get a FREE iSeeCars VIN Report for a car, click here.