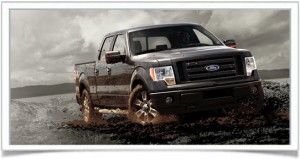 When it comes to full-size pickup trucks, two brands have been household names for decades – Ford F150 vs Chevy Silverado. Each has its strengths. Each is available in a staggering number of configurations. Each has its solid customer base. While there are a few other makes and models (including Dodge Ram, GMC Sierra) in the large truck category, consumers can't go wrong when comparing Ford F150 vs Chevy Silverado.
Consumers looking for a full-size pickup truck have numerous choices in the 2011 Ford F150. Ford, which has been building full-size pickups for 60 years, has sold millions of the F-150 pickup. For 2011, the Ford F150 comes in nine models, from XL with a manufacturer's suggested retail price (MSRP) starting at $22,060 up to the Harley Davidson model's $43,595 starting MSRP. There's also a rugged off-road pickup called the SVT Raptor, with a starting MSRP of $38,260. Note that the bigger payload and towing capacity Ford pickups are called the Super Duty, available in F-250, F-350 and F-450, with a total of 12 models, ranging in starting MSRPs from $28,020 to $62,375.
All Ford full-size pickups can carry three to six passengers, depending on configuration. Ford F-150 has a maximum towing capacity of 11,300 pounds, while the maximum towing capacity of Super Duty is 24,600 pounds. Best fuel economy for F-150 is an EPA-estimated 15 mpg city/21 mpg highway (in base XL and XLT models).
Ford  F-150, which was redesigned in 2009, comes in three cab sizes (regular, Super Cab and Crew Cab), three bed lengths, and rear-wheel or four-wheel drive.
From fuel-efficient to fully-loaded and sporting every kind of option, Ford F-150 full-size pickups give consumers a compelling range of models from which to choose.
Consumer Guide remarks (of 2010 Ford F-150): "Ford paid particular attention to the needs of SuperCrew buyers and commercial users – which together make up the vast majority of F-150 sales – and it shows….the Best Buy F-150 is a strong competitor and a must-see for those shopping full-size pickups."
Chevrolet has produced pickup trucks since 1918, but the Silverado model name only arrived in 1999. Prior to that, "Silverado" referred to one of the full-size truck's trim levels. The 2011 Chevy Silverado is available in a wide variety of body styles (regular, extended cab, and crew cab) three bed lengths, range of powertrains and trim levels, rear-wheel and four-wheel drive, and comes in half-ton (Silverado 1500), three-quarter-ton (Silverado 2500HD), one-ton (Silverado 3500HD), and Hybrid models. Base MSRPs for each are as follows: $20,850 (Silverado 1500), $27,965 (Silverado 2500HD), $28,805 (Silverado 3500HD), and $38,340 (Silverado Hybrid). Chevy boasts that the Silverado 1500 in XFE trim gets 15 mpg city/22 mpg highway – better than Ford F150, Dodge Ram, and Toyota Tundra. Silverado Hybrid achieves an EPA-estimated 20 mpg city/23 mpg highway.
In the Ford F150 vs Chevy Silverado comparison, the Chevy has some impressive numbers. Maximum horsepower for 1500 is 483, while 2500HD and 3500HD top out at 397 horsepower, and the Hybrid has a max horsepower of 332. Maximum towing capacity for each is 10,700 pounds (1500), 17,800 pounds (2500HD 5th wheel), 21,700 pounds (3500HD 5th wheel), and 6,100 pounds (Hybrid). Maximum payload is 1,980 pounds (1500), 4,192 pounds (2500HD), 6,635 pounds (3500HD), and 1,553 pounds (Hybrid).
Chevy Silverado can be outfitted as a work truck, used as a weekday family car, configured to tow a boat or transport heavy-duty loads. There are trims that are sporty as well. Edmunds says of the half-ton Chevy Silverado: "Of course there are other choices in the full-size pickup market, but the half-ton Chevrolet Silverado remains a solid pick no matter what its intended use."
Bottom line: in Ford F150 vs Chevy Silverado, first determine wants and needs and then check out pickups from both manufacturers in a head-to-head comparison. Also consider used models for a value equation.HDH
Search used cars for sale and find the best deals near you at iSeeCars.com.
To get a FREE iSeeCars VIN Report for a car, click here.