In a battle of two of the world's leading automotive manufacturers, we've decided to pit the 2010-2011 Ford Focus against the 2010-2011 Honda Civic. Being two of the most known, and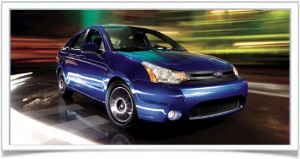 best-selling, vehicles available, they are a very common choice for buyers everywhere looking into the compact sedan market. Though the Civic has been around nearly three decades longer, research from Car and Driver, Consumer Reports, Edmunds, and Motor Trend, tells us that the new models are fairly evenly matched.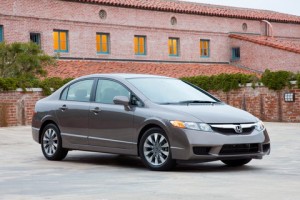 Let's break them down by category and see who comes out on top.
Powertrain: You'll get two 4-cylinder engine choices if you opt for the Civic, but you'll want to stick with the 1.8L if you have any hopes of competing with the 2.0L 4-cylinder from Ford. Both engines are rated at 140 horses, but the Focus has the slight edge in torque, 133 ft-lbs. to 128 ft-lbs. Both models come standard with five-speed manual transmissions, which are considerably quicker than either automatic option. With the choice of a smaller engine from Honda, it wins out in fuel efficiency, 25/36 mpg (city/highway), compared to 24/35 mpg from the Ford. Those numbers increase on the Civic significantly if you choose to go with the hybrid model.
Winner: Honda Civic, for better fuel economy options
Braking/Safety/Handling: Safety is pretty even on both vehicles as crash testing earned them both a Good rating from the IIHS. They were also each given a rating of only Acceptable in side impact testing, which is the second-highest rating given. Both come equipped with standard antilock brakes, stability control, and numerous airbags. The Focus exhibits commendable steering and a decent response on any surface. The same can be said for the Civic, but it's not fully up to par with leading models. Ford's MyKey system, which allows parental controls to be set to specify speed limits on the vehicle and stereo volume, give it a slight advantage in safety here.
Winner: Ford Focus
Cargo/Hauling: Don't expect to haul anything enormous in either vehicle, but that should be a given considering the class of vehicle we're talking about here. The Civic is seriously lacking cargo space as it has a max capacity of 12 cubic feet, dropping down to 10 for the hybrid and GX models. The Focus's luggage capacity goes slightly above that, possessing a total area of 14 cubic feet in trunk space. The folding rear seats expand that slightly as well.
Winner: Ford Focus
Comfort/Interior: The flat rear floor of the Civic is a nice option for rear passengers as it provides more legroom. Other than that, there's nothing really outstanding about the Honda's interior. Materials quality in substandard and the placement of the speedometer and gas gauge at the base of the windshield is actually cumbersome for some drivers. The Focus has a high-tech look at night with a sky-blue glow to its gauges. However, the center stack is extremely button-heavy and the materials quality is not what you'd expect from the new line of Fords. Still, seating is comfortable, even on long road trips, and the 60/40 split rear seat provides more storage capabilities than the Civic. Road noise is still a common Honda issue that they have yet to address.
Winner: Ford Focus
Amenities/Options: This has been a tough category for any model to beat Ford in, but the Civic does an impressive job trying. Enhanced features available on the Ford, such as ambient console lighting, sport-tuned suspension, foglights, heated exterior mirrors, and heated front seats, are also available on the Honda. However, Ford's premium nine-speaker sound system with six-disc CD changer, a better navigation system, and voice-activated Sync still give it the edge.
Winner: Ford Focus
Value for the $: The MSRP of the Ford starts at $16,290 and, with only six style choices available, climbs only slightly to $18,780 fully-equipped. The Honda starts with a lower base MSRP of $15,455, but the bevy of style choices (25 total) can run the price up fast, peaking at $25,340 for the loaded GX and $27,000 if you choose the hybrid.
Winner: This one is pretty clear in price, comfort, and style. If you're shopping for a compact sedan, cross the Civic off your list and stick with the Focus on this one.
Search used cars for sale and find the best deals near you at iSeeCars.com.
To get a FREE iSeeCars VIN Report for a car, click here.