Over the past forty years, one Toyota Corolla has been sold every forty seconds on average (www.toyota.com). It is now in its tenth generation of production. The Ford Focus is in only its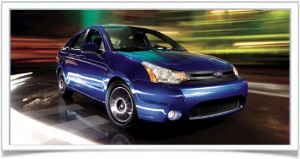 second generation with the third due to begin in 2012. Despite their significant age difference, the two compact sedans bear some striking similarities. For this reason, we've taken the time to research Consumer Reports, Motor Trend, and Edmunds, to give you another head-to-head matchup – the 2010-2011 Ford Focus and the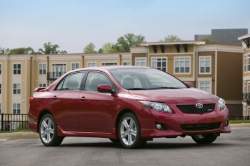 2010-2011 Toyota Corolla. Will age and experience outweigh youthful technology? Let's see.
Powertrain: The 2.0L 4-cylinder engine offered in the Focus is the only choice available, but it does beat the 1.8L in the Corolla in both horsepower and torque. On the other hand, it does not match the other available option from Toyota, the 2.4L 4-cylinder, which is good for 158 horses and 162 lb-ft. of torque. The bigger engine will decrease the fuel efficiency on the Corolla, but if you opt for the smaller four-banger you'll get a better fuel efficiency than the Ford by two miles per gallon. Transmission performance is dead even as both come standard with a five-speed manual and have the option of a four-speed automatic.
Winner: Toyota Corolla
Braking/Safety/Handling: Crash test scores are identical for both models, earning four stars in frontal crash tests and five stars on side-impact rear tests. Antilock disc brakes, stability control, and front airbags are standard for both vehicles, but the Corolla adds active front head restraints where the Focus puts in side-curtain airbags for both front and rear passengers. Handling is on the spongy side for the Toyota. Its electric steering is not very responsive and you may find that you're needing to overcorrect the steering wheel just to stay in a straight line. Contrarily, the Focus exhibits firmness in both handling and response. Road grip is adequate and it's just as at home on a winding road as it is a normal highway straightaway.
Winner: Ford Focus
Cargo/Hauling: A double glovebox adds some additional storage space to the 12.3 cubic foot trunk of the Corolla. That's only average for a trunk in this class, but it does boast a very wide opening, which should ease in the loading of bigger items. The Focus trunk measures out at 14 cubic feet, but the 60/40-split rear seat folds down to expand that area so that larger items can be carried easily, as long as you don't need the room for rear passengers.
Winner: Ford Focus
Comfort/Interior: Materials quality on either vehicle is only adequate, but that seems to be the norm for this class. The control layout in the Corolla is actually quite intuitive and the tilt-telescoping steering wheel makes driver positioning much easier for taller and bigger drivers. It features a rear seat that is amply sufficient for children and provides just enough space for adults. The Focus is rather unimpressive in its layout design as it features a button-heavy center stack and an odd positioning of the speedometer and fuel gauge. There are also various bits of cheap-looking plastic scattered throughout.
Winner: Toyota Corolla
Amenities/Options: If Ford excels in anything, it's this category. However, the Corolla may have them beat in this matchup. Despite Ford's voice-activated Sync system, customizable interior lighting, and nine-speaker sound system, the Corolla's features are a slight step ahead of the Focus. The underbody spoilers, sport seats, and premium JBL sound system with satellite radio and Bluetooth all have Ford outmatched here.
Winner: Toyota Corolla
Value for the $: The Focus starts with an MSRP of $16,290 and its six style choices can take it up to $18,780. The Corolla starts a little lower at $15,450 but does make a significant climb to $20,150 at the top end.
Winner: Despite the slight win in the amenities category, the Corolla seems to fall just short in this one. After all, we are talking about overall value here, and the Focus is definitely the better driving experience on the road. The Corolla is nice when fully loaded, but the price for the options leaves Ford pulling out a very slight win in this matchup.
Search used cars for sale and find the best deals near you at iSeeCars.com.
To get a FREE iSeeCars VIN Report for a car, click here.