American or Asian? For years, this has been a choice that has driven most people to the point of agonizing frustration over buying a new car. The competition between American and Asian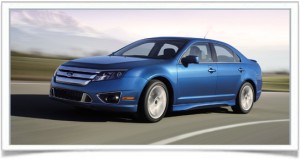 manufacturers has teeter-tottered for decades. We've taken that competition one step further to match the 2010-2011 Ford Fusion against the 2010-2011 Honda Accord. Both models are a premium choice for families, teens, or single drivers. Breaking them down by category took research from all the top automotive researchers;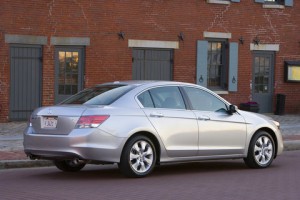 Car and Driver, Consumer Reports, Edmunds, and Motor Trend. Let's look and see who holds the top spot in this year's models.
Powertrain: Both models offer 4-cylinder and V6 options. The Ford offers the more powerful 4-cylinder, but only slightly. Despite the two V6 options available in the Fusion, the 3.5L V6 of the Accord produces more torque and horsepower than either of the Ford V6s, though the larger V6 in the Fusion does match up fairly well with the Honda. A five-speed automatic transmission is an available option on the Accord, with a five-speed manual being standard. The Ford offers a six-speed manual and automatic transmission on any trim level. Fuel efficiency is nearly dead even. AWD is a choice only offered by Ford on these two models.
Winner: Ford Fusion, for the available AWD
Braking/Safety/Handling: Braking is a definite issue of concern for Honda as the Accord managed a stopping distance from 60 mph in a scary 137 feet. The V6-powered model did not perform much better, stopping in 133 feet. Both models scored five stars in frontal crash tests, but rear passenger side-impact was a weakness for both models. Ford earned four stars in this test while the Honda managed only three. Handling on both is actually rather unimpressive as the Honda has significant body roll cornering and the Ford's steering is numb.
Winner: Ford Fusion
Cargo/Hauling: The Accord's trunk space on the sedan is 14 cubic-feet. That number drops to 11.9 cubes on the coupe. Ford bests that number, offering 16.5 cubic feet of space and a folding rear seat to accommodate longer items. Despite the smaller trunk, this is the largest Accord ever, offering a very roomy back seat which can be utilized for storage in a pinch. Still, Ford has the edge in this category as the Fusion is very roomy for its class.
Winner: Ford Fusion
Comfort/Interior: "The Honda Accord features a tightly constructed interior with generally high-quality materials, though it's no longer head and shoulders above the competition in this regard." (www.edmunds.com) The Accord seating is firm and very supportive but can get to be burdensome on long journeys. It also possesses a very button-heavy center stack, an issue not found on previous models. The Fusion is also a bit button-happy but it's a significant improvement over its predecessor. There is plenty of legroom and the rear-seat headrests are a nice feature for back-seat passengers.
Winner: Ford Fusion
Amenities/Options: The Honda offers many of the same options as competitors in this class but build quality seems to have faded in recent years. Still, the leather seating, in-dash six-disc CD changer, and heated front seats are nice features. Conversely, it is going to be difficult to beat Ford in this area as the array of options available on the Fusion is matched only by many luxury models. Ford's voice-operated Sync system is still an industry leader and amenities like the backup camera, Travel Link, and reverse parking sensors are typically unheard of for a vehicle in this price range.
Winner: Ford Fusion
Value for the $: The Accord's MSRP starts off at $21,055 and can climb drastically with options, all the way to $31,305. The Fusion is a much more reasonably-priced $19,695. Its six style choices can raise it to $28,355 but that comes with Ford's AWD system.
Winner: This one is pretty plain to see. Look down the list of winners by category, then look at the price and see that the Accord may be on its way out as the best-selling vehicle of this class.
Search used cars for sale and find the best deals near you at iSeeCars.com.
To get a FREE iSeeCars VIN Report for a car, click here.