Unveiled at the Mobile World Congress in Barcelona, Spain and taking a bow at the Geneva Motor Show, the redesigned 2015 Ford Focus gets public attention in advance of the four-door sedan to be revealed at the New York Auto Show in April.
Ford's Compact Seeks to Hold Onto Global Lead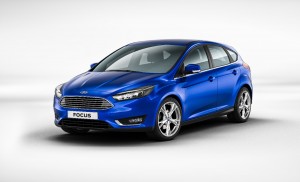 The popular compact Ford Focus was the global sales leader in 2012 with sales of 1.02 million units, according to R.L. Polk & Co. data. It was also the world's best-selling compact through the first nine months of 2013. Now, with this major makeover, Ford is taking steps to ensure continued sales dominance in the segment.
The new fresh face begins with a trapezoidal grille that very much says "Ford." The new-look front end, say analysts, better align the Ford Focus appearance with the rest of the Ford car lineup. Still, there's enough differentiation that the Focus stands on its own with a unique character and appearance. There's also a restyled hood and new lighting for headlamps and taillamps, restyled trunk lid and new rear lamp clusters.
On the inside, the changes include colors and materials with satin-chrome detailing, new seat trims, switches and an optional heated steering wheel. Buttons also return to the center stack to accompany the push-buttons featured on the MyFord Touch optional infotainment screen. All-important interior storage is increased with a new center console featuring adjustable cupholders. The glove box is also new, sleeker and easier to access.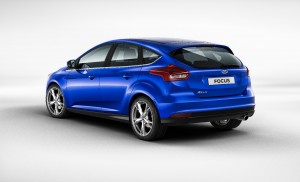 1.0-Liter EcoBoost Engine
Already available in the Ford Fiesta subcompact, Ford's 1.0-liter, three-cylinder EcoBoost engine will now be available in the Focus hatchback and sedan, when both go on sale later this year. Ford says the award-winning 1.0-liter EcoBoost engine is "remarkably efficient and fun-to-drive" with the six-speed manual transmission.
The 1.0-liter optional engine will be offered alongside the base 2.0-liter gasoline direct injection (GDI) inline four-cylinder engine, boasting an EPA-estimated 40 mpg highway fuel economy.
According to a report in The Detroit News, U.S. customers may balk at the 1.0-liter, three-cylinder engine, which is expected to carry a price tag that's some $1,000 over the standard 2.0-liter, four-cylinder engine. While official EPA fuel economy estimates won't be available until closer to the launch of the new Focus, it remains to be seen whether a few more miles per gallon will be considered worth the money, especially when it sacrifices some horsepower.
Slew of Advanced Technologies
When the 2015 Ford Focus hits dealer showrooms, it will also feature a number of advanced technologies, including driver-assist technologies such as a standard rearview camera (available on Focus for the first time), available Blind Spot Information System (BLIS) and lane-keeping system.
Customers that choose MyFord Touch will have the rearview camera displayed on an 8-inch screen. Those that don't will see the rearview display on a 4.2-inch screen.
Pricing and other available options will be announced closer to the official launch in the second half of this year. Current Ford Focus pricing in the U.S. begins at just under $17,000.
Search used cars for sale and find the best deals near you at iSeeCars.com.
To get a FREE iSeeCars VIN Report for a car, click here.