This is a battle that dates back not just years, but generations. Muscle car fanatics have waged war over the ever-infamous Ford vs. Chevy battle. For several years, until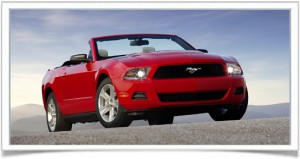 Dodge reentered the pictured at the turn of the millennium, that battle was waged on the oval tracks of NASCAR. It was also waged in repair shops, parts stores, and garages across the country. Today, the two heavyweights are back at it with their redesigned nostalgic muscle cars – the Ford Mustang and the Chevy Camaro. We've researched Car and Driver, Consumer Reports, Edmunds, and Motor Trend, to see who stands on top in this year's models. It won't put the war to rest, but it may add a little more fuel to the fire and give the warriors something else to battle over.
Powertrain: Both models come with an available V6 and a powerful V8. The Camaro edges the Mustang in horsepower by a little bit in each engine choice. The 3.6L V6 from Chevy is rated at 312 hp and 278 lb-ft. of torque. Ford's 3.7L V6 is rated at 305 hp but possesses slightly more torque with 280 lb-ft. In overall performance, drivers tend to want more torque. The 5.0L 302-cubic inch V8 Mustang engine gets 412 hp and 390 lb-ft. of torque, but Chevy takes it a step further with the 6.2L V8, producing 426 hp and 420 lb-ft. of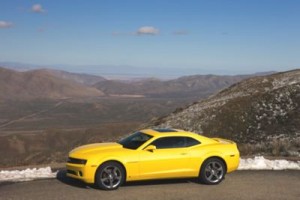 torque. Fuel efficiency numbers go to Ford as they are rated 2 mpg better than Chevy. Both vehicles offer a six-speed manual and six-speed automatic transmission.
Winner: Chevy Camaro, since it really is all about the power in this category.
Braking/Safety/Handling: The 2011 models have not been crash tested yet, but in the 2010 models Ford definitely rated higher. The Mustang scored five stars in every test but the Side Impact Rear test, where it scored four. The Camaro was not tested for Side Impact Rear but only earned four stars in both driver and passenger front-end collisions. The Camaro's braking distance was an impressive 111 feet, but handling goes to the Mustang, hands down.
Winner: Ford Mustang
Cargo/Hauling: Not that many people are concerned with this category, given the fact that you're probably more intrigued with performance than whether or not you can fit that extra beverage cooler into the trunk, but we took a gander anyhow. The Mustang trunk is slightly bigger than Camaro's, beating it out 12.3 cubic feet to 11.3 cubic feet, but the Mustang convertible drops that figure down to 9.7 cubes.
Winner: Tie
Comfort/Interior: If you're in the front of either car, you're good. If you're in the back seat, you'll probably be gasping for some air just a few minutes into the ride. The Camaro back seat is, without a doubt, the smallest in its class, and the interior features some hard, cheap plastic and a second-rate gauge cluster. The Mustang utilizes much better material quality and the retro design is much nicer than we've seen in previous models. Rear-seat passengers can sit comfortably in the 'Stang, but not for very long.
Winner: Ford Mustang
Amenities/Options: Both of these beasts have slick decorative options like rear spoilers, larger wheels, and racing stripes, but Ford gives an impressive alternative with the choice of two performance rear axles (a 3.31:1 and a 3.73:1). While Chevy concentrates on interior comfort with eight-way heated power seats, satellite radio, and a nine-speaker Boston Acoustics stereo, Ford offers mechanical performance features like a recalibrated stability control system and a Brembo Brake package. That's not to say they've ignored the interior, as they also offer the Sync system, navigation, heated front seats, a backup camera, and a very powerful Shaker 1000 sound system.
Winner: Ford Mustang
Value for the $: After looking down the list of winners in each category, it's hard to believe that these animals would actually be close in price, but they are. The MSRP difference is only a few hundred dollars with the 'Stang starting off at $22,145, and the Camaro coming in at $22,680. Ford, however, does offer more trim options (8 total compared to Chevy's 5), which can take the total price to $37,845, compared to $34,295 for the top-end Camaro.
Winner: Yes, power is a factor. But with the power of each machine being so close, and the prices not that far apart either, it looks like Ford wins out in this competition. Sorry, bowtie fans.
Search used cars for sale and find the best deals near you at iSeeCars.com.
To get a FREE iSeeCars VIN Report for a car, click here.