No matter how long you've been driving, sooner or later you're going to encounter a seriously jarring segment of roadway or highway that jangles your teeth and sets your nerves on edge. Potholes, long the bane of motorists around the world, also cause a great deal of damage – to vehicles and potential injury to drivers and passengers. Ford Motor Company created a 1.2-mile roadway in Belgium that replicates the world's worst roads – and then developed innovative technology to counteract these diabolical surfaces.
About the Special Roadway
The slightly over one-mile roadway is part of 50 miles of test tracks at Ford's test facility located in Lommel, Belgium. This particular stretch precisely replicates potholes from both Europe and the U.S., as well as simulating 100+ hazards from around the world.
Ford engineers asked consumers to tell them about the world's worst roads and then traveled to those locations to see them first-hand. They then copied them at the company's proving grounds. These nasty roads included a bumpy German side street, a rutted Chinese traffic junction, granite blocks from Belgium, cobblestones from Paris, speed bumps from Brazil, and a spine-jarring section of roadway copied from one in Essex, England, among many others.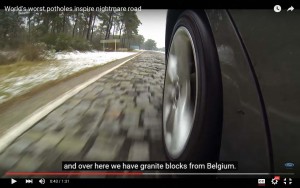 Shake-Your-Teeth Testing
It isn't only the cars that get tossed around during testing on these nightmare road surfaces. Drivers suffer as well. In fact, according to Ford, engineers had to rest every two hours during testing due to the strain it produced.
In real-world driving situations, pothole roads cause problems for drivers and pedestrians. The unfortunate and painful outcome can be bad backs, sore necks and headaches. Hasn't every driver been there more than once? Doesn't every driver wish they could completely avoid hitting a pothole or having to deal with incorrigible road surfaces?
The testing done by Ford engineers uses special equipment that's similar to the type of equipment that seismologists use to study earthquakes. The test involves driving through the potholes at speeds up to 46 mph, while sensors record the loads and strains on the vehicle's suspension and components.
Ford's Better Idea
One result of this testing is new technology called Continuous Control Damping with Pothole Mitigation. It's debuting on the Ford Mondeo, Galaxy and S-MAX in Europe and on the Ford Fusion V6 Sport in the U.S.
The technology adjusts the car's suspension if it senses that it has dipped, dropped or slammed into a pothole and Ford says it can protect the suspension from damage.
According to Ford, the tire pressure monitoring system alerts drivers to tire punctures and electronic stability control helps them maintain control of the vehicle when avoiding potholes.
Now, if only there was a way to design road surfaces so they never develop potholes in the first place…
Search used cars for sale and find the best deals near you at iSeeCars.com.
To get a FREE iSeeCars VIN Report for a car, click here.