Despite the hiatus the Ford Taurus took in 2001 and 2006, it was revived with a vengeance. Now in its sixth generation of production, Ford Motor Company is hoping sales of the Taurus can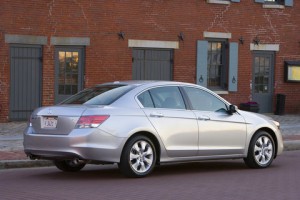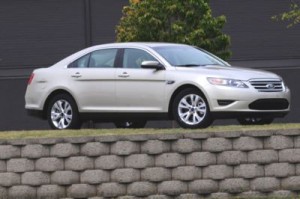 once again increase to their late '90s figures when they nearly reached 400,000 units sold. To see if that's a possibility, we've taken the 2010-2011 Taurus and put it up against some stiff competition in the best-selling 2010-2011 Honda Accord. As usual, research from Consumer Reports, Car and Driver, Edmunds, and Motor Trend, gave us our information, and the results are as follows.
Powertrain: The Accord offers both a four- and six-cylinder option, which does give it the win in fuel economy. If you don't mind being limited to a V6, you'll definitely get more power from the Taurus, especially in the SHO model which turbocharges the 3.5L V6 to up horsepower from 263 to 365. The Accord comes standard with a five-speed manual transmission, but a five-speed automatic is optional. The Taurus features a six-speed automatic with manual shift control and downshift rev-matching capability. The Ford also features an AWD option which only enhances its stature among buyers in inclement weather.
Winner: Ford Taurus
Braking/Safety/Handling: Both vehicles performed well in crash testing, but the Taurus has more available safety features with a blind-spot warning system, pre-collision warning system, a cross-traffic warning system (when reversing), and rear parking sensors. The Ford also beat Honda in the new roof strength test, earning a rating of Good from the IIHS compared to just Acceptable for the Accord. Braking on the Accord was a substandard 130 feet from 60 mph. Body roll is also an issue for Honda, but steering is fairly communicative. Steering and ride quality on the Taurus is far from sporty, but is very stable and has a nice, tight feel.
Winner: Ford Taurus
Cargo/Hauling: The Accord has a wide opening to a trunk that can house 14 cubic feet of material. That's a bit on the small side though, as the Taurus employs an enormous 20.1 cubic foot trunk, which only expands when the rear seatbacks are folded down. The Ford also has a max towing capacity of 1,000 lbs. should you wish to haul a small trailer.
Winner: Ford Taurus
Comfort/Interior: "The Honda Accord no longer features the sort of class-leading materials and construction that used to make its cabin a benchmark. There are more hard plastics than in some competing vehicles, and fit and finish has gone down a bit from the car's predecessors." (www.edmunds.com) The Taurus, on the other hand, is a class leader in cabin comfort. There are some hard plastics on the center console, but the layout is extremely functional and the rear seat provides ample room for adults. The low, sloping roof can seem a bit confining for taller drivers and passengers, but legroom is at a premium.
Winner: Ford Taurus
Amenities/Options: The Accord features a variety of amenities that make it a very nice vehicle for the economy class. However, it's going up against a vehicle designed to be much more than economical. All Sync-equipped models get three years of subscription service to the new Traffic, Directions, and Information service, and the Sirius Travel Link option is something you'll find in the Taurus but not the Accord. A 12-speaker Sony sound system is simply icing on the cake.
Winner: Ford Taurus
Value for the $: The Accord does start off well below the Taurus. Its base MSRP is $21,180, but options can run the price up fast, as it peaks at $31,730 fully loaded. The Ford has a base price of $25,170 and can get as high as $37,770 if you opt for the turbocharged SHO. If you don't need the added power, the max you'll pay is $33,620 for the AWD model.
Winner: If you're going to spend the extra cash, you might as well be getting your money's worth, and that's exactly what you'll get when you choose the Taurus over the Accord.
Search used cars for sale and find the best deals near you at iSeeCars.com.
To get a FREE iSeeCars VIN Report for a car, click here.