Maybe good things really do come in small packages. Make that super-small packages, in the case of the smallest crossovers now in or coming soon to the U.S. market. While not everyone wants or needs a small crossover, many families can use a smaller and more efficient vehicle for various members of the household. In any event, here are four new small family crossovers that are worth a look – particularly if you're in the market for an ultra fuel-efficient, stylish vehicle that offers plenty of pizzazz.
2011 Nissan Juke – Japanese automaker Nissan is clearly hoping to attract young buyers with the stylish all-new 2011 Juke super-small crossover. With its direct-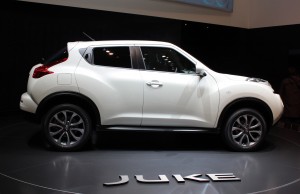 injected 188-horsepower 1.6-liter turbocharged in-line four-cylinder engine and available torque-vectoring all-wheel drive (AWD) system, Juke offers plenty of power in a stylish small package. Mated with a six speed manual (in front-wheel-drive) or continuously variable transmission (CVT) in AWD models, Juke posts laudable fuel economy numbers as well: 27 mpg city/32 mpg highway (FWD models) and 25 mpg city/30 mpg highway (AWD models). Standard safety features include anti-lock brakes (ABS), electronic stability control (ESC), traction control (TC), and six airbags. The price isn't bad either, with starting manufacturer's suggested retail prices (MSRP) from $18,960 to $25,300. Car and Driver says: "The best thing the Juke has going for it is its unique package. A small pseudo-crossover with extroverted styling, satisfying power, and competent handling at a relatively low price is territory that hasn't been explored yet. We see a compelling combination."
2011 MINI Cooper Countryman – The all-new, four-door MINI Cooper Countryman debuts for 2011 in three models: Countryman, S Countryman, and S Countryman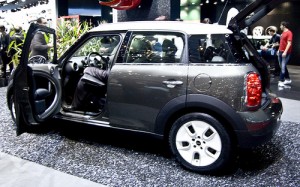 ALL4. Starting MSRP ranges from $22,350 to $27,650. MINI says the Countryman features "go-kart handling," along with seven airbags, "ample cargo space," and "stellar fuel efficiency." Base engine is the 121-horsepower 1.6-liter in-line four-cylinder that achieves an EPA-estimated 27 mpg city/35 mpg highway (manual) and 24/35 mpg (automatic). Cooper S Countryman and S Countryman ALL4 have a twin-scroll turbocharged engine that makes 181 horsepower, while fuel economy in S Countryman is 26 mpg city/32 mpg highway, in S Countryman ALL4 it's 25 mpg city/31 mpg highway. Some call it a wagon, others a small SUV. Whatever you call it, the 2011 MINI Cooper Countryman has lots of personality, style, performance, and fuel efficiency in a four-passenger package. AutoBlog remarks: "Mini has created some of the best-handling cars on the planet, and its latest crossover – amazingly – delivers."
2011 Mitsubishi Outlander Sport – Slotting in under the Outlander (and 14 inches shorter), Mitsubishi's all-new compact crossover 2011 Outlander Sport is the first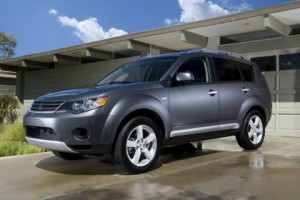 Mitsubishi to feature dent-resistant front fenders made from recycled plastic. Outlander Sport, one of four new small crossovers worth a look, also carries five passengers, starts at $18,495 to $22,995 MSRP, is powered by a 148-horsepower 2.0-liter in-line four-cylinder engine, and has available AWD. EPA-estimated fuel economy is 24 mpg city/29 mpg highway in FWD models, and 25/31 mpg with AWD. Premium features include hill-start assist, 710-watt audio, Bluetooth phone and audio. Standard safety technology includes seven airbags, ABS, active stability control, and all-wheel traction control. Options include panoramic sunroof, navigation system with 40-gigabyte hard drive, and super-wide range high-intensity discharge (HID) headlamps (standard on SE models). Edmunds InsideLine comments: "Ever since it first appeared as the concept Cx back at the 2007 Frankfurt Auto Show, Mitsubishi's idea of a new compact SUV has looked attractive, striking a cool balance between style, size, performance, practicality and environmental friendliness."
2012 BMW X1 – While it isn't here yet, look for BMW's smallest SUV to-date, the 2012 BMW X1, to arrive in the U.S. sometime later this year. The BMW X1 is just over one inch wider, three inches longer, and four inches taller than the BMW 128i coupe. Power for the xDrive 28i – the only model confirmed yet for the U.S. — comes from the 258-horsepower 3.0-liter in-line six-cylinder engine mated to six-speed automatic with AWD.  Expect six airbags, ABS, ESC, TC and and EPA-estimated fuel economy in the 18-20 mpg city/27-29 mpg highway range. As for starting MSRP, a good guess for this small upscale crossover is in the range of $33,000 to $35,000. Consumer Guide observes: "BMW fields its first baby SUV with a spinoff of its new 1-Series compact car…it could be the new star of a fast-growing market class."
Search used cars for sale and find the best deals near you at iSeeCars.com.
To get a FREE iSeeCars VIN Report for a car, click here.