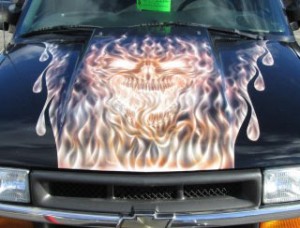 With over 4 million used cars listed for sale at any given time, iSeeCars.com has great deals on quality cars that are in high demand. However, as cars allow drivers to show their unique style, we occasionally come across some interesting, flashy and sometime weird cars. But frightening cars? We don't see too many of those.
It's one thing to scare people with the way you drive, it's another to scare them with what you drive. And a simple way of doing that would be placing a skull on your hood. No, make it scarier… a fire-breathing skull. Yes, add in something dripping off of the fire and you are now giving strangers and small children nightmares – just by parking next to them at the mini-mart.
If gore is your style, you are in luck.  There is a fire-breathing skull, dripping-something, 2002 Chevrolet S-10 Ext Cab 123 WB 4WD LS listed for $7,750 in Waterbury, Connecticut. It's been sitting on the lot for 58 days. Hmm, what does this truck remind us of?
If the skull isn't enough for you, the previous owner had a moment that really confuses us. He or she came up with an
interesting two-tone paint selection. With yellow only on the bottom, sides and back, this truck is like a mullet. Except, instead of business in the front and party in the back, it's scary in the front and happy in the back. Not many other things can say that.
On the other hand, this truck has low miles, a 4/5 star dealer rating and is $1,985 below estimated market price of $9,735. So if aftermarket accessories are your thing (and there are plenty of them), and you're not worried about freaking out your neighbors (or maybe you want to), this could be the truck for you.
What do you think? Is this horror truck hot or not?
Truck is listed here on iSeeCars, or, if link is expired, click here to see all use Chevy S-10s for sale in your area.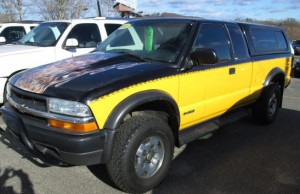 Search used cars for sale and find the best deals near you at iSeeCars.com.
To get a FREE iSeeCars VIN Report for a car, click here.