Leave it to engineers to figure out a technology that we don't know we need and once we are introduced to it, wonder how we ever lived without it. This is especially true when it comes to technology that makes its debut in the vehicles we drive every day. Think about antilock brakes (ABS), electronic stability control (ESC), rearview cameras, blind spot detection, lane departure warning, and so many more. Now, add gesture controls.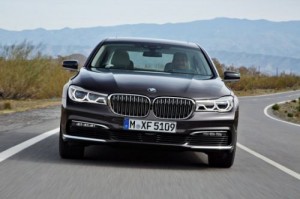 But wait, what are gesture controls? Furthermore, which new cars have (or offer) this new tech? Here is a look at two newly-introduced (or soon to come out) 2016 models that offer gesture controls.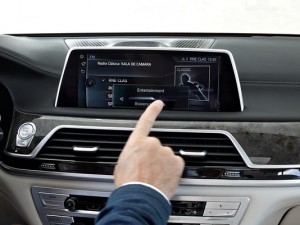 Puts Control in the Driver's Hands
The simplest way to explain what gesture control is would be to say that it puts control in the driver's hands, or fingers, to be more precise. With basic gestures, such as pointing, swiping, and twirling, the driver can quickly and safely take care of maneuvers like adjusting the volume of the infotainment system, program apps, take or dismiss incoming calls, and more.
Again, this may fall in the realm of who-knew-this-existed and why-do-we-need-it – until you get used to it. Then, you may very well find that you absolutely must have this in your next new vehicle. The only question then is how much it will cost you.
We don't have an answer for you on that, since the systems available are still in upper level trims or in luxury models.
New Cars With Gesture Controls
Drilling down to the technology itself, the following is a partial list of the new cars that feature gesture controls, either as standalone options or part of a technology package.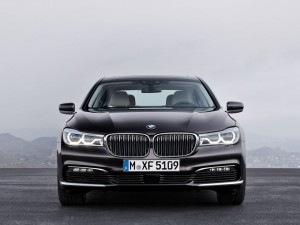 2016 BMW 7-Series – BMW, in unveiling its 2016 7-Series flagship sedan, says it added features like gesture control to "set the standard for sportiness as well as for innovation in the luxury segment." While not the first or only automaker to offer gesture controls (Cadillac was first to debut gesture controls in the XTS, ATS, and CTS, for example, in its system called CUE, for Cadillac User Experience), the system from BMW allows four simple gestures to be used to adjust radio volume, take incoming calls, program apps, and more. A small camera mounted in the car's headliner recognizes the driver's gestures and carry out the commands.
For example:
Twirling – in a circular motion allows the driver to adjust the volume of the car's audio system (clockwise to increase volume, counter-clockwise to decrease it).
Pointing – to the system allows the driver to answer an incoming call.
Swiping – can dismiss the call when it's concluded or let it slide if you don't want to answer.
Customize controls to permit point gesture to open apps like Spotify, stream music, and even to initiate the 7-Series' navigation system.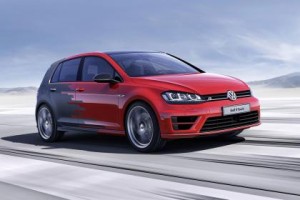 2016 Golf R Touch – Consumers got their first look at the gesture-control system from Volkswagen at the 2015 International Consumer Electronics Show Asia in Shanghai in a concept version of the Golf, called the R Touch. The gesture-control system, using technology borrowed from the concept, will be available in the facelifted 2016 Golf R Touch and will be a first in the family hatchback segment when it arrives at the end of 2016.
VW's head of powertrain development, Dr. Heinz-Jakob Neusser, confirmed to Auto Express the infotainment and gesture system will be in the new Golf. The system is likely to contain three digital displays and five in-car sensors. As for what the system will allow the driver to do, that includes using gestures to operate temperature controls in the car, open and close the vehicle's sunroof, and, like the BMW system, adjust the volume of the audio system. Neusser also said the interior in the Golf R Touch concept is a "preview of future VW interior technologies, with smartphone applications redefined for automotive use."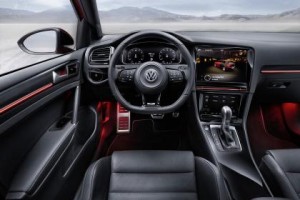 Is This Must-Have or Wait-and-See?
A lot of this will boil down to consumer preference. How important is a car's infotainment system to you, the driver? Do you feel the need for more advanced, high-tech connectivity in a seamless and integrated system? Are you willing to pay for such sophistication and ease of use?
Does the fact that this technology exists and is rolling out on some new models impress you or leave you with a yawn? After all, it's not like the car will park itself, or drive itself, for that matter. It's more of a convenience. For some drivers, no doubt, that will be enough. Where do you sit on this issue?
Taking a look back at consumer acceptance of and willingness to pay for new technology, it wasn't that long ago that parking sensors were the in-thing. Then it was rearview cameras that took the guesswork out of how close you were to the car behind you when parallel parking. Being able to see in blind spots, have the car automatically brake to keep a safe distance between your car and the car ahead, systems that alert you when you drift over the lane, off the road, fall asleep or make abrupt maneuvers have all come along and have gained a certain amount of favor with consumers.
It is a tradeoff, after all. You weigh and balance the new gee-whiz technology with the absolute requisites: passenger carrying capability, space, roominess, safety, fuel economy, and then features on your want list – including infotainment. Chances are, if the bottom line is right, you'll opt for gesture controls – if, and only if, you find it a true benefit and not just the latest thing.
Search used cars for sale and find the best deals near you at iSeeCars.com.
To get a FREE iSeeCars VIN Report for a car, click here.