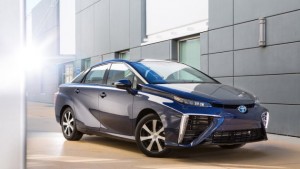 If you're lucky enough to live in California and are interested in becoming a pioneer owner/lessee of the hydrogen-powered sedan from Toyota, the 2016 Toyota Mirai, you might be among the select few chosen. While that's not good news for the rest of the country, such groundbreaking technology does need a real-world testing situation and that, for now, appears to be California.
What's the attraction, besides being first to own? The 2016 Toyota Mirai Fuel Cell vehicle boasts the highest EPA-estimated driving range rating of any current zero-emission electric vehicle in the market, at 312 miles. The EPA-estimated mpge is 67 city/highway/combined.
The 2016 Toyota Mirai Fuel Cell sedan goes on sale this fall (October 15, 2015) with deliveries from one of eight California Toyota dealerships.
According to a press release from Toyota, would-be Mirai owners can go to  http://www.toyota.com/mirai/ and sign up to claim their place in "automotive history." But just because you visit doesn't mean you'll automatically qualify. There's more to it than that, naturally.
First, visitors to the site can click on a tab to learn more about the Mirai – which is a really good idea if you have no clue what this technology is all about or to figure out if it interests you at all beyond curiosity.
After you satisfy yourself about the information available, if you're still interested, click on the tab to go to the order request site. Fill out the form and questionnaire and you've begun the process.
Be aware that the number of customers who will be selected is limited and following the receipt of your questionnaire, potential drivers will be contacted by personnel from Toyota for a more in-depth interview. At that time, ownership costs and next steps will be discussed.
Briefly, here's what we know about the 2016 Toyota Mirai Fuel Cell Trailblazer support system. A select number of eligible customers will be able to take advantage of:
Zero-percent financing for 60 months + $7,500
$7,500
36-month lease at $499 per month, with $3,649 payable upon signing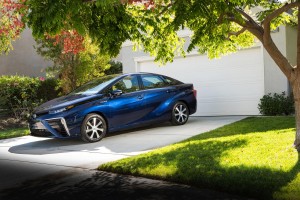 World-Class Ownership Experience Promised 
In addition to the Toyota Mirai Trailblazer program, owners will have a range of comprehensive, world-class ownership experiences that include:
Complimentary fuel for three years
24/7 customer call center support for three years
Three years worth of complimentary Safety Connect and Entune, which includes an app to find a hydrogen fueling station
Three years of Mirai complimentary rental car experience (for seven days each year)
Enhanced service and support system for Mirai owners that goes above and beyond the standard Toyotacare service:

Three years, or 35,000 miles, whichever comes first of scheduled maintenance – free
Three years, or 35,000 miles, whichever comes first of enhanced roadside assistance – free

Eight-year/100,000-mile warranty on the key fuel cell components in the Mirai – including fuel cell stack, power control unit, hydrogen tanks, air compressor, boost converter and ECU, hybrid battery pack and ECU, hybrid control module, and hydrogen fueling ECU.
The eight California dealerships where Mirai customers will be able to take delivery include four in Northern California: Roseville Toyota, San Francisco Toyota, Stevens Creek Toyota or Toyota Sunnyvale, and four in Southern California: Tustin Toyota, Toyota of Santa Monica, Longo Toyota and Toyota of Orange.
Search used cars for sale and find the best deals near you at iSeeCars.com.
To get a FREE iSeeCars VIN Report for a car, click here.