With summer just starting, and many parents seeing their teen sons and daughters eyeing the family car with an interest in getting their license so they can drive it, the angst over what that means in terms of increased auto insurance premiums can be nerve-wracking.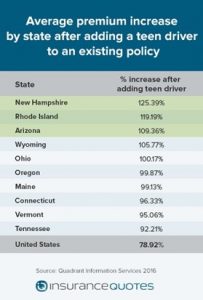 A new report from insuranceQuotes shows that insurance premiums can vary dramatically from one state to another when adding a teen to a family's existing auto insurance policy. The bottom line is that data shows that teenagers are risky drivers who are very expensive to insure.
Highlights of the study include:
Families in the U.S. who add a young driver to their existing auto insurance policy will see an average annual premium increase of 79%.
The average premium increase for teen drivers, however, is lower than 2013, when the increase was as high as 84%.
It costs more to add a young male driver than a female driver to an existing policy. Adding a male teen to a married couple's policy results in a national average premium increase of 91%, compared to an increase of 67% for a female.
Costs to insure a teenage driver vary across states – and not all states are created equal. Adding a teen to a married adult's auto policy in New Hampshire results in an average annual premium increase of 125%, while in Hawaii the average increase is just 17%.
To gain some insight into the factors that contribute to determining exactly how much families will have to pay to add a teen driver to their policy, iSeeCars.com spoke with Laura Adams, senior analyst at insuranceQuotes.
Teens who do want a driver's license want to get it as soon as they're legally able to apply for it. How can parents discourage their teens from rushing in to drive? What are some effective approaches to use?
"Asking teens to foot the bill for the additional expense they add to your auto insurance bill could be one way to delay the age when they begin driving," says Adams. "In most states, as teens get older they become less expensive to insure each year (as long as they maintain a clean driving record).
"For instance, adding a 16-year old male results in an average nationwide increase of 108%–but a 19-year old hikes the cost 69%. Increases for females who are the same age are 81% and 49% respectively. These price drops may incentivize teens to drive later rather than sooner."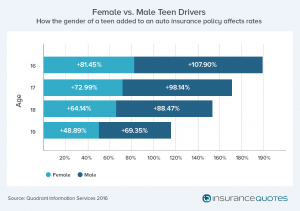 What can the parents of a male teen who wants to get his license do to minimize the increased premium they'll have to pay?
According to Adams, since adding a teen driver to an existing auto insurance policy is expensive, parents need to take every measure possible to save money. She offers the following five tips parents can use to cut the cost:
Bundle auto insurance with other policies such as homeowners, renters, or life insurance.
Ask for the Good Student Discount if your teen maintains at least a "B" average.
Consider switching to a usage-based auto policy that gives discounts to safe drivers.
Raise your deductibles on collision and comprehensive coverage to reduce premiums.
Use a site like insuranceQuotes.com to shop and compare rates from multiple carriers.
Does the parent-teen driving contract hold any weight with insurers?
Insurers don't offer discounts for parent-teen driving contracts. Nonetheless, Adams says they can be a powerful tool to begin a dialog about safe driving habits. "Parents can enforce agreed-upon rules and take away car privileges if a teen violates them."
How long does a teen have to demonstrate good driving (no tickets, no accidents, etc.) before the parents' insurance premium will decrease?
In most states, says Adams, the cost to insure a teen driver with a good driving history is reduced every year. "In general, young adults begin to see their premiums level out in their mid- to late-20s."
How much do rates increase if parents add two teen drivers to their policy, two girls, two boys, or one each?
"The insuranceQuotes study analyzed the rate increase to add only one teen to an existing auto insurance policy," Adams answers.  "While we don't have data to share regarding adding multiple teens, we know that it would increase the rate substantially more than adding one."
Should parents in states where the rates increase the most for adding a teen driver to the family policy try to discourage their teens from getting a license? 
Adams advises that paying higher auto insurance rates is just one consideration when adding a teen driver to a family policy. Other potential costs include tickets for moving violations, out-of-pocket deductibles for vehicle repairs, and liability for crash injuries.
"Every family must evaluate their financial situation to know if adding a teen driver will be affordable," Adams says. "It's also important to review your liability coverage to make sure you're adequately protected if you were to become involved in a lawsuit."
In the 5 states with the highest premium increase (NH, RI, AZ, WY, OH) for adding a teen driver to the policy, do these states not have GDL programs? What accounts for the high rate of increase there?
According to Adams, each state regulates auto insurance differently. Those states that have less stringent regulations and allow insurers to use age, gender, and years of driving experience when setting rates show some of the highest rate increases when adding a teen driver. 
Similarly, for the 5 states with the least premium increase for adding a teen driver (HI, NY, NC, MI, SD), what accounts for the lower rate of premium increase?
In states with more stringent auto insurance regulations, Adams says that adding a teen driver costs much less. These states generally make it more difficult for carriers to raise or lower premiums. "Additionally, some states (such as HI and NC) prohibit the use of age or gender when setting rates, which means that adding a teen driver doesn't cost much more than adding an additional adult to an existing auto insurance policy."
How should parents prepare for the discussion with their teen about getting a driver's license? And when is the best time to do this? Six months before teen would start driver's training, for example?
Adams says that one way parents can prepare a teen for driving is to be a role model when they're in the car together. "If a teen observes good driving habits, they're more likely to adopt them. When parents are driving, they can talk to a teen and communicate what a good driver should be looking out for and doing in order to drive safely. Start talking to your teen about driving at least six months before he or she is old enough to get a learner's permit." 
Any other highlights of the report you'd care to comment on?
"Parents can consider enrolling in a usage-based insurance program to save money," Adams says. "These allow drivers to earn discounts based on factors such as how well, how far, and how often they drive." More info is available at: http://www.insurancequotes.com/auto/telematics-pay-as-you-drive-insurance-and-millennials
Search used cars for sale and find the best deals near you at iSeeCars.com.
To get a FREE iSeeCars VIN Report for a car, click here.