For the holidays, my family wanted to visit grandma so we needed a great road trip vehicle to make that happen. Fiat Chrysler Automobiles loaned us one of their new 2017 Pacifica minivans and #GrandmasOrBust was born.
After driving it as a test vehicle for a week, I knew the Pacifica was an extremely family-friendly minivan and a serious Grade A people mover. My review of it ended with: "We think that Chrysler has hit a solid flyball that may go out of the park with this new 2017 Pacifica."
To really put that to the test, my family would be packing it with two children and a lot of gear, and driving a lot of miles. Our road trip took us from Eastern Wyoming to the heart of Utah in 1,300 miles of impromptu in-car karaoke, snack explosions and a host of "Are we there yets?"
The 2017 Chrysler Pacifica boasts a well-proven 3.6-liter V6 that powers several of Fiat Chrysler's lineup. The engine outputs 287 horsepower and 262 pound-feet of torque through a 9-speed automatic transmission in front-wheel drive. The EPA estimates 22 mpg combined in the Pacifica, with 18 mpg in the city and 28 mpg on the highway.
Our 1,300-mile round trip was primarily freeway driving, where we averaged 27.6 mpg. Shorter measurements with more around-town driving and in-traffic cruising still kept a 24 mpg average. Considering that the van had a passenger load of 3 to 5 people and a lot of cargo, those are pretty great mileage returns.
As a road trip machine, the 2017 Pacifica is top shelf. I'd recommend trying the Touring-L Plus or Limited packages, as they include the larger infotainment screen (8.4-inches) with 13-speaker surround sound and built-in second- and third-row sunshades. The rear entertainment system, with its tablet-like screens and fun interactive games that can be played back and forth between the rear occupants, is also well worth having.
The optional removable middle seat for the second row is a good thing to have when adding another passenger (for a total of eight) is needed. It easily pops out and can be stored in the cargo area when not needed.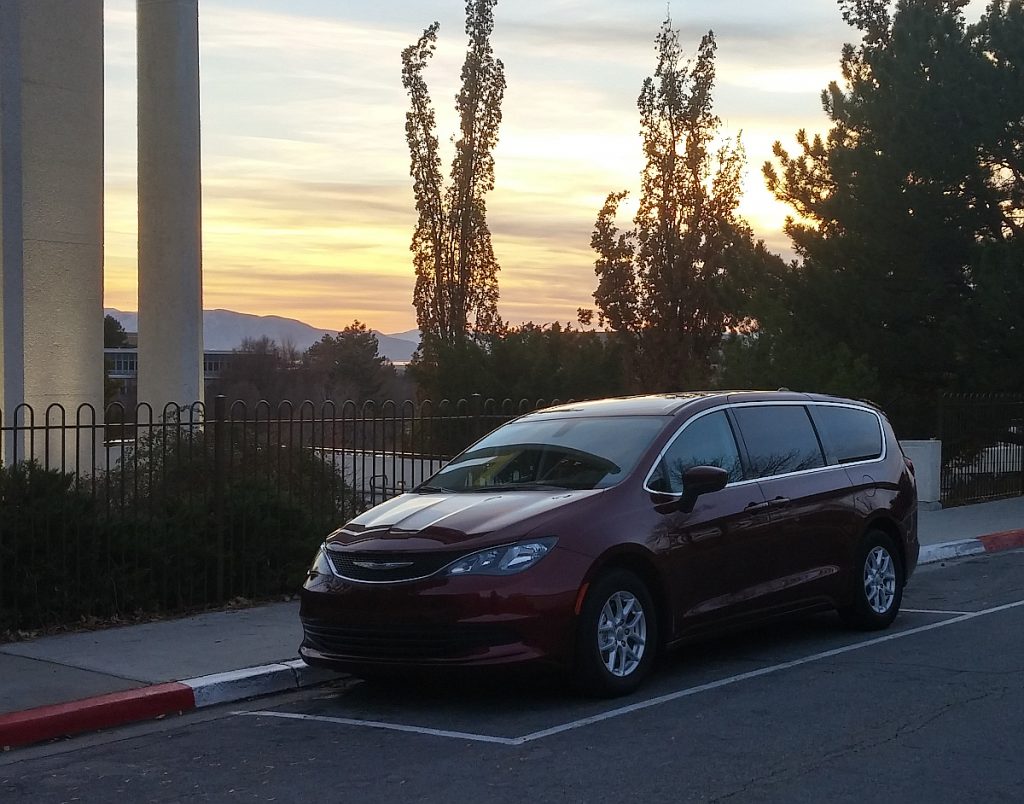 The Uconnect Theater system in the second row has 10-inch tablets that are phenomenal and fun. The second-row seats can fold and be store in the floor to make a completely flat cargo space between the back doors and front seats. The seat storage bins are available for putting other things in. We stuffed ours with extra road-trip food, water and blankets just in case we needed to snuggle down and nap.
Adults might find the Pacifica to be one of the few minivans with a realistically usable third row. It's not as comfortable as the second row's captain's chairs or the first row's excellent seating, but it's far better than most other third rows we've tried. The third row folds up out of the floor, leaving behind a large bin of expanded storage, and it folds flat into that bin to make for an easy-to-use low-loading cargo area.
Once we arrived at grandma's house in Utah, we found that city driving was much easier in the 2017 Chrysler Pacifica than we'd previously experienced. In tight quarters and on narrow streets, the Pacifica's excellent turning radius came into play. Given its length, the tight turns this van is capable of are surprising and more akin to a midsize sedan than they are to a large minivan.
Safety is a concern for minivan buyers, whether driving every day or on a long road trip like ours. The 2017 Chrysler Pacifica received the Insurance Institute for Highway Safety's Top Safety Pick + award, which is given when the vehicle aces all crash tests and has advanced safety features available such as crash mitigation and warnings.
In practical terms, the seat belts in the second row are easy to use, even for children with little hands, and the third row has very accessible seat belt receivers when compared with others we've seen. The front-wheel drive nature of the van is very stable as well. We felt secure when being prudent driving on slick roads.
The Pacifica made a very good overall impression on us. We were glad to see that 3-zone climate control is standard equipment. Chrysler got nearly all of the details right, but we'd like to see driver-controlled rear window vents like those found in the Toyota Sienna, a feature that quickly cools the vehicle by creating airflow rearward.
We'd also like to have a way to open the cargo door or side sliding doors without using the keyfob or door handles. Several manufacturers now have "wave open" hatches which open when a foot is waved underneath the bumper and the keyfob is nearby. This would have been handy during loading and unloading for our road trip and while moving large objects to and from the van. The wave open hatch is reportedly coming to the Limited trim level soon.
The 2017 Chrysler Pacifica definitely got us through #GrandmasOrBust without breaking the bank in gas costs or making us worry while driving in Wyoming's winter weather.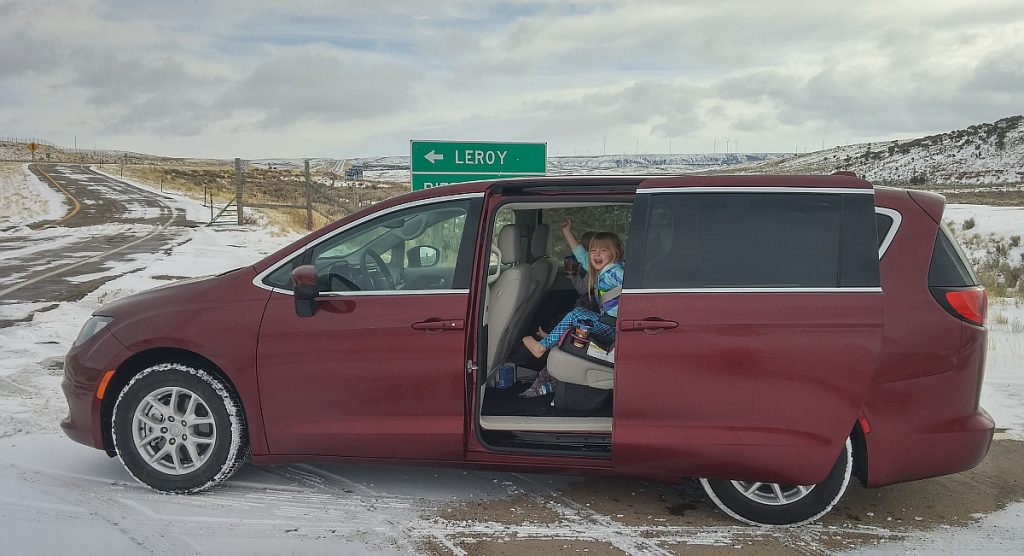 Search used cars for sale and find the best deals near you at iSeeCars.com.
To get a FREE iSeeCars VIN Report for a car, click here.