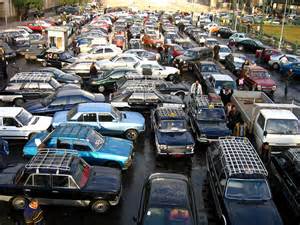 With all the great sales you want to take advantage of on Black Friday and other too-good-to-miss bargains being offered this holiday season, you don't want to be hung up frantically scouring parking lots for a space to park.
How can you survive this frantic dash for the very last vacant spot? Here are 10 tips to help you get through the holiday shopping season without complete and utter frustration (when it comes to finding a parking spot, that is). We're inspired by the folks from the International Parking Institute (IPI) for these wise suggestions – and we've got a few of our own.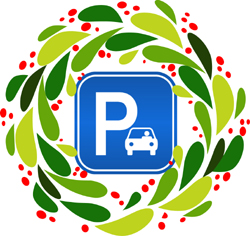 Make Time Be On Your Side – Not every sale requires that you be the first one through the door. OK, if you're trying to snag one of only 100 offered items and there are thousands of people lining up, maybe you should look for another deal. The point is that time is finite, but you can make it work to your advantage. Go at hours when the stores won't be so jammed, maybe around dinner time or just before closing. It's also a good idea to carve out some extra time for yourself, so you're not feeling so rushed. Don't shop when you only have a half hour. Allow yourself plenty of time to get done what you need to do. When you're not in a time crunch, it's less stressful to cruise the lot looking for a place to park.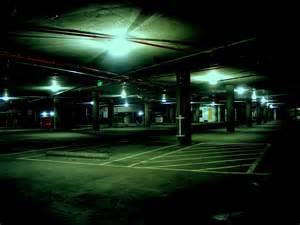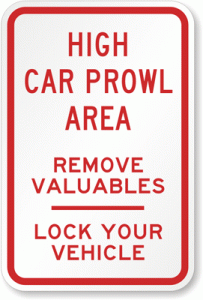 Use Caution – You want to be safe most of all, so use caution when parking. Only park in well-lit areas, no matter if that parking spot you see in a dark corner is the very last one. Wait until another one in a more visible area opens up. Also be sure to lock all doors and keep valuables out of sight. When you park, exercise caution in backing in and backing up on exit so you don't accidentally hit or bump into other vehicles. Never leave a child or pet in the vehicle – not even for a few minutes.
Buddy Up – Not only is it more fun to shop when you have a friend along with you, that means one less car in the parking lot and one less frazzled driver dashing up and down the lot looking for any available spot.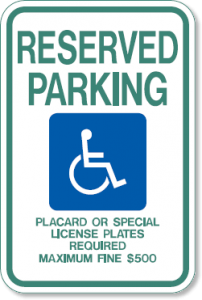 Be Responsible, Not a Scofflaw – Don't be tempted to snap up that handicapped parking spot because you think you can get away with it. That's being irresponsible and it's against the law. Think of the handicapped person who really deserves that spot and content yourself to making yet another cruise through the lot looking for a legitimate parking space. Also observe speed limit signs. Don't park in reserved spaces.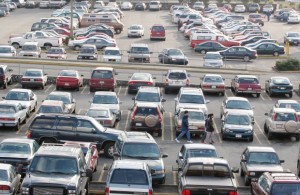 Watch Out For Pedestrians – Shopping areas and mall parking lots are bound to be crowded with people coming and going to their vehicles, often armed with parcels, bags, toting strollers and with children in tow. Be extra vigilant, especially when driving the lot, parking or exiting a parking space. Check and double check your rear and side mirrors before making any moves.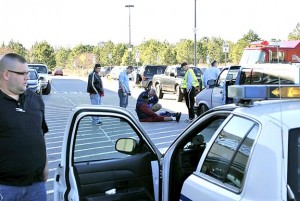 Temper Your Enthusiasm – Sure you're anxious to get inside and snap up that sale item, but slow down when looking for a parking spot. That little bit of adrenalin surge that tempts you to mash down on the accelerator to zip into that spot ahead of another driver may mean an accident. According to the Federal Highway Administration, emergency room data shows that 55 percent of non-roadway collisions between vehicles and pedestrians occur in parking lots.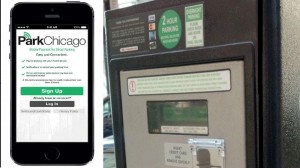 High-Tech Can Be Your Friend – Check out the mall or shopping area ahead of time to see if they offer the ability to reserve your space or pay ahead using smartphone parking apps.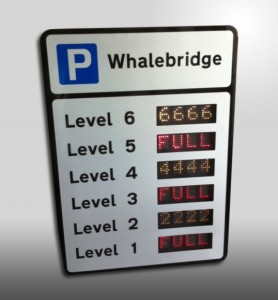 Many lots, says the IPI, have constantly updated electronic signage that indicates the number of open spots per level and helps guide drivers to them.
Speaking of Smartphones – While we're on the topic of smartphones, use the camera in your phone to snap a photo of the space where you park. This helps you easily find your car when you come back from the stores laden with purchases. It's also a smart move in case your vehicle is damaged while you're shopping, recording car make, model and license plates of vehicles around you.
Breathe – When you've gone round and round the lot and still can't find a spot to park, breathe in and out deeply a few times. There's no point in getting yourself all worked up over this, so deep breathing can help calm you down and give you time to think more clearly. Sooner or later a spot will open up, and you'll be there.
Use a Spotter – If you've brought a friend along with you, ask them to act as a spotter, alerting you when a parking spot opens up. For example, if you know that the spots adjacent the door, escalator or elevator on a certain level frequently open up, but you have to circle the level in order to keep the flow of traffic moving, your friend can text you on your smartphone when one opens up, stand by it until you arrive, and you're home free. That is, unless some other driver doesn't like this tactic. Use your best judgment with this suggestion and only do it if you feel comfortable and safe.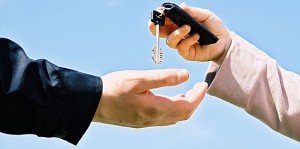 Bottom line: Make this holiday shopping season a lot less stressful when it comes to parking. That way, everyone wins. Or, you can always use valet parking.
Search used cars for sale and find the best deals near you at iSeeCars.com.
To get a FREE iSeeCars VIN Report for a car, click here.