In the battle of the midsize cars, consumers have two proven winners in Honda Accord vs Nissan Altima. Both are available in coupe and sedan versions, have excellent image and reputation, are loaded with standard or available safety and technology features, and are good, solid choices for those looking for economical yet smartly-performing cars. But which model should you choose? Here are some pros and cons for each.
For over three decades consumers have found the Honda Accord to be an excellent choice for daily transportation. It's roomy, comfortable,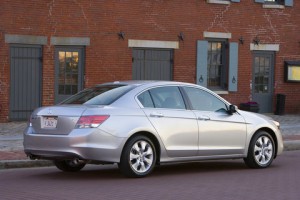 easy to drive and intelligently engineered. It is not glamorous, sexy or show-stopping. But that's not what Accord customers are looking for, after all. Add to this Accord's reliability, strong resale value and high safety emphasis and it's easy to see the appeal of this midsize car. Family-oriented, Accord coupe and sedan offer consumers a completeness that Edmunds rewards by giving Accord a top editors' recommendation.
Pros for Honda Accord include refined ride, fuel-efficient engines, quality fit and finish, ample passenger space, excellent visibility, high resale value, available coupe body style, nice array of options, lots of standard or available safety features. Consumers can choose from available sunroof, audio upgrades, steering wheel audio controls, navigation system with voice control, satellite radio and CD players. Accord has a maximum on 7 speakers for its audio systems. Accord also has a remote-start option, standard anti-lock brakes (ABS), electronic stability control, and brake assist function for optimal accident avoidance.
Cons for Honda Accord include busy, cluttered, button-heavy center stack, intrusive road noise, below-average brakes, stiff ride in coupe, audio noisy, and seats that some find uncomfortable.
Consumers looking for lively transportation in a practical, 5-passenger family coupe or sedan should take a good look at Nissan Altima. On sale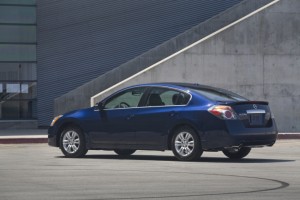 for the past 15 years and restyled for 2010 (its first redesign since 2007), Altima offers refined power, especially with the optional V6 engine, a nice interior and good safety ratings. The coupe features unique styling, sportier suspension tuning and aggressively bolstered seats. Pricing for 2010 models begins at just under $20,000, but adding a V6 and multiple options can easily put you over $30,000 – pricey for a practical midsize car. As Edmunds comments, "At that price point, one could also start considering some purpose-built sport sedans from more prestigious luxury automakers."
Pros for Nissan Altima include good sporty design (coupe), responsive steering, capable chassis, excellent fuel economy (18 to 23 mpg city/ 27 to 32 mpg highway), 5-star crash test ratings from the National Highway Traffic Safety Administration (NHTSA) and 4-star rollover ratings, excellent legroom and rear seat room for 6-foot adults. Like Honda Accord, Nissan Altima has available sunroof, audio upgrades, steering wheel audio controls, navigation system with voice activation, satellite radio and CD player. Altima boasts 9 speakers (2 more than Honda). In addition, Altima features an available rearview camera (not available in Accord).
Cons for Nissan Altima include stiff handling, small trunk space in coupe, cheap-looking plastics used in the interior, continuously variable transmission (CVT) noisy, struggles on hills, smaller backseat than rivals, complex option structure, pricey with V6 and numerous options.
Bottom line: Honda Accord is bigger and safer, while Nissan Altima is less expensive and more efficient to drive, yet offers more features. It all comes down to personal preference. Honda Accord vs Nissan Altima – you really can't go wrong with either model.
Search used cars for sale and find the best deals near you at iSeeCars.com.
To get a FREE iSeeCars VIN Report for a car, click here.