Within the past decade the Honda Civic and Subaru Impreza have both won awards from prestigious companies for quality achievement. Anyone looking for a compact car strong in economy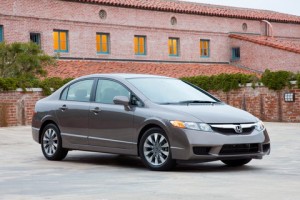 and reliability should have either of these choices on their list of options. We're here to narrow down that list a little bit by giving you information from top researchers like Car and Driver, Consumer Reports, Edmunds, and Motor Trend, so that you can see which of these two 2010-2011 models provides the best value.
Powertrain: Both models offer one engine choice unless you go with the Civic hybrid. The regular Civic comes equipped with the 1.8L 4-cylinder, which does not match the 2.5L Subaru

engine in horsepower or torque. However, the option of a 1.3L hybrid engine does increase fuel efficiency significantly and offers buyers a more economical alternative. The Subaru engine is built more for its sportiness and is available as a turbocharged model, kicking the horsepower up to 305. Either choice gives the option of a manual or automatic transmission. The Subaru is the only one with available All-Wheel Drive.
Winner: Subaru Impreza, thanks to its power and AWD
Braking/Safety/Handling: Crash testing was nearly dead even in both models; however, the Civic Coupe dropped the IIHS rating from Good to Acceptable. Stability control comes standard on all Impreza models but is only available on the Civic in trim levels of EX-L, Si, and the Hybrid. Handling on both is average for the compact class, but the AWD of the Subaru provides a better road grip, especially in inclement weather.
Winner: Subaru Impreza
Cargo/Hauling: The Impreza is the hauler of these two models, hands down. The Civic sedan can be loaded with 12 cubic feet of cargo and that number only drops with the Coupe, Hybrid, and GX models. The Subaru's hatch is obviously a big help as it provides a maximum cargo space of 44 cubic feet. Towing capacity is negligible in this class as neither vehicle is equipped for such a purpose.
Winner: Subaru Impreza
Comfort/Interior: Rear passenger space in both models is actually quite good for this class. Whether you opt for the Impreza sedan or hatchback, head and legroom are both quite ample. The seats are better in the performance models, but still fairly comfortable all the way around. The interior design is decent and materials quality is roughly what you'd expect from an economy car. The Civic provides comfortable seating and no hump in the middle of the rear floor, making life easier on rear passengers. It does possess an unusual gauge layout though as the speedometer and gas gauge reside at the base of the windshield.
Winner: Tie
Amenities/Options: The Impreza comes with a load of options, many of which are sport-oriented exterior features like multi-reflector foglights and aerodynamic body pieces. It also provides a navigation package and Bluetooth, but the stereo quality is relatively poor, even with the upgraded version. The Civic also offers Bluetooth, the navigation system, and an upgraded stereo, but of a much higher sound quality. It is also not without its share of sporty exterior extras like a spoiler, chrome exhaust outlet, and alloy wheels.
Winner: Honda Civic
Value for the $: No matter which model you choose, you're going to have a plethora of trim options to choose from. The Civic starts off at $15,455 and comes in 41 different style choices which could raise the price as high as $27,000. The Impreza starts off a little higher at $17,495, offering 20 style options that can climb the MSRP all the way $34,995.
Winner: If you're comparing the two models evenly, that is same style choice vs. same style choice, you're going to have more room and more power with the Impreza; but you're going to pay for it. If you really want an economy-class car that is easier on your wallet, go with the Civic. However, the Impreza's AWD and better handling do make it a decent value at the lower prices. Subaru options are a little pricy for what you get.
Search used cars for sale and find the best deals near you at iSeeCars.com.
To get a FREE iSeeCars VIN Report for a car, click here.