If you're shopping for a compact crossover, the 2010-2011 Honda CR-V and the 2010-2011 Subaru may be two of your top picks. Both offer a fair amount of durability and options. Either one would suit as a family vehicle and still be rugged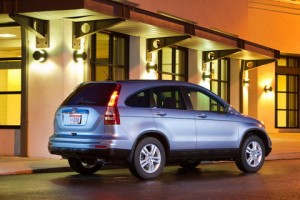 enough to tackle hazardous road conditions. Breaking them down category by category after researching the usual reliable sources (Car and Driver, Consumer Reports, Edmunds, and Motor Trend) allowed us to compare them in detail and bring you the choice for best overall value.
Powertrain: The CR-V gives one engine choice, the 2.4L 4-cylinder, which is nearly equal to the 2.5L that comes standard in the Outback. However, the Subaru does offer an available 3.6L flat-6, upping power to 256 horsepower and 247 lb-ft. of torque. As with most Subarus AWD is standard; it's an option on the CR-V. A five-speed automatic comes standard from Honda while the Subaru offers the six-speed manual with the

option of an automatic. Fuel efficiency numbers also go to Subaru at 22/29 mpg (city/highway), but only barely as the Honda boasts 21/28 mpg.
Winner: Subaru Outback
Braking/Safety/Handling: Both models excelled in crash testing, earning five stars across the board. Stability and traction control is also standard for both vehicles; but surprisingly, braking goes to the Honda as it came to a stop from 60 mph in a tidy 119 feet. That's far better than the 133 feet it took the Outback. Handling also goes to the CR-V as it provides a nimble feeling thanks to its sport-tuned suspension and aggressive steering. The Outback, which was once a very nice riding vehicle, now exhibits significant body roll and very loose steering.
Winner: Honda CR-V
Cargo/Hauling: Both vehicles excel in this area as the CR-V is capable of holding 35.7 cubic feet with the rear seatbacks up, and that number expands to 73 cubes with them folded down. It also boasts a very handy two-tier cargo area and a lightweight liftgate. The Outback is not far behind with its rear seat lowered, holding an ample 71.3 cubic feet of cargo.
Winner: Tie
Comfort/Interior: The interior of the CR-V is actually quite attractive compared to some other Honda models. Materials quality is decent and the wide-opening rear doors are a very handy feature for parents who need to fight with child-car-seats. The rear seats both slide and recline, making passenger comfort a priority, and the overhead conversation mirror allows the driver to keep an eye on what's going on in the back seat without having to turn around. The Outback has more of a rugged interior than a comfortable one. Some of the plastic trim pieces are of a substandard quality and there are various hard edges and corners. The backseat is actually rather comfortable though after an enlargement on newer models.
Winner: Honda CR-V
Amenities/Options: If you look down the list of available options for both vehicles, you may have a hard time discerning which is which. Both come with cruise control, a height-adjustable driver's seat, heated side mirrors, Bluetooth, dual-zone climate control, sunroof, rear tinted glass, and an upgraded sound system with six-disc CD changer. However, the leather seating and satellite radio are Honda options which are absent from the Subaru. Honda's voice-activated navigation system is also slightly better than Subaru's.
Winner: Honda CR-V
Value for the $: Both vehicles come in eight different style options and the MSRP isn't far apart either as Honda starts off at $21,545 compared to Subaru's $22,995. Options can take the Outback to $30,995, a comparable raise to the CR-V's top end of $29,745.
Winner: The Subaru does have its place among people who love the Subaru AWD system and its unique awkward styling. However, a lower price, better handling, and more interior comfort and amenities make the Honda the best overall choice here.
Search used cars for sale and find the best deals near you at iSeeCars.com.
To get a FREE iSeeCars VIN Report for a car, click here.