In the ever-growing market of crossover SUVs, there are two that keep rising to the top of the list – the Honda CR-V and the Toyota RAV4. Both offer highs that would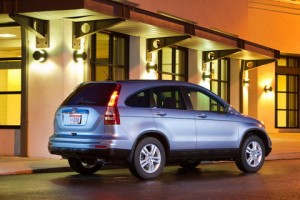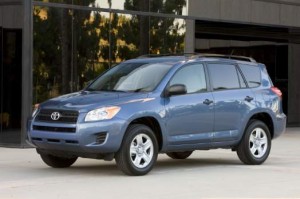 appeal to any buyer and lows that can drive buyers away just as fast. It simply comes down to the little things. Which vehicle is best in the categories that matter most to you? In order to find out who leads in those categories, we've once again delved into the research archives of Edmunds, Car and Driver, Motor Trend, and Consumer Reports, to see who stands out as the overall leader.
Powertrain: If you're looking at the CR-V, you have to be on base with the mandatory 4-cylinder engine. The RAV4 offers a V6 option that won't get quite the gas mileage but does pump out more power. In a crossover SUV, power does make a difference. The CR-V gives the option of AWD, but many may prefer the ability to turn off the All-Wheel mode and save some gas, which may be why Toyota decided to stick with a 4WD option instead. Toyota's 2.5L 4-cylinder is estimated to get slightly better gas mileage as well. Both models come standard with an automatic transmission.
Winner: Toyota RAV4
Braking/Safety: Both offer antilock brakes, stability control, and front side and side curtain airbags. The RAV4 takes it a step further and offers traction control and whiplash-reducing head restraints. Both models received five stars in front driver's side crash tests, but Honda took the edge in passenger side collisions, earning five stars to the RAV4's four. Neither did spectacular in roof strength testing, the RAV4 took a rating of Acceptable from the IIHS, while Honda just barely cleared the bar with a rating of Marginal. The CR-V did, however, show exemplary braking distance, stopping from 60 mph in just 119 feet. Handling and suspension on both vehicles is well above the industry average.
Winner: Toyota RAV4, by a nose.
Cargo: This is an important section for a crossover and it doesn't get much closer than this. Both vehicles will maximize cargo space, with the rear seats folded down, to 73 cubic feet. Honda's starts off at 35.7 cubes, admirable for this class. On the other hand, in order to have the added cargo space, the RAV4 adds the convenience of only having to flip a lever – no seats to fold or headrests to remove. The side-hinged tailgate on the RAV4 can be an inconvenience when parked on the curb, since it does open in that direction. Honda, however, has more convenience with the split-level cargo area.
Winner: Honda CR-V, by an even smaller nose.
Comfort: The RAV4 has a clean design with lots of storage space and reclining rear seats to maximize passenger space. There is also an optional third-row seat to up the total seating capacity to seven. There is somewhat of a budget feel to the RAV4 interior though. Honda seems to have put a lot more thought into comfort than most, incorporating wide-opening rear doors, sliding and reclining rear seats, and a lightweight rear lift gate. There are also loads of family-friendly features on the CR-V that you won't find on many other models.
Winner: Honda CR-V
Amenities/Options: The RAV4 does have more trim options available, but that's mostly due to the added choice of a V6 engine. When comparing apples to apples for the interior toys and amenities, there isn't a whole lot of difference regarding what's available. Either offer leather upholstery, Bluetooth, heated mirrors, dual-zone climate control, and keyless entry. The RAV4 takes the sound system a step further, offering a nine-speaker JBL system with 6-disc CD changer and touchscreen navigation. Honda offers the disc changer with navigation system, but it's still just a factory stereo.
Winner: Toyota RAV4
Value for the $: Price comparisons on both of these animals is negligible, since the MSRPs are only a couple hundred dollars apart. The CR-V starts off at $21,545 while the RAV4 comes in at $21,675. Trim options are slightly more expensive from Honda as they can raise the price to $29,745, compared to a top price of $27,985 for the Toyota. Both prices are well within the range of reasonable for what the consumer will be receiving.
Winner: This one really comes down to driving experience and a couple little nitpicky things. Believe it or not, consumers have walked away from a vehicle because they didn't like the look of the headlights. So it really comes down to how many little things in each vehicle are pleasing to your palate. Add them up and you've probably got your winner. After all, it's the little things that count, right?
Search used cars for sale and find the best deals near you at iSeeCars.com.
To get a FREE iSeeCars VIN Report for a car, click here.