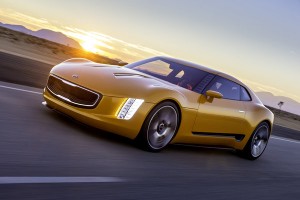 In a move that sent ripples through the Motor City, Kia's unveiling of its rear-wheel drive GT4 Stinger concept coupe at the 2014 North American International Auto Show lends new excitement to an audience thirsty for performance.
The breakthrough move by Kia shows the Korean automaker is serious about getting into the go-fast sports car arena. Even the use of the "Stinger" name and the bright yellow-orange (Kia calls is "Ignition Yellow") exterior color harkens to legendary and affordable performance cars like the Chevrolet Corvette.
For those who may doubt the ability of Kia to pull off such a feat, the GT4 Stinger concept coupe serves as proof. "If anyone were to ask if Kia has the credibility to build a car like the GT4 Stinger," said Tom Kearns, chief designer, Kia Design Center of America, "I would simply point out that Kia races – and wins – against some of the world's most legendary performance brands."
Kearns added that the GT4 is "about purity, simplicity and timelessness," and is an authentic 2+2 sports car that can "turn heads as a daily driver while also being right at home on the track."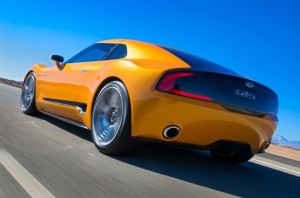 GT4 Stinger Specifics
Here's what we know about the GT4 Stinger concept coupe. Performance is the key and the GT4 Stinger is powered by 315-horsepower 2.0-liter turbocharged four-cylinder engine. A close-ratio six-speed manual transmission puts power to the rear wheels, which are clad in 275/35R-20 Pirelli P-Zero performance tires. In the front, 235/35R-20 Pirelli P-Zero tires provide plenty of cornering grip. Custom 20-inch aluminum center-lock wheels are wrapped around Brembo Gran Turismo 15-inch rotors and four-piston calipers.
The GT4 Stinger has a custom chassis with double wishbone suspension. The automaker says the car has a shorter wheelbase (103.1 inches) and overall length (169.7 inches) than the Kia Forte sedan, a width (74.4 inches) that's greater than a Cadenza sedan, and nearly nine inches lower (49.2 inches) than the Rio subcompact. Kia kept weight to a minimum, with the car coming in at just under 2,900 pounds. Weight distribution is just about perfect: 52 percent front/48 percent rear.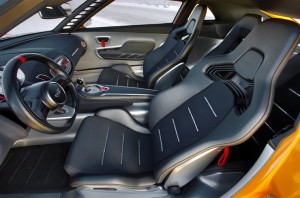 On the inside, the GT4 Stinger is practical and purposeful. Door handles are aluminum, and a quick pull reveals very lightweight doors with a width generous enough for easy access. Instead of traditional door handles on the interior, though, there are red-stitched pull straps, reminiscent of sports and competition cars of years ago. The seats are molded leather buckets, in keeping with the car's race-inspired design.
There's no carpeting in this concept, just a rubber floor mat beneath the aluminum pedals. Another missing feature is a stereo.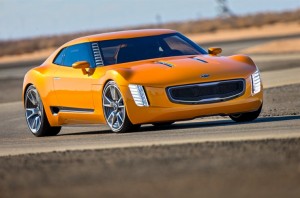 Don't Look For Production Anytime Soon
Though it is now just in the concept car stage, positive auto show reaction will go a long way toward cementing a production timeline for the car.
As for why Kia decided to build this concept, Kearns said only that it's "a totally selfish design," adding that the design team is "full of gearheads and enthusiasts, and the GT4 Stinger is the perfect car for that kind of crowd."
Search used cars for sale and find the best deals near you at iSeeCars.com.
To get a FREE iSeeCars VIN Report for a car, click here.