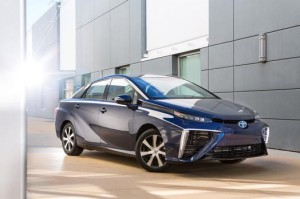 While Honda, Toyota and Hyundai have concepts and/or plans to bring fuel cell vehicles into the market and other automakers are likely to follow suit, the obvious question becomes how feasible are fuel cell vehicles in the near term?
The short answer is, not very. But the subject deserves more careful consideration, as things in the alternative fuel vehicles category do change over time.
Consider the fact that just a few years ago, only the Toyota Prius and Honda Insight were hybrid vehicles that gained any sort of traction with consumers. The fact that the Prius is widely regarded as the most successful hybrid ever is a testament not only to Toyota's marketing tenacity but also to the fact that the Prius delivers what consumers want: environmentally-friendly automotive technology in a pleasing package that meets needs and is economically viable. It also saves on the cost of gas. And there are those federal tax credits and various state incentives to sweeten the deal.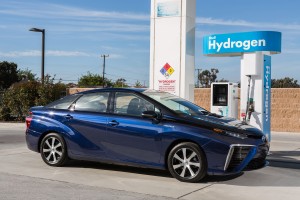 Hurdles to Overcome
Before FCVs can hope to make a dent in the consumer market, there are three major hurdles to overcome, John Voelcker, editor of Green Car Reports tells us.
Lack of fueling infrastructure – "The major hurdle is the utter lack of fueling infrastructure. No advanced powertrain technology since diesel has required adding a totally new fueling infrastructure, so the rollout of the cars must be accompanied region by region by a network of fueling sites–at $1 million-plus per location. California's goal is 100 stations by the end of the decade. But that number can only serve about 25,000 cars. Meanwhile, every American site has electricity in some form, which is one factor that has allowed a charging infrastructure to develop fairly rapidly."
No consumer demand – "Another hurdle is a distinct lack of grassroots demand for hydrogen vehicles. While consumers approve of the benefits when they're explained, there's no prior experience with fueling on hydrogen–unlike the thousands of electric cars to which Californians were exposed in 1998-2004. It's possible that hydrogen evangelists will arise, but we see little sign of it thus far."
Stiff competition from plug-in hybrids – "Finally, hydrogen vehicles face competition from plug-in hybrids now being rolled out, especially in the larger vehicle categories like SUVs. Consumers who want to drive green can do 15 to 30 miles of any given journey on electricity, then switch over to unlimited gasoline range–versus being limited in travel radius to 120 miles or so from a hydrogen station."
Who Are the FCV Players?
Despite the major obstacles ahead, several automakers are proceeding with plans to bring fuel cell vehicles to market. Indeed, some are already available. FCVs are the latest and most exotic of the alternative fuel vehicles, and will likely be perceived by some forward-looking consumers as the must-have new technology.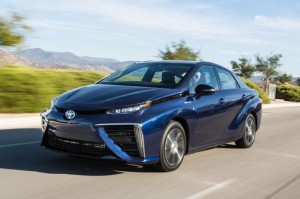 2016 Toyota Mirai – Toyota will offer the 2016 Mirai (the Japanese word for future) FCV for sale later this year. Toyota says the Mirai will have a range of about 300 miles and takes only five minutes to refuel. That is, if there's a hydrogen refueling station within driving range. At the present time, there's no federal tax credit to buyers of hydrogen fuel cell vehicles. That may change, of course, but it will take concerted effort.
During the Mirai's East Coast debut in January 2015 at the Washington D.C. auto show, Nihar Patel, Toyota's vice president of North American business strategy, called for Congress to reinstate tax incentives for hydrogen companies that build refueling stations and for consumers who want to purchase hydrogen fuel cell vehicles.
Patel said Toyota will increase global production capacity of the Mirai to more than 5,700 by the end of 2017 to meet demand.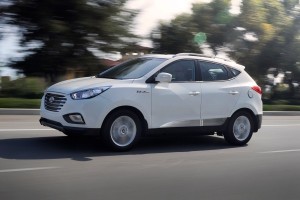 2015 Hyundai Tucson FCV – The Hyundai Tucson FCV is the first production crossover SUV powered by hydrogen available to the consuming public. It also won the Ward's 2015 10 Best Engine distinction, the first hydrogen-powered car to win in the award's 21-year history. The Tucson FCV crossover seems at once familiar and versatile, as it should, since it's an alternatively fueled version of the popular Hyundai Tucson crossover that's been around since 2005. The five-passenger Tucson FCV is available to lease only and in limited areas. The monthly lease is $499 plus taxes and fees and requires $2,999 due at signing. The 36-month lease price includes hydrogen and maintenance. Range is about 265 miles.

Honda FCV Concept – Honda debuted the latest iteration of the Honda FCV concept at the 2014 Los Angeles Auto Show. With a range of 300+ miles and a refueling time of less than five minutes, the design concept hints at the next generation of the fuel cell vehicle. Honda officials have projected a March 2016 launch date for the 2016 Honda FCV in Japan.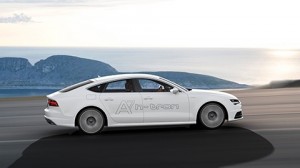 Audi A7 Sportback h-tron – Audi took the wraps off its A7 Sportback h-tron Quattro at the 2014 Los Angeles Auto Show. The concept combines a plug-in battery system with a hydrogen fuel cell. Range is about 311 miles.
Where Will FCVs Be Available?
As to where you might be able to buy or lease fuel cell vehicles, at least in the foreseeable future, the areas of the country a limited. For about the next five years, fuel cell vehicles will be rolled out only in California and the dozen or so states that have adopted California's zero-emission rules. That includes states in the Pacific Northwest and some Northeast states.
Why such a limited availability? It goes back to the factors listed above: infrastructure, consumer demand and other viable alternatives already in the marketplace.
There are some benefits to FCVs, however. According to the U.S. Environmental Protection Agency (EPA) fuel cell vehicles have the potential to significantly reduce America's dependence on foreign oil and lower harmful emissions that contribute to climate change.
Just don't expect to see FCVs on the road in any significant numbers for at least the next decade – unless you happen to live in one of the corridors where hydrogen refueling infrastructure really takes off, federal and state tax credits and incentives kick in, the total price or lease cost is manageable, and the vehicle meets consumer wants and needs.
Search used cars for sale and find the best deals near you at iSeeCars.com.
To get a FREE iSeeCars VIN Report for a car, click here.