Anyone who buys a new car wants to make it as easy as possible, so doing so without all the hassle should be a pretty attractive option. Today we begin a multi-part series on various tips and strategies – or services – that can help you learn how to buy a new car at a great price. We begin with a review of a service called CarWoo.  It's a service that I personally have been wondering why it hasn't existed till now because it makes so much sense.
It's really quite simple. Basically, CarWoo allows consumers to negotiate online for a new car with multiple local dealers and do so anonymously without all the hassle of spending hours at a dealership going back and forth on the price and being pressured to buy.  Here's how it works:
On the CarWoo website, you tell car dealers about the type of car you're buying – You specify the make, model, style and color. No need to worry about options yet, although if you have specific preferences you can let the dealer know.
Local dealers give you offers — You can check out offers from dealers near you right on the CarWoo website. The offers appear in standard and easy-to-understand language.
Negotiate with dealers anonymously and easily – Call, email and make counter-offers with dealers right from your computer. This is done without revealing any personal information to the dealer. What could be simpler?
Accept an offer and schedule a pick-up – When you're ready to buy, click the "I Want to Buy" button to lock in the price. Then schedule a time to pick up the vehicle at that dealer.
Below are some screenshots of the CarWoo new car buying service:
Reasons to Use CarWoo
Okay, so it sounds good, but what are the other compelling reasons to use CarWoo? Here are the six benefits CarWoo promises consumers.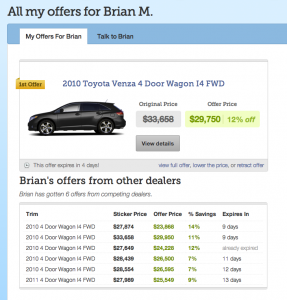 Privacy protection – You remain anonymous throughout the entire negotiating process. That means you won't be subjected to unwanted phone calls or emails from dealers.
Stress-less negotiating – You can negotiate with as many dealers as you like from your own computer and at your own pace. No more feeling like you're in a hot seat, and no more hassle.
Time savings – No more need to waste time driving from dealer to dealer and getting bogged down in high-pressure sales tactics. CarWoo allows consumers to call, email and negotiate with dealers all online.
Easily avoid bad dealers – By reading other users' reviews of car dealers on the CarWoo site, consumers can easily figure out which dealers do a great job and which ones to avoid. You always choose the dealers you want to work with and you're always anonymous.
Price confidence – Feel confident about the pricing – since the CarWoo site shows all the dealers' prices (and dealers can see each other's prices as well). In addition, CarWoo provides you, independently, an estimate of other costs such as tax, title and license, so you'll know exactly what you should pay.
CarWoo support – Need help at any point in the process? CarWoo staff is there to help – either while you're on the website or when you're at the dealership.
Other Info
There are two plans, basic, which costs nothing (but you get one to two dealers), and the more popular Plus plan which carries a one-time $49.00 fee (and you get three to five dealers). CarWoo is for purchase or lease of new cars (used cars are not part of the service). CarWoo offers a 100 percent "Happiness Guarantee." If customers aren't completely happy with their CarWoo experience, CarWoo will refund their $49.00 fee (if they've chosen that plan). The site also has extensive FAQs and other information on the service.
Want to buy a new car without the hassle?  Maybe CarWoo is the right service for you.  Check it out and let us know what you think.
Search used cars for sale and find the best deals near you at iSeeCars.com.
To get a FREE iSeeCars VIN Report for a car, click here.