With holiday shopping on so many people's minds, it's easy to put off car shopping as just one more task in an already-crowded schedule. But truly savvy consumers know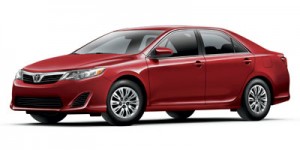 that when everyone else is fighting for sales at the mall, some of the best car deals may be available at their nearby dealer.
Certainly you wouldn't go car shopping if you aren't in the market for a car, but if you are, here are some tips on how to find the best holiday car deals.
Save time – research online
Why waste gas going around searching for dealers that may, or may not, have the vehicle you want in stock on the lot. Use the Internet to do a search for dealers in your area and then check the dealer's inventory to see what's available now. This is assuming that you already have a good idea what you want to buy, either from prior research, having seen a television advertisement or reviews in third-party websites, or you're just buying the same model as before, only newer.
The point is that you want to maximize your free time by not spending more of it than you need to searching for dealers. Finding the best holiday car deals means knowing who's got what in the first place.  See the best Black Friday car deals we've researched for you.
Watch out for promotions
Speaking of the best holiday car deals, how do you find them? Make it a point to keep your eyes and ears open for any advertising on holiday car promotions. The best place is TV ads, because almost all the automakers will have some kind of holiday sale going on from now to after Thanksgiving, or even through New Year's Day. They have catchy slogans, like the Winter Event" (Mercedes-Benz, through Nov. 30); "The Season of Audi Event" (through Jan. 7, 2013); Winter's Best Sales Event," "The Happier New Year Event" (BMW, offering holiday credit of up to $3,500); "Season's Best Event" (Cadillac, through Jan. 2, 2013); Ford's "Year-End Celebration" (through Jan. 2); Chrysler's "Big Finish 2012" (through Dec. 3, 2012); Nissan's "Season to Save" (through Nov. 30), and so on.
Don't forget to check the newspapers, particularly the week-end editions. That's when dealers advertise their holiday deals.
Ask your friends
It's human nature to tune out what you're not ready to hear, but take the time to ask around to see if your friends have recently purchased a car and find out if they feel they got a great deal. It may be worthwhile checking out that dealer. There's nothing like a well-satisfied customer who feels he or she made a wise choice and saved money to give you added confidence in at least seeing if that dealer has what you want.
Be ready to go
Of course, finding the best holiday car deals is one thing. Being ready to go when you do is another. Help yourself out by getting your finances in order. Get pre-approved for a loan, if you'll be financing, or line up the amount due at signing, if you'll go with a lease.
It's also worthwhile and time-saving to know what your insurance premium will be for the car you're considering. This may be a deal-breaker, since some cars have a stiffer premium than others. Even if you do decide the extra cost is worth it, you're better off knowing in advance than getting the shock after you've bought the vehicle.
Get your trade-in offer separately
For many consumers, car shopping involves two deals, usually conducted at the same time. These are the negotiations on the car purchase or lease and then the deal you strike on a trade-in of your current vehicle (if you will be getting rid of it). But this is not the best strategy. What happens is you convolute the two negotiations and may very well wind up the loser for it.
Instead, take care of the trade-in offer before you go in to buy or lease your next or replacement vehicle. That way, you already have that transaction figured out and will have a firm trade-in offer ready.
Doing the deal
Now for the big day, the day you actually take care of buying or leasing your new vehicle that's been advertised or promoted as a holiday car deal. Remember those ads you saw or read? Bring along a copy of the newspaper ad or print out what you saw online. You can also reference TV ads you heard and saw.
Be ready to hold the dealer to the advertised deal. And, don't be afraid to ask for whatever else you can get on top of the advertised holiday car deal. You don't know if you don't try. And the savvy car shopper knows that if one dealer isn't giving a great deal, another one will step in and make your day. Know your options and be willing to walk. The consumer, after all, is king, whether it's the holiday car deal season or any other time of the year.
Search used cars for sale and find the best deals near you at iSeeCars.com.
To get a FREE iSeeCars VIN Report for a car, click here.