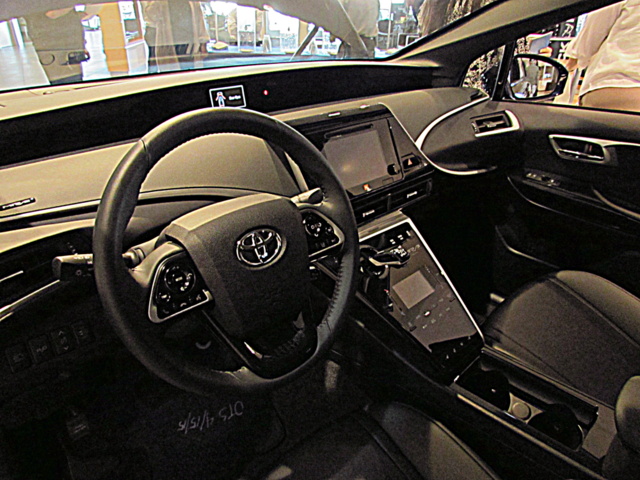 Written by James Hamel
Introduction
Now come on, we hear environmentalists everywhere cry, how can this at all be a fair comparison when there are more ways to charge an electric car in this country than there are locations to refuel a hydrogen powered sedan like the oddly named but hugely impressive Mirai? Well to answer one question you are probably about to ask as well, the word Mirai actually means "future" in Japanese and we so happen to believe this kind of vehicle is just that—the future of personal transport.
First off before we start getting death threats from Nissan Leaf owners accusing us of having no experience with either types of alternative fuel vehicles, do consider that while our time in the Mirai was just for a short period in a prototype, we could see how Toyota engineers had improved upon the tech of the first hydrogen car built on an assembly line, the Honda FCX Clarity which we once road tested for a week and also got one up to 110 miles per hour on Honda's Twin Ring Motegi race track in Japan.
Honda will soon be introducing its own replacement for the Clarity to take on the Mirai and it was previewed by the FCEV fuel cell vehicle introduced at the LA Auto Show to much praise. It will be interesting to see how well received the more Sci-Fi looking Honda will be received as opposed to the Mirai which to us felt a bit like driving a compact Lexus sedan, so richly appointed is its interior. The exterior, while unique, is much more conventional with the Toyota although to many that may be a plus.
But the point here is that despite the fact that Toyota technology has improved the range, battery, motor and fuel cell sizes and designs of its latest hydrogen salvo in the alternative fueled vehicle wars, our experience has been that the feeling you get from piloting a hydrogen car is always very familiar. It makes you feel like suddenly you are Captain Kirk piloting the Starship Enterprise into warp drive.
Floor a Toyota Mirai away from a stoplight and tell us you don't hear Star Trek in the refined hush. As not to confuse, the MIrai is very smooth and quiet so it is nothing like having Scotty screaming at you from the engine room that he's giving you all she's got. Because the Mirai has got plenty no matter what driving situation you are in. This is a car that feels truly special when you are driving it but does nothing to shout obnoxiously about its green credentials.
In the three years since we last drove a hydrogen powered Honda, many things are very much the same for this type of car and it is no insult to either Toyota or Honda. For one thing, refueling takes 3-5 minutes and is an experience nearly identical to the one you have each time you fill up on unleaded or diesel. And that's not even mentioning the end to range anxiety afforded by the Mirai's 300+ mile range (the Clarity averaged 225 miles per tank when we last tested it) and this sticks out in sharp contrast to the admittedly exemplary for its class 2016 Kia Soul EV's slightly over 100-mile electric range.
In between our Clarity and Mirai experiences we have road tested a number of all electric cars such as the aforementioned Nissan Leaf, Chevy Spark EV, Honda Fit EV, BMW i3 and a number of plug-in hybrids like the Chevy Volt and Cadillac ELR which really aren't fully alternative fueled as they do have gas "range extending engines." (This does not, however, make them unwise purchases. Quite the contrary.)
But this is a battle to the death for the hydrogen and electric car support system which will help us determine which of these cars got us looking forward to the future and which one left us breathing into a plastic bag looking for a Xanax someone may have dropped under the floormat. We wish we were joking about that last part.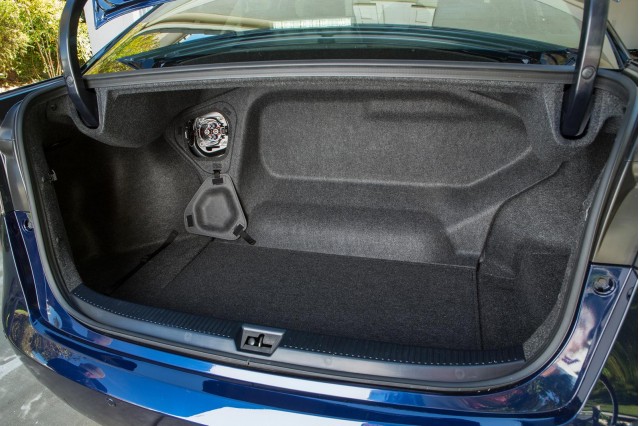 Styling, Interior Design And Are They Fun To Drive?
Our test 2016 Kia Soul came in the EV only "Caribbean Blue with contrasting white floating top" paint job which we though made such a unique, nearly mini-esque statement we wondered why Kia didn't offer all of it's buyers an array of two tone exterior color schemes? Other tell tale signs of this being a full electric were the "neener-neener I get to drive alone in the carpool lane" HOV exemption stickers which once upon even plain Prius models wore with pride. Now every other lane on every LA freeway is clogged with Prii of all shapes sizes and colors. It makes us wonder if Toyota will pull off the same trick with its slick, quick and shockingly sporty to drive new Mirai.
Breathe into a paper bag, don't pass out. Are you ready for us to continue? Yes, we are afraid we just called the hydrogen powered Mirai sporty and fun to drive. In addition, what with its currently hand assembled interior which features seats so expertly tailored they could fool any Lexus owner into thinking they are made of real cowhide. There is also an overall dashboard presence that makes the driver think they are Captain of the Starship Enterprise. So try to remember if you are one of the first Mirai owners to hit the gas pedal. The car does not accelerate (yet) if you just say "engage."
But then as you blow away from that red-light with all 153 horsepower/247 lb. feet of torque from idle you may notice that the electric motor sounds spookily similar to the Starship Enterprise entering warp drive. Or perhaps we are dorks who have seen too many episodes of the seminal TV shows and movies. Um, we mean those lame movies and stuff. Did someone win a football game today? No? Because it was Wednesday? Ok. We admit it, we pare extreme techno geeks here at iSeeCars.com and the Mirai tickled our happy place. In both the way it looked and drove. For eco-conscious drag racers, the Mirai hits 0-60 in 9 seconds but feels quicker than even that suggests.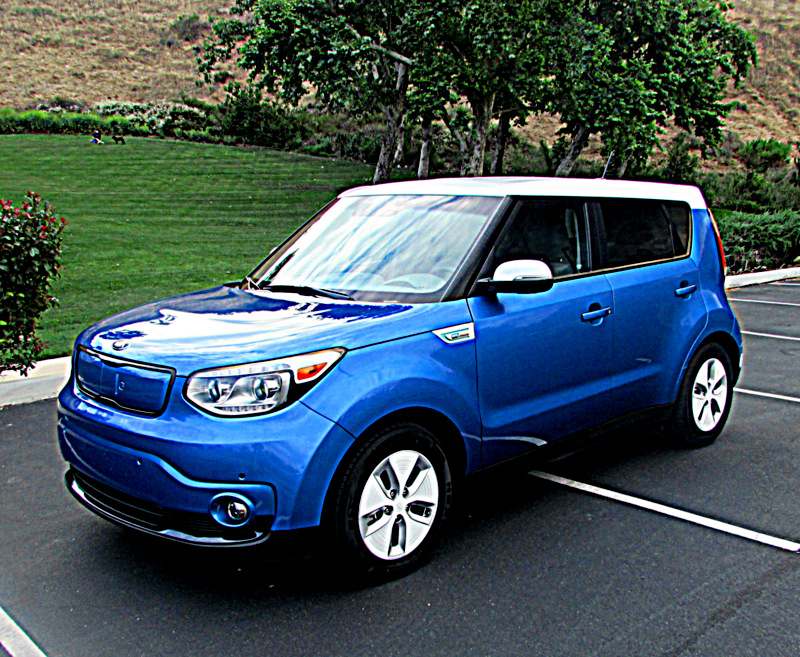 Living in Southern California where there are about 8 hydrogen refueling stations within easy driving distance of our home base in South Orange County, it is easy to see the appeal of the hydrogen powered Mirai. It's pretty much like refueling a gas powered car as the whole process takes a little over 3 minutes and Toyota stated that by the time they begin to deliver the 2016 Mirai near the end of 2015 that someone in Orange County will be able to drive all the way up through Los Angeles, up the 5 freeway to the Bay Area with enough refueling stations to bring anyone to a point just north of Sacramento. That should make this car popular among politicians in the State Capitol, no doubt.
The 2016 Toyota Mirai has a sticker price of $58,300 before Government tax incentives which should be substantial. If that price gives you a bit of sticker shock, that probably won't abate when you compare it to the price of the Soul EV which is about $20,000 less. But do take into account that Toyota currently is hand assembling all Mirai hydrogen sedans on an assembly line with workers who will one day operate the machines on a more automated assembly line. But for now, Toyota is so intent on getting this car right that you are essentially getting a bargain priced hand built car in the tradition of Rolls Royce. (Also, Toyota is offering $499 a month introductory leases and 3 years or $15,000 worth of free hydrogen to early adopters.)
The interior of the 2016 Kia Soul EV is laid out identically to any Soul which is to say in a highly ergonomic and pleasingly high quality manner. But the EV does have a unique light grey hue to the seats (leather covered in our $35,000 fully loaded EV + tester) as well as unique interior detailing and features like air conditioning that can be set just for the driver if you are carrying no passengers to help save precious battery life. Otherwise our Soul EV+ came with lots of creature comforts like automatic climate control, navigation, heated and cooled seats, back-up camera, the UVO infotainment system plus the $1,100 optional panoramic moonroof.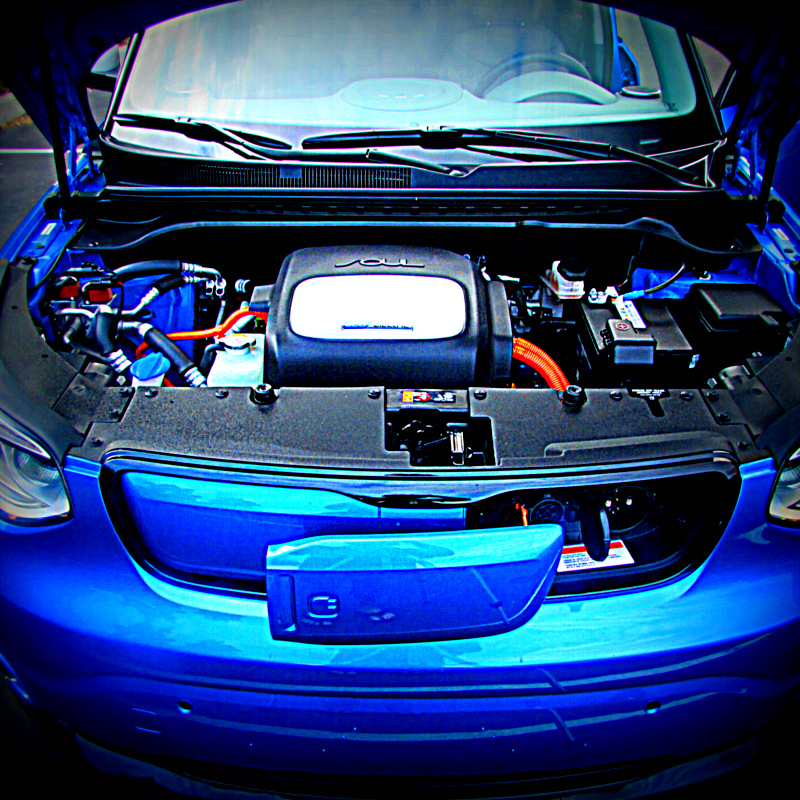 Cargo and passenger space inside the Soul is plentiful and its range of 93 miles per charge is impressive given that it offers 109 horsepower with 210 pound feet of torque from the moment you hit the accelerator. The Soul EV definitely has an addictively zippy demeanor that can sadly mean if you decide to have too much fun you will see its range decrease much more quickly. And that's the issue we had here, the Soul EV could go 90 miles or so per charge but the Mirai can go over 300 miles per tank. And there are other issues at play in the real world too.
Having Range Panic
Now that we have considered our driving impressions of each vehicle and features, let's talk about the realities of living with either model. Now, as of right now if you live outside of California you are out of luck as Toyota's initial launch is California only. The Kia Soul EV was also only initially available in California but has rolled out to dealers in at least 8 states with more planned as more Fast Charge Machines are added to Kia dealers and other locations in more States. With the Soul's handy (in theory) fast charge plug, the car can get an 80% recharge in about a half hour which sounds like a dream, right? Well it would be if you can find one that is either available, functioning or that you are allowed to use.
Unlike Nissan which has fast charge machines for Leaf owners at all dealers that sell the car, Kia has not yet gotten over that hurdle and even down in Orange County which you would assume would be very electric car friendly, these fast chargers are few and far between. And despite Nissan dealers claiming owners of any electric car can use their charging stations, we were chased away from two dealers who told us their chargers were for Leaf owners only. This was in spite of the fact that no Leaf owners were using them at the time. They still sent us away with a dwindling electric range. This is when our range panic attack started.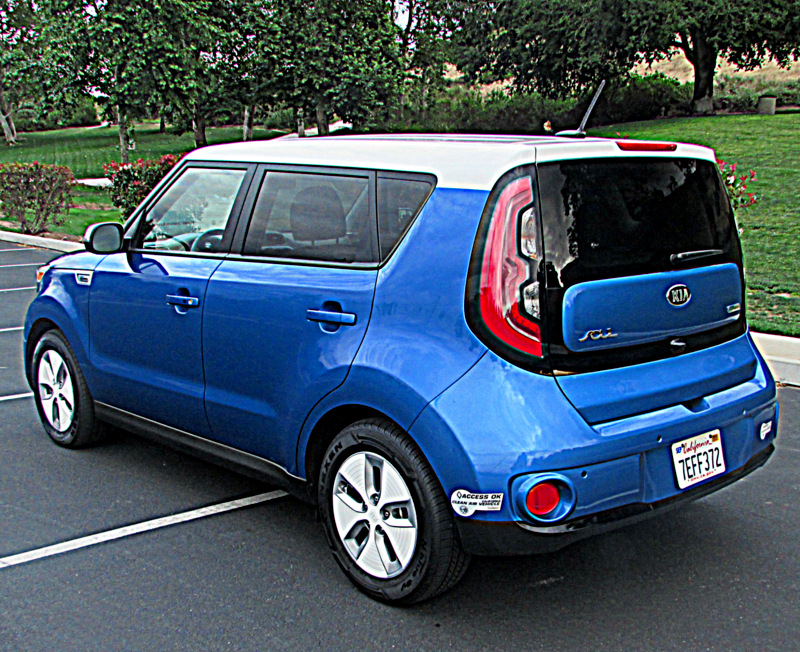 We had two options of what to do, either head to a local BMW dealer who claims they let other electric car owners use their i3 charging stations (not that they need them as part of a lease deal now BMW throws in a home recharger for its customers) or we could use an 8-hour charger at a nearby Kohl's. We knew we couldn't stop at BMW and then make it to Kohl's so we did something we aren't proud of. We parked, plugged in our Soul EV to the charger intended for people shopping at the store and only spent a half hour walking around inside until we got bored and had a friend come pick us up.
So, yes, we used Kohl's charger without doing any shopping. But we would like to give them a heartfelt thank you as we pulled into their parking lot with 2 miles left on our range estimator and sometimes flooring the accelerator around a corner made us lose that much range according to the car. Our feeling about the Soul EV is that it is a much more affordable vehicle but that we still think most affordable electric cars are restricted by having too small a range for the majority of new car buyers. When we had a full charge we loved driving it but as our range dwindled we would turn off things like the stereo, navigator, seat ventilation and air conditioning just to make sure we got home. And we do not like to live that way, not at all.
Also, as of right now in California there simply isn't enough of a speedy proliferation of public charging stations easily accessible by the public. One time we went to a local mall which had a number of charging spots and we came out to find someone parked close to our Soul EV who had unplugged our car and started charging theirs while we were away. Message boards on electric charging locator apps bears out a great deal of aggressive bitterness when another electric car owner leaves their vehicle charging too long. But if it takes 8 hours, you don't want to sit and watch it charge. A regular wall socket will take closer to 24 hours to charge the car. In home chargers, should you not be an apartment dweller, cost around $4,000 so you should be married to electric car technology before investing in one.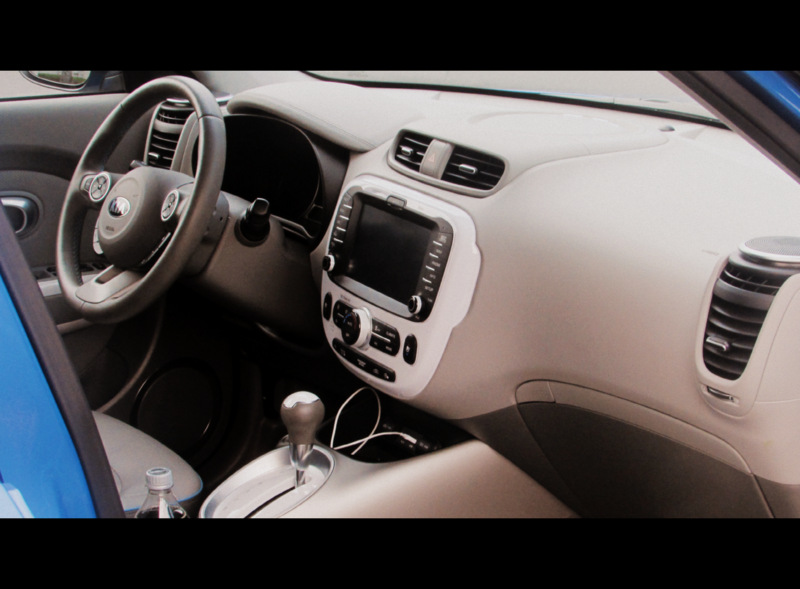 To our way of thinking these drawbacks were way too much for us to deal with. Perhaps an electric would be a fine around town extra or third car to run errands in. But due to charging limitations it will never have the versatility of the Hydrogen Mirai what with its speedier refueling times and longer range. It's just that for now you have to live in California only and apply to buy one on Toyota's website.
But hydrogen vehicles are now available from Hyundai and soon Honda will unveil its new FCEV hydrogen sedan as an obvious rival for the Mirai. The most interesting news was that Honda and General Motors had partnered a few years back to work together on hydrogen projects with apparently Honda taking charge of R&D and GM working on getting a national hydrogen infrastructure built. And how much might that cost? According to one GM executive we spoke to, getting a hydrogen station to within easy driving distance of 75% of the population would cost 7 to $8 billion dollars.
That sounded steep until we realized, isn't that how much the Pentagon pays for a new hammer? Now while full electrics are the answer according to the greenest of the greener, we have to say we would rather own and drive a hydrogen powered car like the Mirai. The reasons are just too obvious to ignore.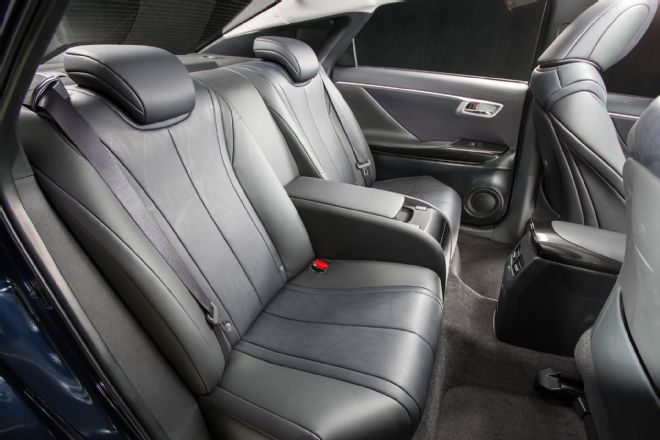 Search used cars for sale and find the best deals near you at iSeeCars.com.
To get a FREE iSeeCars VIN Report for a car, click here.