In a battle between mid-size sedans known for comfort and economy, the 2011 Hyundai Sonata and 2011 Honda Accord are set to duke it out. It's no secret that the Accord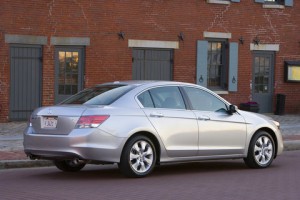 has been a best-selling sedan in the market for several years running, but Hyundai's recently-acquired commitment to quality and craftsmanship has allowed them to move into a top slot in superiority. After checking all the top-name researchers like Edmunds, Car and Driver, Motor Trend, and Consumer Reports, we've broken them down and laid them out by category so you can get a better look at who stands alone at the top.
Powertrain: Both models offer a 2.4L 4-cylinder engine, but the Hyundai's is slightly more powerful in horsepower and torque, and offers a better fuel economy at 24/35

mpg (city/highway) with the manual transmission, compared to 22/31 mpg from the Accord. However, the Accord does offer a V6 option which boosts acceleration and power. A five-speed manual trans is standard from Honda with the option for an automatic; the Sonata starts off with a six-speed manual and also possesses an automatic option.
Winner: Honda Accord, for better engine choices
Braking/Safety/Handling: Antilock brakes, stability and traction control, and full-length side curtain airbags are standard for both. The Accord scored five stars in most crash tests but managed only three stars in the rear-passenger side impact test. It also has a less-than-average braking performance, stopping from 60 mph at 137 feet with excessive pedal vibration. The Sonata has earned a "Top Safety Pick" designation from the IIHS and aced every crash test it was put through. It also scored top marks in the new roof crush safety test.
Winner: Hyundai Sonata
Cargo/Hauling: The sedan model of the Honda Accord has a very imposing size. As such, the trunk space should be much larger than the 14.0 cubic feet it displays. The Sonata's trunk opening is slightly smaller than normal but the 16.4 cubic feet of space is one of the best in the sedan class. The Accord's coupe model drops trunk space down to 11.9 cubes, not helping its case in this category in the least.
Winner: Hyundai Sonata
Comfort/Interior: Despite the button-heavy center console layout, the Accord does feature a well-constructed interior with quality materials and a very nice navigation system with voice command. On the other hand, this is one category where it's going to be difficult to compete with Hyundai. Controls and features are more besetting to a luxury car than an economy-class sedan. If you're willing to spring for the Limited trim you'll be surrounded in two-tone color schemes, black trim and padded door panels. Its one flaw is limited headroom for taller passengers. Anyone six-foot or under, however, is seated in comfort, front or rear.
Winner: Hyundai Sonata
Amenities/Options: As for style options, Honda has several more thanks to its addition of a V6 engine and a coupe model. These choices come with such features as keyless entry, fold-down rear seats, dual-zone climate control, Bluetooth, satellite radio and heated front seats. It also possesses a very user-friendly navigation system. The Hyundai keeps up its interior prestige with all the above features as well as a sport-tuned suspension, auto-dimming rearview mirror, and backup camera. It's clear Hyundai is trying to bring luxury to the economy class.
Winner: Hyundai Sonata
Value for the $: There are several differences in these two models, and that includes the price. The Hyundai starts off at $19,195, climbing to $27,045 fully loaded. The Accord goes a little higher than that, starting at $21,180 and climbing to $31,360 for the sedan EX-L with navigation.
Winner: Even though the Accord is a best-seller, it's getting rather long in the tooth and it's starting to show. Not only did the Sonata beat it out in several categories, it's cheaper and offers better fuel economy. It looks like there's a new leader from the Asian sedan market.
Search used cars for sale and find the best deals near you at iSeeCars.com.
To get a FREE iSeeCars VIN Report for a car, click here.