The Hyundai Sonata and the Toyota Camry have both shown vast improvements in recent years. Both have started utilizing a higher materials quality and have shown improved style enhancements. That's why we've taken information

from all the top researchers (Car and Driver, Consumer Reports, Edmunds, and Motor Trend) to break down the 2010-2011 models piece by piece and see who has shown the most improvement to become the best overall value.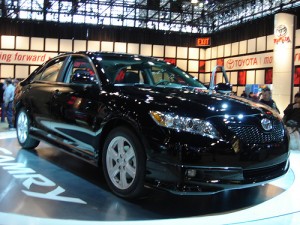 Powertrain: Both models come with available 4- and 6-cylinder engines, with the Camry winning out in horsepower and torque in both models. Fuel efficiency is dead even, no matter which engine you choose in either model. Transmission varieties are also plentiful as both come with available standard and automatic transmissions. The Camry may get the edge in this category as acceleration is very adequate, sprinting to 60 mph in just 6.5 seconds with the V6.
Winner: Toyota Camry, in a close one
Braking/Safety/Handling: Crash test ratings are also split right down the middle as both vehicles earned five stars across the board. Braking for the Sonata was simply average, stopping from 60 mph in 126 feet, but handling is definitely below average. There is significant body roll when cornering and the vehicle can get rather jumpy over broken pavement. The Camry performs significantly better in both braking and cornering, providing a smooth ride over any terrain.
Winner: Toyota Camry
Cargo/Hauling: Trunk capacity for all Camry models is 15 cubic feet, not very adequate for this class. Towing capacity, should you wish to haul a small trailer, is also rather paltry at a mere 1,000 lbs. The Sonata one-ups Toyota in both of these areas, boasting a very roomy back seat and still maintaining 16.3 cubic-feet of trunk space. Towing capacity is higher at 1,500 lbs. as well.
Winner: Hyundai Sonata
Comfort/Interior: Toyota definitely has the knack on storage cubbies, and the seating is wide enough to accommodate nearly any body style. It's plain to see they've spent a lot of time on ergonomics. Controls feature large, logically-placed buttons and the reclining rear seats are an upscale feature not typically seen in this class. However, the Hyundai has taken its interior to a new level. The dash is covered in a soft, high-quality material and the center stack is one the most impressive for an economy sedan. While the rear seats won't recline, they are made incredibly roomy.
Winner: Hyundai Sonata
Amenities/Options: The list of options on both of these animals is so impressive that one would almost think that the tie-breaker would come down to the radio quality. Then again, with Hyundai featuring a 240-watt Infinity sound system with six-CD changer and Toyota going with the JBL system with in-dash CD changer and satellite radio, that comes out fairly even as well. Both models have dual-zone climate control, navigation system, wood-grain interior paneling, sunroof, Bluetooth, and navigation system. This one is way too close to call.
Winner: Tie
Value for the $: The Sonata's MSRP starts at $18,700 and can climb all the way to $26,550 for the Limited with the V6. The Camry's priced slightly higher, starting out at $19,395 and hitting $29,045 at the top end.
Winner: This is another one of those really close calls. As for overall driving experience, the Camry probably has the edge here; but it will cost you more. Hyundai has taken leaps and bounds to improve its interior comfort and features. Now they simply need to fix their mechanical issues. However, Hyundai's warranty of 5 years/60,000 miles does beat out the 3 year/36,000 mile warranty of the Camry, which should add some piece-of-mind about the mechanical issues; that, coupled with the fact that it is the cheaper model, may give it the slight edge here.
Search used cars for sale and find the best deals near you at iSeeCars.com.
To get a FREE iSeeCars VIN Report for a car, click here.