In terms of ruggedness, it's hard to beat a Jeep. In terms of economy, it's tough to beat a Honda. They both have their areas of expertise. Choosing one or the other really comes down to overall value. Seeing where they both excel and where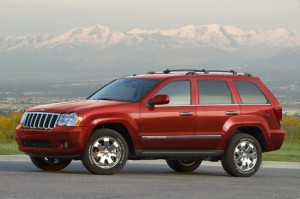 they are weak may help you make that decision. That's why we've checked out Car and Driver, Consumer Reports, Edmunds, and Motor Trend, to pit the 2010-2011 Jeep Grand Cherokee and the 2010-2011 Honda Pilot in a head-to-head face off to see who provides the best overall value.
Powertrain: The Honda gives one engine choice, the 3.5L V6. It's long on neither power nor torque, but does provide a decent fuel efficiency utilizing Honda's Variable Cylinder Management which shuts down half of the cylinders when they're not needed. The 3.7L V6 in the Grand Cherokee is less powerful than the Honda, but the optional 6.1L V8 is a beast. There is also a slightly smaller 5.7L V8 which is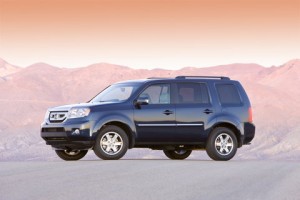 probably the best option here. Well equipped the Jeep has a towing capacity of 7,400 lbs. The Honda maxes out at 3,500 lbs. AWD is available on both and a five-speed automatic is the only transmission choice for either as well.
Winner: Jeep Grand Cherokee
Braking/Safety/Handling: Both vehicles performed flawlessly in government crash testing, scoring five stars across the board. Braking is an issue for Honda as it required 149 feet to come to a stop from 60 mph. It also has some substandard handling on curvy roads. Trailer sway control is an option on Laredo and Limited models, improving safety even when a load is being hauled. Despite its reputation as an off-road monster, the on-road handling of the Grand Cherokee is surprisingly tight.
Winner: Jeep Grand Cherokee
Cargo/Hauling: The Pilot's boxy size makes cargo capacity a strength for it. Properly prepped it can hold up to 87 cubic feet of material. The Grand Cherokee can handle 35 cubic feet with the third-row seat still up, however, that only expands to 69 cubes when the seats are folded down. This is somewhat disappointing for a vehicle known for its rugged hauling capabilities.
Winner: Honda Pilot
Comfort/Interior: Neither of these vehicles boasts an incredibly comfortable, spacious interior. Jeep has long been known for hard, rough edges and stiff seating. The front seats of the Grand Cherokee are spacious but the rear seats remain cramped and uncomfortable. Honda's materials quality is in line with Jeep's, which is to say it's poor. The rear seats are more spacious than the Cherokee's but they sit very low to the floor, causing taller passengers to ride with their knees in their chests.
Winner: Tie
Amenities/Options: The list of options on both vehicles is actually quite impressive by rugged SUV standards. Bluetooth, a rear backup camera, satellite radio, heated front seats, and an upgraded sound system are shared options on both sides. Honda does seem to take it a step further, offering a rear-DVD entertainment system, tri-zone climate control, and its navigation system is one of the best in the business.
Winner: Honda Pilot
Value for the $: The Pilot starts off well under the Jeep at $27,895. Twelve different styles can run the Honda up to $40,245 fully loaded. The Jeep's base MSRP is $30,710. It has five style choices but the price rises just as fast on it, peaking at $43,325.
Winner: Families will probably want to go with the Pilot as fuel efficiency and cargo space are both better, as is the price. But for those looking for a rugged, dependable work vehicle, the Jeep is the way to go. This one really depends on your needs as their values are very similar.
Search used cars for sale and find the best deals near you at iSeeCars.com.
To get a FREE iSeeCars VIN Report for a car, click here.