With various studies on the subject of consumer awareness of and readiness for varying levels of self-driving, semi-autonomous or fully autonomous cars, it's getting a little confusing. Kelley Blue Book's Future Autonomous Vehicle Driver Study sheds some light on this complex and evolving subject.
Conducted in May, the survey polled 2,264 Americans between the ages of 12 and 64. Since fully self-driving or completely autonomous (level 5, with no human) cars aren't expected to be available for at least another five years, getting a snapshot of how future drivers view such technology is illuminating. So is obtaining the current state of readiness for or acceptance of such technology by a full range of driver ages.
That said, there's both good and bad news from the findings. The quick summation is that most consumers aren't yet ready for fully autonomous cars. But some of them are getting there, particularly those not yet of legal driving age.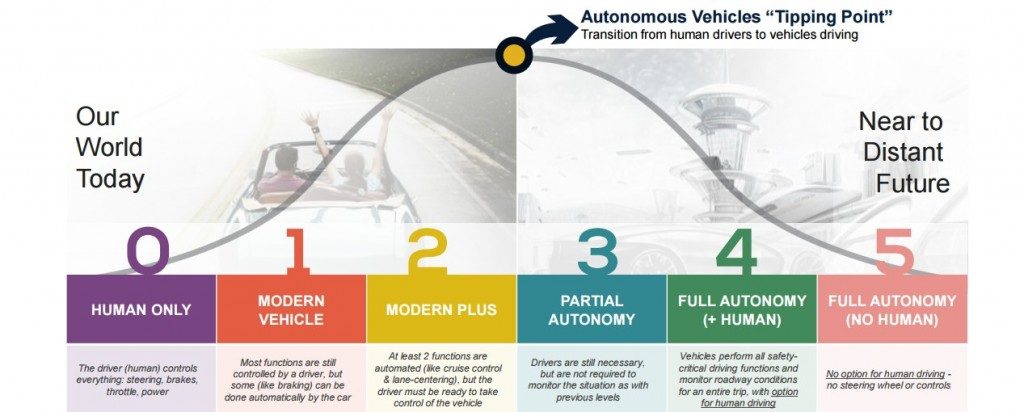 On the Plus Side
First, here's a list of some of the bullet points signaling the positive opinions or viewpoints of survey respondents:
63 percent feel that roads would be safer if autonomous vehicles were standard.
By 2020, 59 percent would be interested in purchasing or leasing vehicles with higher levels of autonomy – assuming all autonomy levels were available.
Level 4 (full autonomy + human) hits the "sweet spot" by providing all the benefits of full autonomy without stripping away driver control.
41 percent find potential for Level 4 (full autonomy + human) during freeway and highway travel and 44 percent for road trips longer than 100 miles.
Consumers who use ride-sharing services like Lyft and Uber are more familiar with and interested in self-driving vehicles.
The youngest Gen Z (those aged 12-15) find Level 5 (full autonomy, no human) the most appealing at 38 percent. Only 9 percent of Baby Boomers (ages 51-64) feel that way.
Young Gen Z also believe they're the most educated about autonomous vehicles (67 percent), compared with 24 percent of Baby Boomers.
48 percent of Young Gen Z are comfortable with a vehicle driving them without their control (compared with 38 percent of the total).
On the Minus Side
Among the negatives for autonomous driving the study revealed:
6 in 10 know little or nothing about autonomous vehicles.
62 percent said they didn't expect to live long enough to see autonomous cars commonplace. Among the groups, Baby Boomers were highest in this belief at 76 percent, while Young Gen Z were lowest at 33 percent.
Perceived price of autonomous cars is a big negative. Survey respondents believe such cars would be out of reach, price-wise.
Another barrier cited by respondents is that driverless cars would be expensive to fix.
30 percent said they'd never purchase a fully driverless car that prohibited human interaction.
80 percent responded that they didn't like the concept of completely autonomous cars that didn't provide for any possible human input, saying they believed a human driver should always be able to take over or drive. 59 percent of them did, however, agree that if the human was drunk, fully autonomous with no human interaction would be best.
More detailed survey findings are available in the KBB PDF report.
Search used cars for sale and find the best deals near you at iSeeCars.com.
To get a FREE iSeeCars VIN Report for a car, click here.